"It's what we thought we'd be doing when we became pharmacists."
That was one of the comments from an attendee at a training seminar on the administration of long-acting injectable antipsychotics (LAIAs) by licensed pharmacists presented by UConn's School of Pharmacy, the State Division of Drug Control, and Genoa QoL Healthcare on May 17 in Storrs.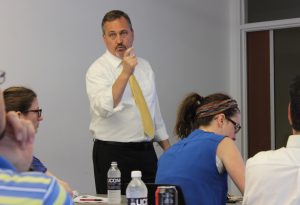 "Treating persistent mental health problems such as schizophrenia and bipolar disorder is often problematic," said seminar leader and Clinical Professor of Pharmacy Practice Charles F. Caley, who kicked off the day's events. He cited the high rate of treatment non-adherence by those who have been prescribed oral antipsychotic therapy as a prime example.
All too frequently, once symptoms begin to dissipate, adherence may  decline because patients no longer feel the 'need' to take their meds, according to Caley. This non-adherence often leads to an increase in symptom intensity resulting in repeated hospitalizations, ancillary health problems, and an inability to maintain meaningful social connections, including full-time employment or student status.
The opportunity for pharmacists to administer LAIAs through intra-muscular (IM) injections offers a meaningful chance of improving treatment outcomes, according to Caley, because not only can the medications provide favorable symptomatic results, with long-acting dose forms adherence becomes more transparent. Either patients come in for their scheduled injections, or they don't. There is no opportunity to miss oral doses without reporting it, or to be less than candid with mental health care providers.
The vehicle that provides pharmacists in the State of Connecticut with the opportunity to administer LAIAs is the  State's pharmacist collaborative practice law, which is intended to permit pharmacists to manage drug therapy. Once pharmacists who are specifically interested in mental health care issues enter into signed agreements with one or more psychiatrists in their communities, they can begin offering the service at their individual practices.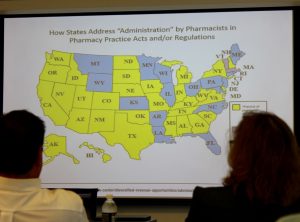 The eight attendees at Caley's training seminar represented Genoa QoL, a nationwide provider of behavioral health and addiction pharmacy services. Genoa is currently located in 10 behavioral health centers in Connecticut, with plans to offer three more locations before year-end. The value of these community practices is that pharmacists specifically focus on serving individuals who have significant mental health care needs.
In Connecticut alone, hospitalization for various types of mental illness resulted in some 32,000 hospital discharges in 2013, as well as 260,000 inpatient days and 8 million total emergency department admissions between 2009 and 2013 [latest available figures].
LAIA administration service by pharmacists has the potential to reduce the acute mental health care costs associated with hospital care. Identification of  other pharmacists and pharmacy sites will be focused in parts of the State where there is genuine need for these services.
"Mental health issues often go unresolved," Caley says, "because there is such a stigma attached to these kinds of illnesses. I'm a Board Certified Psychiatric Pharmacist and right now there are only about 1,000 of us in the Country, and that's not nearly enough. Meanwhile, it's estimated that as many as one out of every two people will suffer from a mental illness sometime during their lives. Clearly, there's a need for more accessible treatment, and community pharmacists can play a really important role in reaching out to these people who have specific needs."
Administering LAIAs is not like giving a flu shot, Caley adds, and the relationship between patients and pharmacists is intended to be long-term.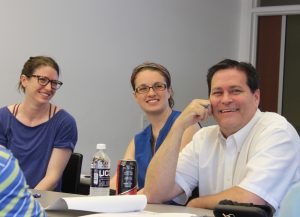 He says, "Pharmacists who want to provide this service have to be willing to make a commitment that not only includes building relationships with referring physicians and patients, but they also have to adhere to a specific set of requirements. This includes learning to administer various approved medications, regular reporting to the physician in charge regarding the patient's drug therapy management, and configuring space where patients can receive private counseling."
Caley says that offering the service also includes such things as maintaining the appropriate inventory of medications, and complying with the type of record-keeping required by Medicaid since – unfortunately – many people suffering from these illnesses are unemployed or living at or near the poverty level.
"It's a service that requires a real commitment," he says, "but that's why people go into community pharmacy in the first place."
(Pharmacists in Connecticut interested in finding out more about collaborative drug therapy management agreements, competencies, and training opportunities should contact Troy Ruff with the State's division of drug control at: troy.ruff@ct.gov )