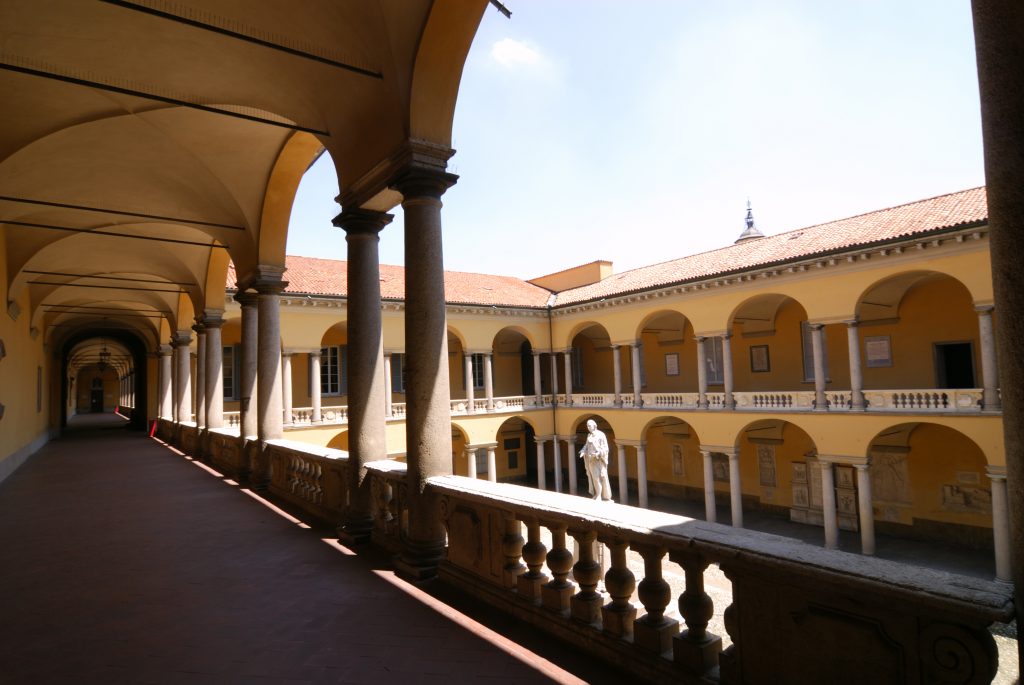 When internationally renowned gifted education expert Joseph Renzulli speaks, people not only listen — they take action.
Renzulli, Board of Trustees Distinguished Professor in the Neag School's Department of Educational Psychology, regularly travels the globe, speaking at academic conferences and sharing his widely regarded, pioneering research work in the areas of giftedness, creativity, and talent development. Since giving a research presentation in Italy several years ago, he has encountered growing interest in his work among colleagues based at one of the world's oldest universities, the University of Pavia, founded in the year 1361. Professor Maria Assunta Zanetti, co-director of the University of Pavia's Italian Laboratory of Research and Development of Potential, Talent, and Intellectual Giftedness, was among those who connected with Renzulli in the months that followed. The laboratory — otherwise known as LabTalento — is the first Italian university lab of its kind, with a mission focused on helping "children and young people with high cognitive potential … to fully develop their resources."[1]
For Renzulli, after whom the Renzulli Center for Creativity, Gifted Education, and Talent Development is named, a collaboration between UConn and the University of Pavia would help realize one of his longtime goals — "to spread the word about what we are doing in talent development" — for yet one more international audience. Zanetti, Renzulli says, was "the person who seemed to take the ball and run with it."
"This collaboration will put the Neag School of Education and the University of Connecticut in the center of the educational field in Italy and the European Union."

— Yuhang Rong, assistant vice president,
UConn Global Affairs
From UConn to the EU
This spring, the partnership officially came to fruition when Renzulli, along with Sally Reis, Letitia Neag Morgan Chair in Educational Psychology and Board of Trustees Distinguished Professor, were invited as keynote speakers at theSeventh International Congress on the Issue of Intellectual Giftedness, hosted by LabTalento. The first day of the International Congress was celebrated with Renzulli's signature on the collaborative agreement, formally bringing the two universities together for an initial term of five years.
"Gifted education and talent development at the Renzulli Center is world-renowned," says Yuhang Rong, UConn's assistant vice president for Global Affairs, whose office served a vital role in facilitating the agreement. "This collaboration will put the Neag School of Education and the University of Connecticut in the center of the educational field in Italy and the European Union."
The collaboration will serve to foster not only opportunities for student exchanges among those from each university pursuing studies in the disciplines of gifted education, creativity, and talent development, but also shared research efforts in these areas. In fact, Renzulli on occasion finds himself connecting directly with international graduate students, who reach out from afar to seek out his advice or propose an idea for a research study.
The interest around Renzulli and Reis' spring visit to University of Pavia subsequently led to coverage in an Italian publication about their research. In addition, an Italian publisher is now pursuing the translation of two books featuring Renzulli's research — one on the Schoolwide Enrichment Model and one about enrichment clusters — from English to Italian.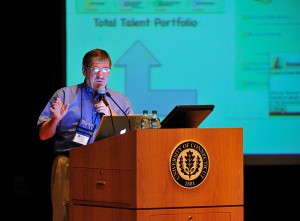 This July, the Renzulli Center will also be welcoming six University of Pavia visitors — up to two faculty members and four graduate students — to Confratute, a weeklong institute that draws hundreds of educators to UConn's Storrs campus every summer to learn about research-based strategies for engagement and enrichment learning for all types of students. Pavia's attendees will be among the first-ever Confratute attendees from Italy, Renzulli says, in the 40 years since the institute was established. He is hopeful that Zanetti herself will be among them.
Two Types of Giftedness
Although some countries have tended to shy away from using the phrase "gifted education," Renzulli says many have come to see the value in "our democratic approach of talent development for all kids." And in his global travels, sharing his ideas and research findings with those in the field, Renzulli has begun to witness a shift in how certain countries are approaching education.
Such places as China and Japan, he says, traditionally have employed what he calls "extremely rigid, ministry-controlled curriculums — basically, test prep on steroids." Yet over the years, "what they are realizing is that the people who are driving the economy are people who come up with new ideas," he says. "They are realizing that these things are important."
Take the Bill Gates and Mark Zuckerbergs of the world as an example, says Renzulli. While neither finished college, their innovative ideas are what has defined their careers and inspired their professional success.
"High scores and good grades oftentimes produce what I call 'schoolhouse giftedness,'" Renzulli says. In contrast, he has long touted the importance of an entirely different type of giftedness, one he calls "creative productive giftedness" — exhibited by "people who come with ideas, invent things, write things, start businesses."
It is this latter concept of giftedness that has begun to catch on in these nations, says Renzulli, who adds that one recurring message has been surfacing when he meets with various ministries of education: "We want to know what it is about your school system [in the U.S.] that produces this vast realm of new ideas."
With the University of Pavia connections taking shape, Renzulli is now eager to introduce educators and researchers in Italy to these concepts around giftedness and the development of all children's interests.
"I wish I were 40 years old instead of 80, because this is something that's catching on," he says. "It's a really good time for what we're peddling. Pavia is one more step in that direction."