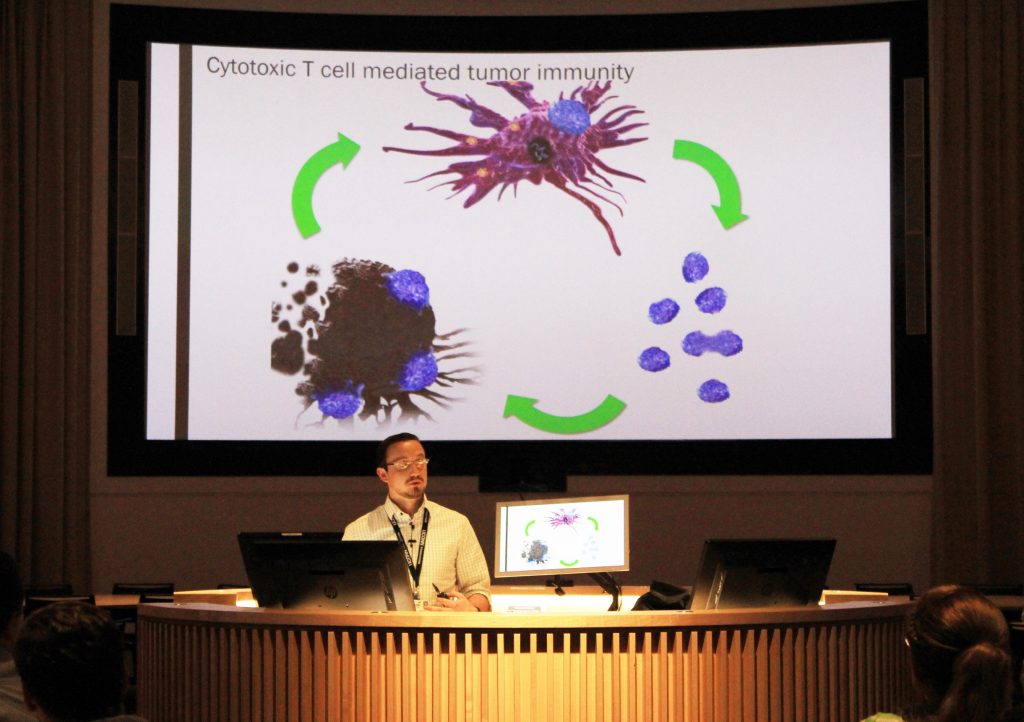 Graduate students at UConn Health celebrated their research at the 34th annual Graduate Student Research Day (GSRD) on June 26.
The day-long event included a student poster session and oral presentations by Biomedical Science and Public Health students, a scientific talk by 2016-17 Lepow Award winner and MD/PhD student Joseph Ryan, and a keynote address.
"GSRD is a perfect example of how our students come together to showcase each other's work," says Rob Pijewski, incoming president of the Graduate Student Organization. "It is great to see what so many students are working on and see how passionate they are when they are talking about their research. It is really the only opportunity we have to get so many students and faculty members together to celebrate student accomplishments."
More than 30 students opened the event with a poster session outside the Academic Rotunda. Later in the afternoon, students from each Biomedical Science Area of Concentration (AoC), as well as a students from the Public Health Ph.D. program gave oral presentations.
This year's keynote speaker was Dr. Mark Tuszynski, professor of neurosciences at the University of California-San Diego and founding director of the UCSD Translational Neuroscience Institute, whose talk was "Stem Cells in Spinal Cord Injury: Mechanism to Translation."
The day ended with an awards ceremony recognizing a wide variety of students for their achievements throughout the year, as well as a faculty teaching award selected by the students: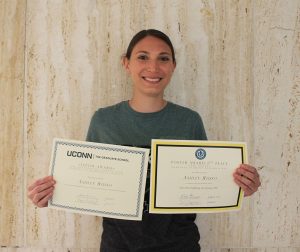 Henderson Memorial Prize for Outstanding PhD Thesis in Biomedical Science: Dr. Dhivya Kumar, Molecular Biology and Biochemistry AoC, Eipper Lab
Lepow Award for Outstanding Rising Fourth Year Biomedical Science PhD Student: Ashley Russo, Immunology AoC, Rathinam Lab
Osborn Award for Excellence in Biomedical Science Graduate Teaching: Dr. Kimberly Dodge-Kafka
Biomedical Science Program Service Award for Mentorship: Laura D'Angelo, Cell Biology AoC, Mehlmann Lab
Biomedical Science Program Service Award for Leadership:
Kelly Brewer, Genetics and Developmental Biology AoC, Arnold Lab and Mitali Adlakha, Molecular Biology and Biochemistry AoC, Weller Lab
Raisz Award for Excellence in Musculoskeletal Research: Patience Meo Burt, Skeletal Biology and Regeneration AoC, Hurley Lab
Oral Presentation Award: Cory Brennick, Immunology AoC, Srivastava Lab
Poster Presentation Awards:
1st Place Tie:
Carissa Sirois, Neuroscience AoC, Chamberlain Lab
Maria Xu, MD/PhD student, Immunology AoC, Vella Lab
2nd Place:
Lane Wilson, Genetics and Developmental Biology AoC, Dealy Lab
3rd Place:
Ashley Russo, Immunology AoC, Rathinam Lab