UConn's Korey Stringer Institute and MISSION have teamed up to open one of the nation's premier academic heat research labs at the University of Connecticut's main campus in Storrs.
Outfitted with the latest in climate control technologies and human performance monitoring systems, the MISSION Heat Lab at the Korey Stringer Institute will allow researchers to explore new ways to improve human performance, endurance, and safety in the heat.
"Exertional heat stroke is a constant concern for athletes, active military personnel, laborers, and others who are called on to perform in hot conditions," says UConn professor Douglas Casa, a national expert on heat stroke and chief executive officer of the Korey Stringer Institute. "This lab will increase our understanding of heat illness and how body temperature impacts performance. It will also help us develop better methods for cooling, which is an important part of our commitment to keeping athletes, warfighters, and laborers safe."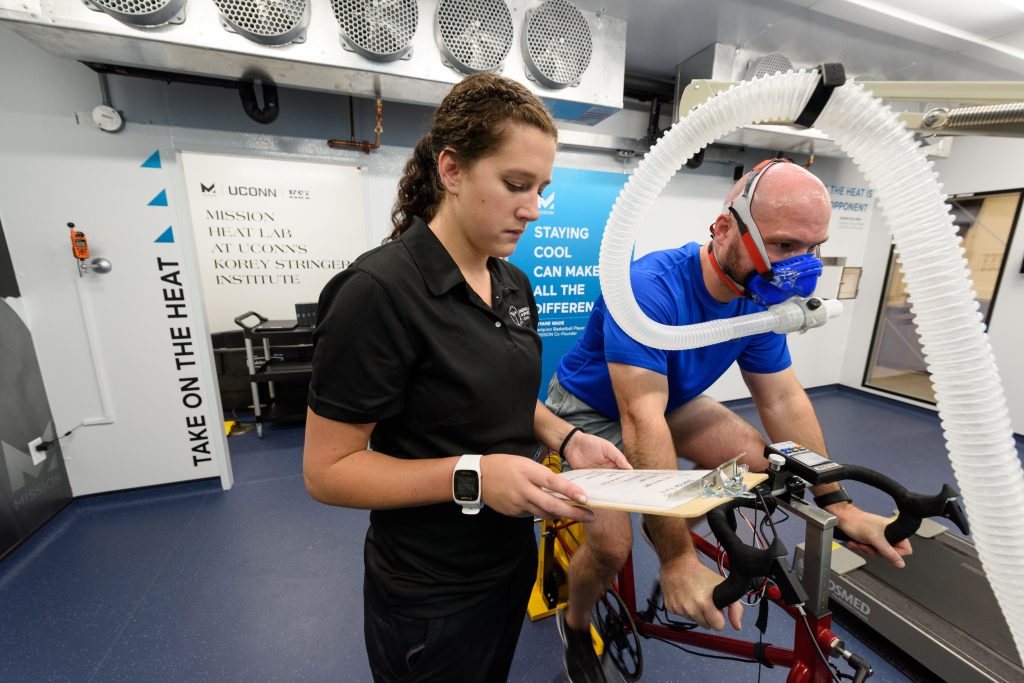 The partnership between the Korey Stringer Institute and MISSION is a natural one. Named after a Minnesota Vikings lineman who died from exertional heat stroke in 2001, the Korey Stringer Institute (KSI) is one of the nation's leading sports safety research and advocacy organizations specializing in heat illness research. MISSION is a pioneer in the development of temperature-controlling technologies for athletic and active accessories and gear. Co-founded by some of the world's greatest athletes including Serena Williams, Dwyane Wade, Carli Lloyd, and David Villa in 2009, MISSION is dedicated to providing athletes, workers, and active individuals at all levels with solutions to maximize performance and optimize safety in the heat.
The MISSION Heat Lab at UConn features a first-of-its-kind cooling area that will allow researchers to monitor how the human body responds to different cooling treatments after experiencing heat-related stress and conditions.
"Rooted in sports and science, MISSION works with professional athletes, scientists, and medical doctors to deliver game-changing temperature-control technologies that enhance performance, safety, and comfort," says Josh Shaw, founder and CEO of MISSION. "Since 2014, we've been working hand-in-hand with the KSI, and we are thrilled to sponsor the new state-of-the-art MISSION Heat Lab. For the next 10 years, the MISSION Heat Lab will set new standards in research, development, and testing to combat heat-related illness for athletes, workers, military, and active individuals – globally. As the market leader for cooling technologies, the new MISSION Heat Lab is yet another testament to our commitment to combatting the dangerous effects on everyone who lives, works, and plays in the heat."
Located within UConn's Gampel Pavilion sports arena, the MISSION Heat Lab is capable of creating a broad range of environmental conditions. High-end exercise bikes and treadmills along with advanced temperature controls will allow researchers to mimic specific environments for races, competitions, and events – from a hilly 10K New England road race on a cloudy 70 degree day with 40 percent humidity to a stifling hours-long military march in 100 degree heat under hot sun with 90 percent humidity. Radiant heat panels being installed later this year will further enhance lab simulations.
A full suite of continuous physiological monitoring systems will capture a test subject's heart rate, internal temperature, skin temperature, and other vital signs hundreds of times per second. The test chamber also includes restroom facilities and resting areas designed to allow test subjects to remain in a designated environment for hours at a time without the need for outside breaks that might skew data regarding how their body is reacting to conditions.
Private donations supported the lab's creation. One of those donors was Carole Knighton, whose son Hunter nearly died of exertional heat stroke during a 2014 football practice at the University of Miami. Hunter, whose body temperature was reportedly 109 degrees when he collapsed, spent two weeks on a ventilator in a medically induced coma, but ultimately survived the ordeal.
"This is a cause that is near and dear to my heart," says Knighton, who lives in Fort Myers, Florida. "If it were not for the Korey Stringer Institute, my son would not be where he is today."
With a desire to return to football, Hunter, now 23, visited the Korey Stringer Institute on several occasions to have his heat tolerance tested. In the process, he and his family learned a lot about heat illness and how it can be avoided. Winner of the 2015 Brian Piccolo Award for being the "most courageous" football player in the Atlantic Coast Conference, Hunter now plays for Tulane.
Another donor, Jonny Class of Maryland, shares a similar story. His son, Gavin, suffered an exertional heat stroke during a Towson University football practice in 2013. Like Hunter, Gavin was hospitalized as his liver and other organs began to fail. His heart stopped and he was resuscitated, beginning what was to be a very long road to recovery that included a liver transplant. And like Hunter, Gavin was subsequently tested at the Korey Stringer Institute to make sure his body was ready to return to football.
"With their help, he was able to return to all physical activities and is now able to lead a normal life," says Jonny Class, Gavin's father. "The knowledge we learned from KSI was amazing. We have since started a foundation, YOLT (You Only Live Twice) to help raise awareness about heat illness and the importance of organ donation."
University officials say the new MISSION lab will be a strong addition to UConn's nationally renowned kinesiology program.
"This new state-of-the art lab will be one of very few such facilities in the U.S., and has some design elements that make it stand alone," says Cameron Faustman, interim dean for UConn's College of Agriculture, Health, and Natural Resources, which houses the program. "We are confident it will attract even more research funding, research scholars, and students to our campus. The cost of this initiative has been met with contributions from the University, college, department, private donors, and companies. This speaks not only to the recognized need for the types of research that this facility will support, but also to the confidence that many others have in our faculty members."
The MISSION Heat Lab will be available for use by outside companies and organizations to maximize research opportunities in heat safety awareness, as well as other areas of temperature-related studies.