Eva Hu '18 (SFA), an international studio art major from Guangzhou, China, never forgets her home and her roots, and that passion comes through in every piece of art she has worked on during her time at the University of Connecticut.
She particularly wants her hometown flavor to shine through as she works on developing her calligraphy-inspired clay sculpture, a project that is supported through UConn's IDEA Grant program.
The UConn IDEA Grant program awards up to $4,000 to undergraduate students to fund "self-designed work on a topic, project, problem, artistic product or performance, or other entrepreneurial or creative idea of their choice."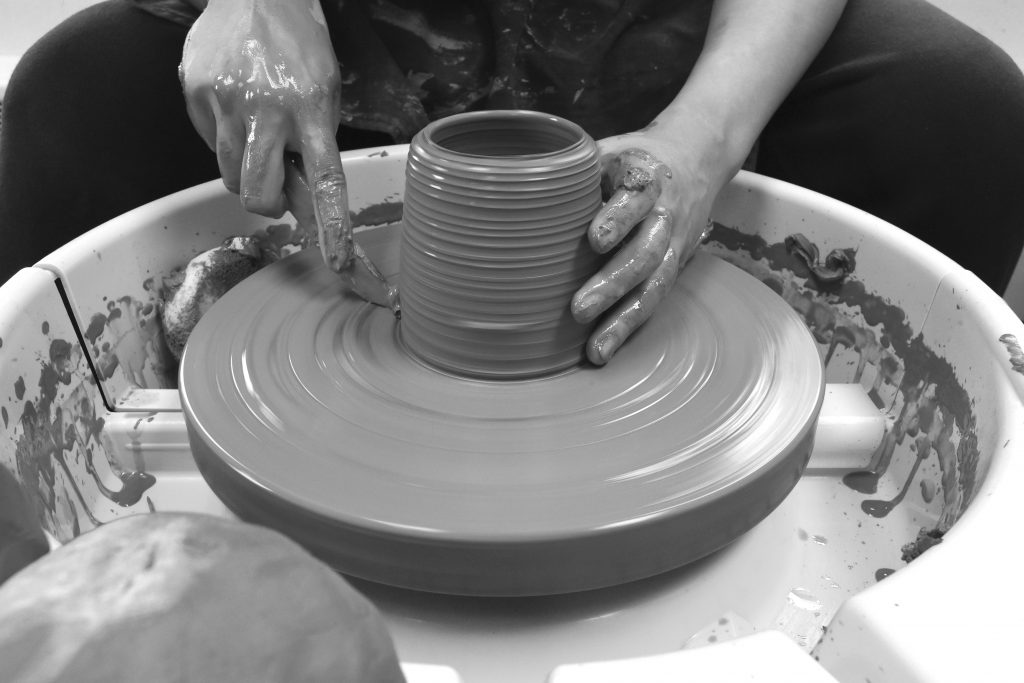 Caroline McGuire, director of UConn's Office of Undergraduate Research, who facilitates and oversees the IDEA Grant program at the school, says Hu's talent and capacity for hard work shone through when she applied for the grant:
"She was a good fit for the IDEA Grant program because it requires that students propose a project they have developed themselves, in whatever form that might take. Eva proposed an innovative project to translate calligraphy – a traditional art form that she describes as closely tied to her Chinese identity – into three-dimensional sculpture using clay, a material she describes as elemental and grounded," McGuire says. "It was clear in her application that she developed and designed this project herself, that she has the necessary skills and motivation to achieve her ambitions for the project, and that engaging in this work would push her artistic practice forward."
McGuire notes that Hu's professors, including her sculpture and ceramic art professor, Monica Bock, also saw significant promise in her and encouraged her to apply for the grant.
For Hu, the accomplishments she has achieved thus far haven't come without effort. She recalls that as a freshman, being nearly 8,000 miles from home was not easy.
"I still remember when a UConn police officer had to help me get to my dorm," she says. "Starting to figure out classes and making new friends, at first, sometimes I would stress out about school, so I'd take a walk or just spend time talking to my friends. After some time, I started to get used to it and find my own pace. It's not easy to deal with all things at the same time, trying to manage your time is important."
Hu also would see her friends leaving for the weekend and start to miss her parents and family. But, after developing a solid group of friends and focusing on her goals, she knew she was at the right place, in the UConn community:
"Sometimes," she says, "when I saw parents picking up their kids from school, there would be a moment where I hoped my parents could be here picking me up too. But you have to stay strong, because I know they are missing me every day, so you need to do everything you've got to do to make them proud."
Now, as she enters her senior year at UConn, Hu is thriving. She sees the IDEA Grant as the culmination of the hard work and comfort level she's achieved. She appreciates finally being at a place of peace and stability in her life, knowing she's currently learning the skills that will shape her career, hopefully as a studio artist.
And she values the fact that she has learned those skills in her home away from home: "I love UConn because it was where I started to learn more about myself and had the teachers who have guided me and carried me," she says. "Because of these people, UConn is not just a school for me, but a home to me."