In a conference room on the third floor of Hartford City Hall, in an office overlooking the three-story atrium surrounded by Beaux-Arts arches, Mariela Abreu and Kory Mills '17 MPA gaze at a towering 363-page binder with a mix of awe and respect.
"In my first few days here, they really threw me in," Abreu describes. "They said: 'Here's the book. Read it, and let's go.' It was great."
"It's a gigantic monster," adds Mills, a management analyst, lovingly regarding the tome. "But we can't stress enough how perfect it needs to be."
They are referring to the City of Hartford's Fiscal Year 2018 Adopted Budget, which in their office is known simply as "the budget book."
The document details expenditures for every corner of the capital city, from public works and safety, to libraries and education, to the voters' registrar and the Mayor's office.
And Abreu and Mills have a significant hand in bringing it together.
The current student and alumnus, respectively, of the Department of Public Policy in the College of Liberal Arts and Sciences have been part of the Department's Internship and Professional Practice Program (IPP) in the Hartford Office of Management, Budget and Grants.
The IPP program places UConn graduate students in local and state government and nonprofit internships throughout Connecticut, providing key support to these agencies and work experience for the graduate students.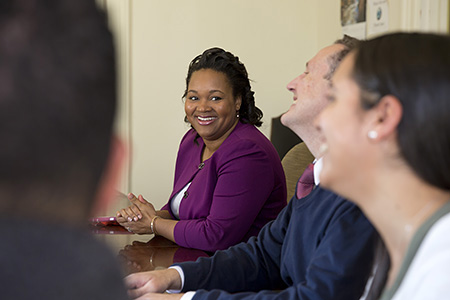 Over its 11 years of operation, more than 250 UConn public policy graduate students have worked on key issues in the state's public sector and have moved on to become some of the most influential public servants in the state.
"It's a win-win," says Melissa McCaw '14 MPA, Hartford Interim Chief Financial Officer and Director of the Office of Management, Budget and Grants, who is also a former IPP intern. "The program attracts the cream of the crop, and we've benefited from that." 
'A distinct and consistent impact'
Mohamad Alkadry, professor and head of the Department of Public Policy, arrived at UConn in August 2017. His office on the fourth floor of the Downtown Hartford campus overlooks the Travelers Tower and Hartford City Hall.
The Department of Public Policy trains students in public and nonprofit management, survey research, policy analysis, and evaluation, and prepares them to address public issues facing Connecticut and the nation. Today, he says, experienced and talented public servants are ever more essential.
"Public administrators are the trained professionals," he says. "They plan for the long-term, not the next three or four years. They stay after politicians move on. And they are constantly making or executing equitable and fair decisions based on data."
Forty students in the Department's programs in public administration (MPA) and public policy (MPP) participated in the IPP program at more than 25 Connecticut offices this year, with about one-third interning in each of the state government, local governments, and nonprofit organizations.
The interns work 15 hours per week, which amounts to about 580 hours of professional public service per intern each year. And they often interact closely with public leadership.
"We take our students' work and bring it straight to Mayor [Luke] Bronin's office," says McCaw, who earned her MPA and graduate certificate in public finance and budgeting.
"We give them work we would assign to any other analyst. It's a testament to how well the program prepares them."
Last year, 97 percent of graduating IPP students were employed within six months.
"We see UConn having a distinct and consistent impact in Connecticut," says David Garvey '06 Ph.D., director of the IPP program and the Department's Nonprofit Leadership Program.
Getting at the numbers
 Jeff Hallin '05 MPA, Hartford Assistant Director of Management and Budget and a public policy alumnus who serves on the program's Alumni Board, attests to the Program's extensive training that has led to its ranking as #8 among U.S. News & World Report's best public finance and budgeting programs.
"What most prepared me for my work is the rigors of the analytical work done in the Program," Hallin says. "The biggest team project we do – the budget – requires that we all have that knowledge."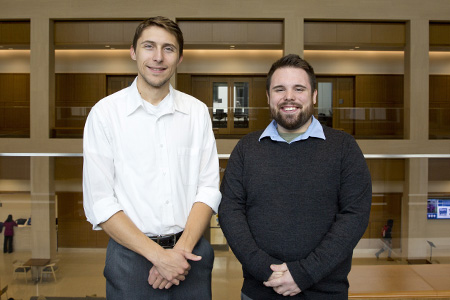 The Program's strength in analysis has also served Kyle Livernoche '17 (CLAS) and Mitchell Samal, both MPA students and interns in the Connecticut Department of Children and Families. At DCF, they spearheaded an effort to use the complex Annie E. Casey Foster Home estimator to plan for the numbers of foster homes the state needs.
Livernoche also started a project to improve the rate and success of placing DCF children in permanent homes.
"Permanency living situations are directly related to the health and wellbeing of children," says Livernoche. "So we want to know: Are we getting children out of care and into the right permanent living arrangement in a timely manner?"
Samal, who grew up in Litchfield and now serves on the Planning and Zoning Commission for the Town of Litchfield (R), says the strategic policy analysis has already had a big impact at DCF.
"I've been fortunate to have lived here, and I want to give back," he says. "It feels good to know you're making a difference."
Both students agree with Alkadry that their roles are independent of politics, and focused solely on the greater public good.
"Data doesn't have a political affiliation," says Livernoche. "Republican, Democrat, Independent, it doesn't matter. At the end of the day, it's about what's best for the kids."
Connecticut's future
Livernoche and Samal plan to work in Connecticut at the state level, whereas Abreu is interested in the nonprofit world. Her classes in management, budgeting, human resources, grant-writing, labor relations, and research prepare students to eventually become a director of a nonprofit, she says.
"Especially because nonprofits work so much with government agencies, you get the best of both worlds," she says.
Alkadry says the thorough professional graduate degree programs serve students from a variety of backgrounds. Students could be English or philosophy or business majors, or non-traditional students who have worked in the private sector and want to do something more meaningful.
"Our programs are simply looking for people who have the talent and motivation to be excellent public servants," he says. "Our graduates are past, present, and future leaders of the State's local, regional, and state governments and the nonprofit organizations who serve the State," he says.
Back at Hartford City Hall, Mills leafs through the budget book, admiring its many pages of charts and tables. He grew up in Hartford and studied history as an undergraduate, and was "blown away" by his IPP experience. He even impressed himself at how quickly he picked up the quantitative parts of his job, which he poured directly into that heavy book.
"To be a month into your internship and be in a meeting with the budget director and the health director of major municipalities – it was beyond my wildest dreams," he says. "It's incredible to be able to do this."