A Florida family is starting a UConn scholarship in memory of their 14-year-old son, who was killed in the mass shooting at Marjory Stoneman Douglas High School in Parkland, Florida in February.
Max Schachter and his wife, Caryn DeSacia, want to keep Alex Schachter's legacy alive with a scholarship. They hope to award the Alex Schachter and Family Memorial Scholarship each year to a student who, like Alex, always wanted to play in the UConn marching band.
"After this horrible tragedy, we just wanted to try to have something good come of this," Alex's father, Max Schachter, explained. "We're hoping that it will keep Alex's memory alive for years and years to come."
Alex never made it to UConn, his dream school, but UConn made him an honorary Husky after learning of his love for the University. The University offered Alex admission posthumously, a gesture that surprised and deeply moved the family. "It was just a wonderful thing. It lit up my heart. It made us feel really good," Max Schachter said.
Alex's UConn "band family" was also deeply affected. "After expressing our feelings about Alex through halted speech and tears, we immediately designated Alex as a full member of UConn's marching and pep bands," said UConn's Director of Bands, David L. Mills.
"Alex was one of us, a real person, a trombone player, and someone lost from our band," said Mills.
The band made pins emblazoned with Alex's name and wore them prominently at all their performances this past spring. They hung a photo of Alex in the practice room, and the trombone section left an empty chair for him during rehearsals.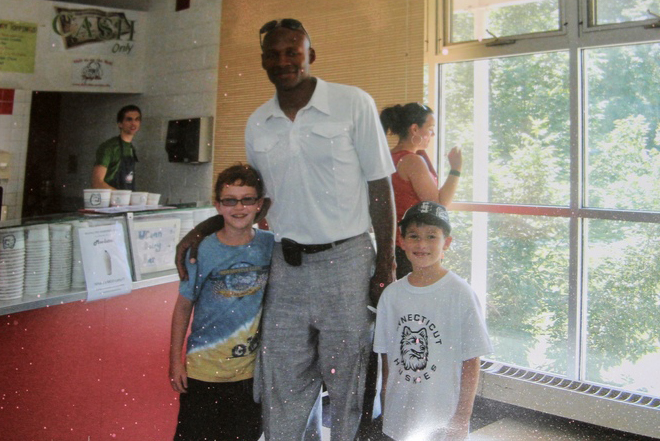 Alex's first exposure to UConn came when he was 5. His aunt and uncle, Patti and Paul Goldberg of Southington, brought him and his brother, Ryan, for a visit to campus to help them remember their mother, Debbie Goldberg Schachter '93 (CLAS), who died when Alex was only 4.
A high school freshman who practically lived in a UConn sweatshirt, Alex was a happy, friendly, likable teen who had lots of friends. He proudly played the baritone horn and trombone in the high school band, and was on a recreational basketball team.
The family gave an initial donation to set up the scholarship and plans to continue fundraising in hopes of raising at least $50,000 to endow the scholarship permanently.
Find more information on the Alex Schachter and Family Memorial Scholarship here.