UConn researchers are some of the most active and innovative in the country. We read about their research findings and scholarship every day, but have you ever stopped to think about how UConn's researchers obtained all the materials that make their work possible? A silent hero behind the scenes of UConn research is the BioSupply facility, operated by the Center for Open Research Resources and Equipment, also known as COR2E. The BioSupply facility provides biological research supply and stockroom services to faculty all around campus. BioSupply also delivers to researchers whose labs are housed in the Torrey Life Sciences, Biology/Physics, and Biology/Pharmacy buildings.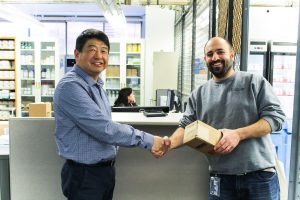 The BioSupply facility is to researchers what the UConn Bookstore is to undergraduates. The facility provides researchers with most of the supplies they need, allows them to obtain products at the best prices, and provides knowledge and expertise about which products to select and from which suppliers to purchase them. In addition, the stockroom function of the BioSupply facility allows for a streamlined and safe process for obtaining and storing materials.
Over 100 labs have utilized the services provided by the BioSupply facility over the past two years, and the facility regularly accommodates an average of 50 accounts per month. Accounts can be shared by multiple labs.
The facility director, Xiaoyang Liu, has a long history working with the BioSupply facility. He worked for over twenty years in the facility under its previous name, the DNA Biotechnology Center. In 2016, the BioSupply Facility changed from the DNA Biotechnology Center and moved into expanded space in Torrey Life Sciences room 173 and 175.
Currently, the facility has three areas: the stockroom, the supply center program, and the receiving department. The stockroom is an on-site facility with all of the most needed items, to be a one-stop-shop for research supplies. The supply center program puts out special orders for UConn researchers who require materials not commonly found in the stockroom. The receiving department provides cold storage and a convenient and reliable holding space for incoming deliveries. Employees in this department are highly trained to handle biochemical reagent packages.
"I'm really pleased that we can provide a solution to meet the needs of researchers. We want to help and keep these programs moving," says Liu.
Liu has worked with the facility and ensured its success for many years. The educational foundation that allows him to take on this leadership role began with his undergraduate degree in biochemistry. He then attended biotechnology graduate school at UConn. He has worked in genomics and molecular biology and has a diverse background working in multiple laboratories.
According to Dan Schwartz, PhD, associate professor of physiology and neurobiology and director of COR2E, there has been a push since 2016 to continue to expand the offerings provided by the facility, including 24/7 access to common lab reagents.
Any inquiries about the facility can be directed toward Liu by email at xiaoyang.liu@uconn.edu.