Xiuling Lu, an associate professor in UConn's Department of Pharmaceutical Sciences has been awarded a PITCH (Program in Innovative Therapeutics for Connecticut's Health) Promising Project award to begin work on a project investigating a new and potentially safer cancer treatment.
Cancers often relapse or are resistant to chemotherapy treatments due to the presence of a relatively rare subset of stem cells, which are undifferentiated cells that can give rise to many other kinds of bodily cells.
Lu has been collaborating with Rajeswari (Raji) Kasi, a professor at the UConn Institute of Materials Science to develop polymeric nanoparticles. These polymeric nanoparticles contain doxorubicin – a common chemotherapy drug – that can prevent leukemia stem cells from self-renewing through the inhibition of one of the essential pathways involved in stem cell survival and differentiation.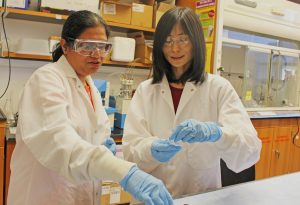 The current application of regularly prescribed doxorubicin can cause a host of unpleasant and sometimes dangerous side effects including hair loss, vomiting, rashes, heart disease, and tissue damage.
Lu's project aims to address this problem by using a nanoparticle to modify the distribution of doxorubicin in the body and reduce the toxicity to healthy tissues.
These doxorubicin-loaded nanoparticles can effectively inhibit the cause of the problem –leukemic stem cells – without killing the rest of the cancer cells. When combined with a standard chemo drug with low toxicity, this could prove to be a safer treatment method with lower risks of drug resistance and recurrence.
"If successful, this project will have great impact on cancer therapy with low recurrence, providing a new paradigm for an effective and safe cancer treatment," Lu says.
The PITCH award funding will allow Lu's team to study the accumulation of nanoparticles in bone marrow – one of the key sources of leukemic stem cells in adults — using a mouse model. They will look at how these nanoparticles interact with leukemic stem cells and non-stem cancer cells.
The PITCH Promising Project award grants researchers seed grants to conduct research on a specific aspect of their project and allows recipients to gather more data to strengthen their overall proposal. After completing this stage of the research, Lu and her team may resubmit their proposal to be reconsidered for a traditional PITCH award.
Lu received her Ph.D. in biochemical engineering from the Chinese Academy of Sciences. She completed her postdoctoral training at the University of Kentucky. Her research interests include nanoparticle-based drug delivery, image-guided therapy, and neutron-activatable nanoparticles for tumor-specific radiation therapy.