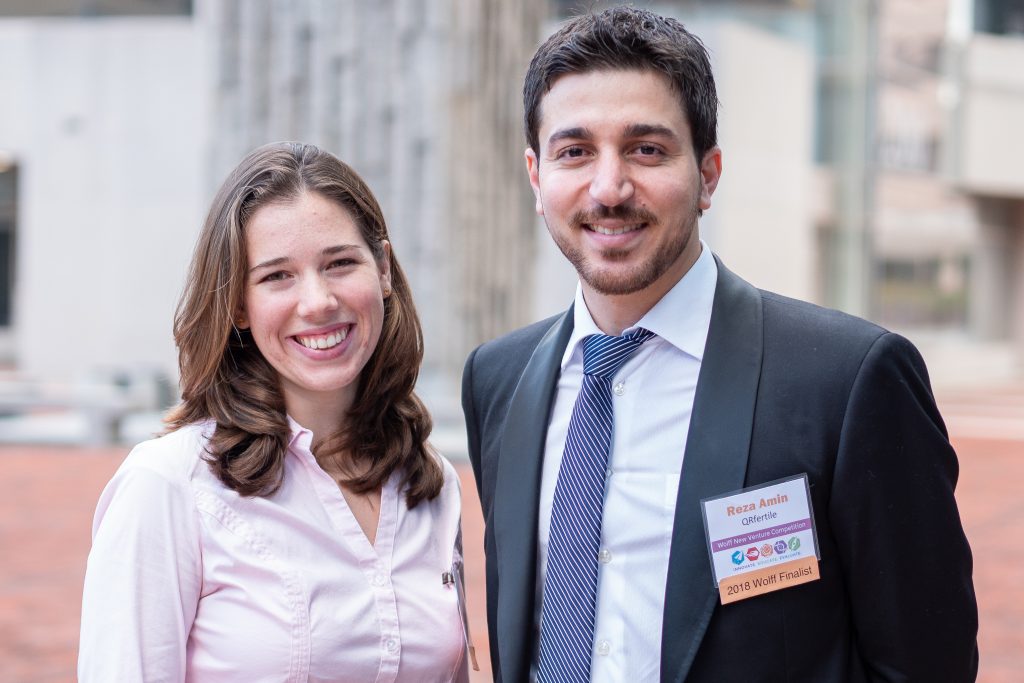 One grew up in the shadow of UConn and the other, on a distant continent. But Stephanie Knowlton and Reza Amin are happy they made their trip to the state's flagship university – no matter the route.
The pair of biomedical engineering doctoral candidates recently won $20,000 to further their entrepreneurial concept through the Wolff New Venture Competition. They are developing an in-home device to measure male fertility, called QRfertile, under the guidance of Savas Tasoglu, assistant professor of mechanical engineering.
"When we are in the lab every day, it feels like a lab project," says Knowlton. "But when we get out there and talk to people about the potential to be something that affects real people, that gets us more excited."
The Wolff Prize is endowed through the Thomas John and Bette Wolff Family Chair in Strategic Entrepreneurship, and the event is sponsored by the Connecticut Center for Entrepreneurship and Innovation in UConn's School of Business.
Amin came to Connecticut after doing his undergraduate work in electronics in India and his master's in mechanical engineering in his native country of Iran. He is earning his doctoral degree at UConn in biomedical engineering. Knowlton, of Tolland, grew up with some members of the Wolff family as neighbors – something she didn't even realize until the day of the competition.
Amin and Knowlton began working on this project in 2015, when it was just a research idea. One in six couples of reproductive age worldwide are affected at least once by some form of infertility, and male infertility contributes to about half of those cases, according to Tasoglu.
The pair developed the technology needed for the home testing before they had the idea of what the exact product would be. They then started to explore how consumers use microfluidics – the science of manipulating and controlling fluids on a small sub-millimeter scale.
"There are different applications out there that we saw, like blood and urine," says Knowlton. "We saw the need for semen as one that was unaddressed in the market. We thought that would be a good way to enter the market, and that it may extend to other applications later."
Amin says one of their challenges is taking ideas from the laboratory that will have practical in-home usages as a commercial product. Funds they have received, like those from the Wolff competition, are critical to making that happen.
"When we do research, we may come up with ideas and applications," says Amin. "When you are designing something to become commercial, you should think of everything from A to Z. We don't want to just get results in the laboratory, we want to get those results in people's homes. We need to design the technology on the basis that it is viable to be a commercial product. That was our design criteria everywhere in this project."
QRfertile has also received grants from Bio Pipeline CT, Innovation Quest at UConn, and the Third Bridge Grant Program. While all of these, and now the Wolff Prize, have provided important funds, they also come with support in the form of mentors.
The project is also going to be part of UConn's Technology Incubation Program (TIP), where the pair will receive lab and office space and mentoring. The program also provides assistance with accounting and legal matters. "We get to share ideas and work together with other start-ups on how to get to market," says Amin.
The two met in the engineering lab, where they spend up to 10 hours a day developing their product. Their long-term goal is to launch the product with physicians, and then expand to large pharmaceutical companies and distributors.
"We've gone so far with it, we have to see if it works," says Knowlton. "We know start-ups can fail. That's ok, but we have to try."
Knowlton believes the team benefits from its diversity. "I do think diversity is important to any company, and to ours specifically," she says. "We have such different views and such different ways to present and explain things, it just makes the team stronger."
Judges for the competition included Patrick O'Neill, managing director, Connecticut Innovations; Kwesi Quaye, associate, Fairview Capital Partners; Claudia Reuter, managing director, Stanley+Techstars; Tim Shannon, venture partner, Canaan Partners; and Erika Smith, chief executive officer, ReNetX Bio.