The University of Connecticut is serving as one of the lead institutions on a $32.6 million U.S. Department of Education grant supporting schools and districts throughout the nation to implement empirically based practices to increase student success.
This major federal investment represents five additional years of funding for the National Technical Assistance Center on Positive Behavioral Interventions and Supports (PBIS), which just celebrated its 20th year.
This significant federal investment in education currently supports more than 26,000 schools to use PBIS frameworks for all students and provides additional support to those with disabilities or who are at a higher risk for behavioral problems.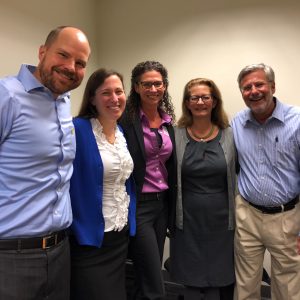 Kent McIntosh (University of Oregon) will direct the PBIS Center in collaboration with co-directors Brandi Simonsen (University of Connecticut), Heather George (University of South Florida), and Tim Lewis (University of Missouri). The Center partners with leaders in 11 other institutions around the country to support schools.
The PBIS framework focuses on teaching students appropriate social behaviors in a way that mirrors how academic curriculum is taught.
"PBIS doesn't just reward students," says Simonsen, who is also a professor of special education and the co-director of the Center for Behavioral Education and Research in the Neag School of Education at UConn. "PBIS emphasizes actually teaching appropriate behavior instead of assuming kids come in the door already knowing the behaviors required to be successful in school."
At UConn, Simonsen is joined by several colleagues, including George Sugai, Jen Freeman, Adam Feinberg, Tamika La Salle, and Susannah Everett to support northeastern states' implementation of PBIS and other center activities, including improving school climate and documenting PBIS implementation in high schools and high-needs districts.
When schools implement a PBIS framework, teachers select three to five positive expectations, such as being respectful, and they construct specific definitions of what each expectation looks like in various school environments like the classroom, cafeteria, or playground.
For example, students like those from Fletcher Elementary in the photo above could draw pictures of what it "looks like" to be responsible.
Schools that implement PBIS successfully see lower rates of office discipline referrals, suspensions, in-school bullying and increased pro-social behavior, academic performance, social-emotional competence, school climate, school safety, and organizational health measures.
"You explain and teach to make sure students truly understand what each expectation looks like in each setting," Simonsen says. "It increases positive behavior, and it shifts schools toward proactive approaches, keeping schools away from relying only on reactive approaches."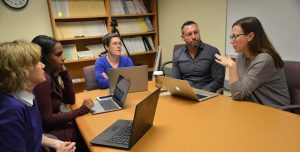 The PBIS framework is structured as a three-tiered model. All students receive Tier I support in the form of teaching and recognizing positive behaviors throughout the school's environments. The second tier provides additional support to smaller groups of students. Tier III focuses on supporting individual students who need more intensive, individualized intervention to be successful.
Among other priorities, over the next five years, the PBIS Center will focus on demonstrating that providing intensified support to students who are identified as needing it most, including students with disabilities, produces better academic and social outcomes for those students.
"We know it can be done. Our job is to provide support so that any school can implement all three tiers," McIntosh says. "The biggest thing we want to do is build solutions that can be implemented by typical educators with typical resources and typical district support."
The PBIS Center website provides free materials and guidance for educators as well as technical assistance to states and districts about how to best support schools, educators, and students.
The PBIS Center also connects with educators from all over the country at conferences and webinars, providing access to experts on topics including mental health in schools and drug abuse and prevention strategies.
"When schools invest in using a PBIS framework, their students experience good outcomes both socially and academically," Simonsen says.