On the fourth floor of Oak Hall, among the Department of Journalism's classrooms and faculty offices, sits a little-known newsroom with a staff of five. What they lack in size they make up for in talent, work ethic, and a keen eye for the best news in Connecticut, which every week they deliver right to your inbox.
Four journalism students and associate professor of journalism Marie Shanahan aggregate news from around the state for their weekly publication, titled The Roundup, with the purpose of curating Connecticut news for a Connecticut audience.
On Tuesdays and Thursdays at 11 a.m., journalism major and digital marketing and analytics minor Ryan Kim '19 (CLAS), journalism and communication double major Brianny Aybar '19 (CLAS), journalism and political science double major Gino DeAngelis '20 (CLAS), and journalism and communication double major Camila Vallejo '19 (CLAS) generate the newsroom bustle that Shanahan says she misses from her days as a reporter at the Hartford Courant.
"My class period is not your traditional class period," she says. "We're talking and we're sharing, there's side conversations going on and people online finding stories, looking at Twitter, covering breaking news. Putting that all together, that energy – I'm glad to have it."
The Roundup, which was launched a year ago this September, now has more than 400 subscribers, including students, alumni, journalists, and members of the public. The newsletter features 10 need-to-know news summaries for each week, followed by headlines the team thinks are must-reads, and an original interview with a local journalist.
Vallejo says she enjoys the departure from a traditional class, which gives her a chance to tap the editing, analysis, and technical skills she has learned in other courses. "Professor Shanahan really tries to give her students the chance to feel like they are in control of the assignment," she says. "We learn to cover a variety of topics, apply all the audience engagement tactics we've learned in other journalism classes, and even talk to other journalists."
Shanahan sometimes opens the class with prompts such as "who do you want to know?" and "what are you interested in?" She then assigns students to comb the web and dozens of news sources for stories. The students then pitch these stories to her and the team.
"I appreciate how open the class is for discussion," says Kim. "I'm able to contribute to the newsletter in subjects that interest me most, seeking out interview subjects or story pitches in my field of interest."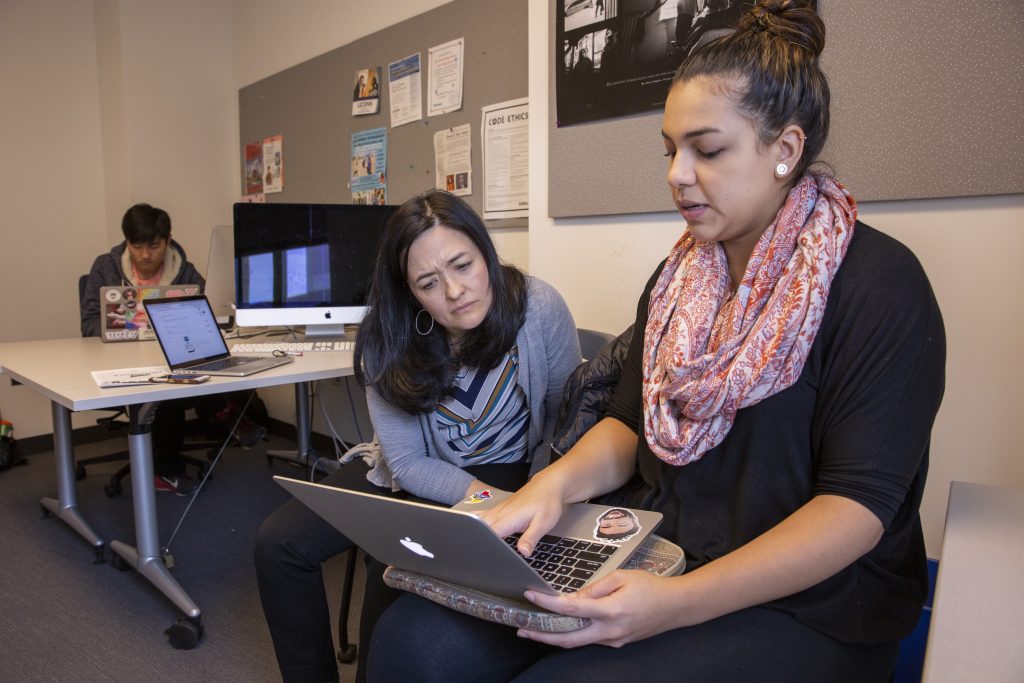 The class has interviewed Vanessa de la Torre, a journalist at Hartford's public radio affiliate WNPR, who is part of the Sharing America Project covering race and culture; Sean Patrick Bowley, a sports journalist and editor of GameTime CT; and political reporter Kaitlyn Krasselt of the Norwalk Hour.
"Although this doesn't guarantee me a job at the Norwalk Hour, talking to a journalist in that organization is a great opportunity for me to at least get my foot in the door," says Vallejo, who interviewed Krasselt.
Each week the "anchor," or lead student editor, practices his or her news judgement to sequence the week's stories and edit their colleagues' work. After review by Shanahan and a thorough copy edit, The Roundup is dispatched each Friday at noon.
"Journalism really is a collaborative effort," Shanahan says. "That's how news comes together. If you work at NBC Connecticut, for example, it's not one person doing everything – a whole bunch of people are depending on one another."
The idea to feature a student as the anchor each week came from alumna and journalism major Sara Grant '08 (CLAS), an editor at the Denver Post. Grant visited Shanahan's class in September to talk about audience engagement and what works for newsletters. "Make it personal and conversational," she advised.
Shanahan says she doesn't want her own voice – that of the authoritative journalism professor – in the newsletter. "I'd rather have them interpreting the news as college students," she says. "We're writing this from UConn."
Vallejo, who anchored the newsletter recently, says it was an interesting and rewarding experience. "I had to use my news judgement to put the entire newsletter in a coherent order," she says. "As an anchor you want to make sure that you are giving the audience the most important news first, but also trying to keep their attention throughout."
According to Shanahan, gone are the days of news consumers who carve out time to read lengthy stories. The Roundup takes a cue from popular newsletters such as Axios, The Skimm, and CNN's Reliable Sources, which cater to shortened attention spans by collecting, summarizing, and presenting top stories in one place.
Shanahan says she hopes the Roundup will find its place among those more widely known newsletters, and help Connecticut residents develop healthier and more well-rounded news "diets." "I feel smarter after I read [Reliable Sources]," she says, "and that is the same thing I want people to discover about the Roundup."
Before she joined the UConn faculty, the possibilities of digital journalism drew Shanahan, an award-winning digital journalist, away from her five-year career as a print reporter at the Hartford Courant and into a role as their digital producer and online editor. "Journalism is changing," she says, "and journalists are expected to be more dynamic than they ever were."
Kim says the class bridges the core tenets of journalism and marketing that will be helpful after graduation. "The course helped me understand the inner workings of an online-based newsletter and the difficulties of generating a successful reach," he says. "It allowed me to utilize some skills from my digital marketing and analytics minor, developing new strategies to generate greater interest."
Shanahan also loves her diverse "newsroom," which includes three students of color and two women. "I enjoy the diverse perspectives coming from all directions this semester," she says.
Maddie Geerlof '19 (CLAS), a journalism and communications major who works on the Roundup podcast, says the class has given her transferable skills. "Getting to work behind-the-scenes has been a really beneficial experience," she says. "Doing real, deadline-driven copy editing has given each of us an integral skill that will translate to the workplace."
Shanahan says she and her team are looking to reach 500 subscribers by the end of 2018. Her students have begged her to continue offering the course each semester, and, of course, she agreed. "That must mean that [the experience] is getting through and they're coming out with something," she says with a smile. "It's nice to be popular."