Juli Wade, who has served in a number of prestigious administrative roles at Michigan State University since 2010, has been named the dean of the College of Liberal Arts and Sciences at UConn.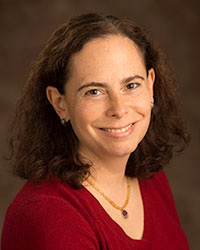 CLAS is the University's largest college, with more than 9,800 undergraduate, 1,700 graduate students, and 750 faculty members. There are 50 undergraduate majors offered by CLAS.
"I believe deeply in the missions of land grant institutions like UConn," says Wade. "CLAS is integral to the University's success, and its existing strengths and breadth provide tremendous potential for the future.
"A liberal arts education has enormous value in the complex, changing, and ambiguous world we live in now," she continues. "It helps students to acquire essential skills and opportunities in areas such as critical thinking, communication, ethics, and multicultural understanding. They are therefore well positioned to be lifelong learners with a sense of social responsibility, who can excel in any career."
Wade most recently has been the associate provost for faculty and academic staff development at Michigan State, a role she has held since 2017. Previously, she was chair of the psychology department for seven years.
"Dean Wade will be an excellent addition to our community here at UConn," says Craig H. Kennedy, UConn provost and executive vice president for academic affairs. "Her background from both an administrative and scholarly perspective will be of great benefit to our largest college."
Wade will begin her new role July 8. In her current capacity, she serves as director of the Academic Advancement Network, which advances careers at Michigan State through inclusive, collaborative, and experiential learning. She also coordinates its work in the area of leadership development, aiming to enhance the performance of current leaders while cultivating future ones.
Wade joined the MSU faculty in 1995 as an assistant professor in psychology, and later held an appointment in integrative biology and was also a member of the doctoral program in neuroscience. She was named a full professor in 2004.
Her scholarly research has been focused on understanding how structural and biochemical changes within the central nervous system regulate behavior, using lizards and songbirds as model organisms.
Wade is an associate editor for the journal Hormones and Behavior. She has published more than 130 original articles, reviews, and commentaries.
Since 1996, Wade has secured more than $7 million in research funding from the National Institutes of Health and the National Science Foundation.
"I am dedicated to enhancing collaborative, interdisciplinary scholarship across the domains of research, teaching, and mentoring," she says. "The diversity of disciplines in CLAS provides great opportunities, as well as bridges to the other colleges on campus."
Wade is a fellow of the American Council on Education, hosted this year by the University of Pennsylvania.
Wade earned her undergraduate degree in psychology from Cornell in 1987, and her doctorate in psychology from the University of Texas in 1992. She was a postdoctoral fellow in the Laboratory of Neuroendocrinology at UCLA's Brain Research Institute from 1992 to 1995.