Connor Adams loves that his job as a qualified craft worker in UConn's masonry shop presents a different challenge every day, and he really enjoys the people he works with.
I like looking at the jobs we have done in the past, and being able to say 'we fixed that wall' or 'we made this better.' — Connor Adams
Adams, a full-time employee at UConn since 2017, first worked on campus as part of the Work Based Learning Program, which brings students from Connecticut's technical high schools to perform various jobs on campus.
He is the first Work Based Learning Program student to move on to full-time employment at UConn's Facilities Operations. The program, which started in fall 2014, has hosted 36 high school students at Facilities Operations, including 13 currently.
Adams, a Thompson, Connecticut, native, heard of the UConn program in his junior year at Ellis Technical High School in Danielson.
"The teachers told me that UConn was coming to school to interview a few students for this program, and wanted to know if I was interested," he says. Previously he had only visited the UConn campus on an elementary school field trip.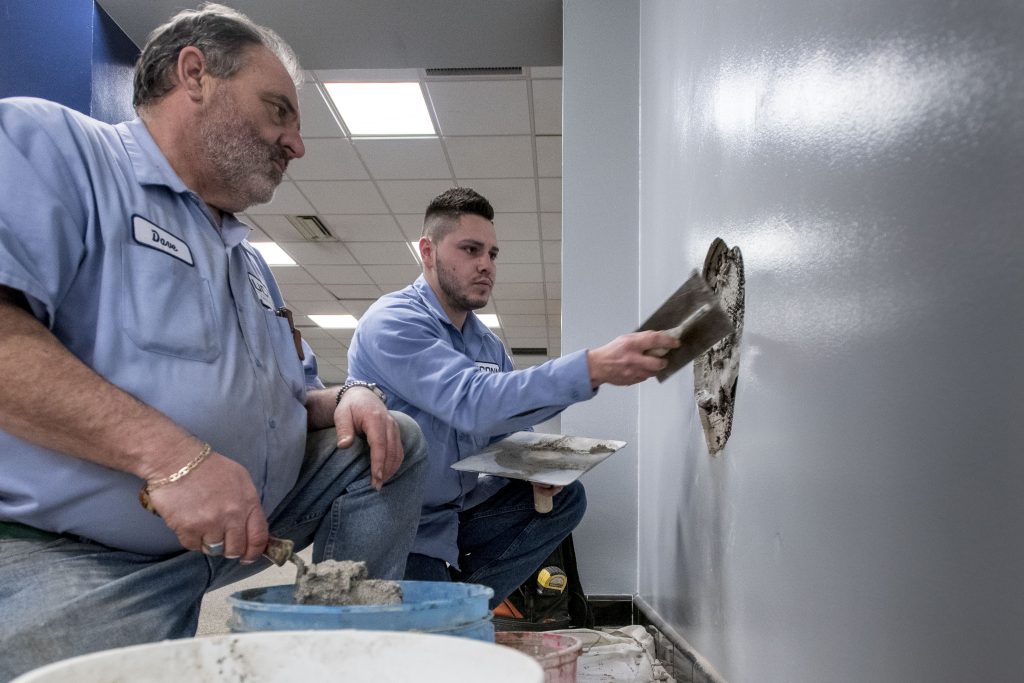 After being selected for the program, he began working on campus two days a week during the remainder of his junior year, doing work with concrete, plaster, brick, tile, and stone.
He continued to work in the summer of 2015, and then during his senior year, worked full-time during the shop time (non-classroom) part of his schedule at Ellis Tech. After graduating in 2016, he initially worked for a private construction company before being hired as an intern in UConn's masonry shop in October 2016, which led to his full-time position four months later.
"I learned a lot of skills in high school, but the program at UConn helped me sharpen them quite a bit," says Adams. "For instance, I had never done plaster before and I worked with that here.
"I like looking at the jobs we have done in the past," he adds, "and being able to say 'we fixed that wall' or 'we made this better'."
As the "new guy" in the shop, Adams is paired on a daily basis with Dave Prouty, a mason at UConn since 1987.
"Working with Connor has been very fulfilling to me," Prouty says. "I'm a guy that's near the end of my career, and it's good to pass on knowledge. He's the kind of guy we're looking for: he's always on time and does all the right things."
In addition to his work at UConn, Adams joined the U.S. Marine Corps Reserves in January 2018, graduated from boot camp in April, and is now qualified as a machine gunner in the infantry training battalion.
Developing the Work Based Learning Program in the Facilities Operations area was the brainchild of a number of people, but it really started with Rich Ott, the maintenance supervisor for the electrical shop, whose son had done a similar program with a small, private company.
"I thought it would be great to get out there and do some work-based learning for young students in the community," says Ott.
He shared the idea with Eric Kruger, executive director of Facilities and Operations, and Mickey Gorman, the manager of structural shops, who were also enthusiastic about it. And with the cooperation of the labor unions, the program was born.
In addition to masonry, there have been Work Based Learning Program students in carpentry, energy management systems, HVAC, locksmith, electrical, motor pool, plumbing, and the water pollution control facility. Elsewhere on campus, there have also been students working in culinary.
"It's really a feel-good program," says Gorman. "There's a great satisfaction in teaching kids and getting them on the right track."