For Doug Elliot, it was love at first sight.
Sitting in the stands at Middletown's Palmer Field and watching the UConn baseball team compete in the 1977 NCAA playoffs, the Danbury High School athlete felt an undeniable connection.
"They just did everything first class," Elliot '82 (BUS) explains. "The infield-outfield throws were crisp, the fielding was sharp, they played with confidence and poise … it was just so impressive."
More than 40 years later – during which time he married Sheila '82 (BUS), welcomed kids Doug and Jaclyn, and cultivated a highly successful business career – his connection has not only endured, it has grown stronger. It has spanned the UConn baseball careers of both Elliot and his son, Doug, countless hours watching games, and a virtual lifetime of program support, both publicly and behind the scenes.
Husky spirit gets in your fabric and never lets go. — Doug Elliot
The connection will live far into the future with the announcement that the UConn Board of Trustees has approved the naming of the new on-campus baseball facility in Elliot's honor. The 1,500-seat facility, scheduled to open in the spring of 2020, will be known as Elliot Ballpark.
"We are excited and proud that the Board of Trustees has approved the naming of our new baseball facility in honor of the Elliot family," says UConn athletics director David Benedict. "Doug and Sheila Elliot's longtime commitment and strong support have greatly contributed to the success of our baseball program. As a former baseball student-athlete himself and the father of another, Doug is a wonderful example of remaining a part of the UConn family. It is fitting that future baseball Huskies will play on a field that bears his name."
Elliot, president of the Hartford Financial Services Group Inc., has been a driving force behind the decades-long effort to construct a new on-campus home for the baseball Huskies. It is the latest successful product of his longtime association with his alma mater, in general, and the baseball program, in particular.
"It's UConn – Husky spirit gets in your fabric and never lets go," Elliot says. "I played there, met Sheila there, received a terrific education, and had an incredible life experience along the way. Then I had a front row seat as Doug had a similar positive experience, as do many of our student-athletes who wear the Hook C. That we were able to go through it together as a family was very special."
The longtime dream was a home field worthy of the program.
"What was swirling in my mind for the last few years was how to get this [new facility] over the finish line," Elliot says. "Our players and program have earned the right to have a first-class facility. That's why, in the end, Sheila and I wanted to do what we could do to change that dynamic with our lead financial gift.
"Husky baseball runs deep inside our family," he adds, "and so the ability to give back a small token of what we have received is a blessing."
Elliot and his wife both have degrees in accounting from UConn. Doug Elliot also earned an insurance executive degree from the Wharton School of Business. He has served on the Hartford Hospital Board of Directors over the past 16 years, the last seven as chairman, while also being active in numerous community initiatives. In 2004, he was voted into the UConn School of Business Hall of Fame, and he received the prestigious Red O'Neil Award from the UConn Club in 2006. In 2017, Elliot delivered the UConn School of Business commencement address.
His labor of love, he says, has been his tireless efforts on behalf of the Huskies' baseball program, including as a founding member of the Dugout Club in 1991, the UConn baseball support group that has grown from 19 original members to more than 500.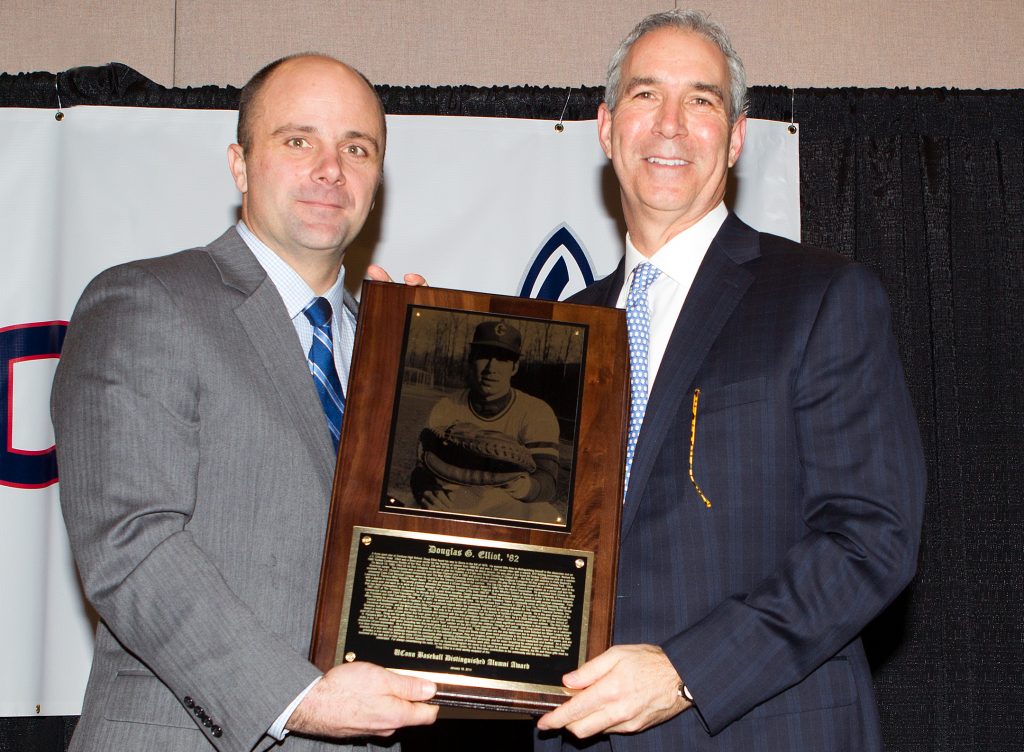 "Doug has been an unbelievable mentor, confidant, friend, and supporter," UConn baseball coach Jim Penders says. "Very early on after I got the job, I was looking for 'How can we make this better?' and he agreed that we had to build a new facility. It's been a long time, and he and Shelia have been with me every step of the way."
Elliot was a three-year varsity player under Coach Andy Baylock, hitting a career .285 with 7 homers and 48 RBIs, including a .339 average in 1980. Son Doug, playing four years under Penders, had a career .298 average with 7 homers and 79 RBIs, and caught 55 games in 2011 as the Huskies made a run toward Omaha, losing to eventual National Champion South Carolina in the Super Regionals. Both Elliots were honored by their teammates by being named the Lawrence R. Panciera MVP, the only UConn baseball award selected by a vote of the players themselves.
"I have lifelong friends that I shared the dugout with for four years, through thick and thin," Elliot says. "There was a kinship, a bond, that was just special. It's an important part of the reason we have always felt so connected to the school."
Elliot Ballpark will be located just off Calhoun Way, across the street from J.O. Christian Field, the Huskies' current home. The three-sided stadium will feature artificial turf, lights, a video scoreboard, and suites. The home locker room will be equipped with showers and a players' lounge, while the adjoining building will house the coaches' offices.
"As we get closer, it's an unbelievable feeling," Elliot said. "I've walked the property with Coach Penders and initially it was hard to imagine, but now as construction moves along, you can get a real sense of what the future holds."