Nearly 100 middle school and high school students from the Greater Hartford area were recognized at UConn Health for their health sciences achievements during the Aetna Health Professions Partnership Initiative (HPPI) annual Doctors Academy closing ceremony.
The Doctors Academy program, hosted by UConn Health's Health Career Opportunity Programs, is a continuous pipeline for middle school, high school, and college students of diverse backgrounds looking to realize their dream of becoming future doctors, dentists, and health professionals.
Keynote speaker Connecticut State Representative Pat Wilson Pheanious commented on the student's drive to achieve amidst the program's rigorous curriculum. "During the last year you have demonstrated that you have the aptitude, motivation, and stamina that are needed in this profession. You are special because you want to be in service—you aim to use your gifts to help and heal."
The Doctors Academy is an intense program with the students attending classes on Saturdays during the school year and also a six-week enrichment academy over the summer focusing on pre-calculus, calculus, biology, physics, anatomy, physiology, and writing.
Wilson Phaenious also offered some parting words of advice for the graduating seniors who will be attending college in the fall.
"You're going to have to become a critical thinker and maintain your physical stamina," said Wilson Phaenious."You're going to have to have patience with yourself and with everyone around you, think outside of yourself, and demonstrate compassion. Be open to your passion and pursue it. And above all, be humble."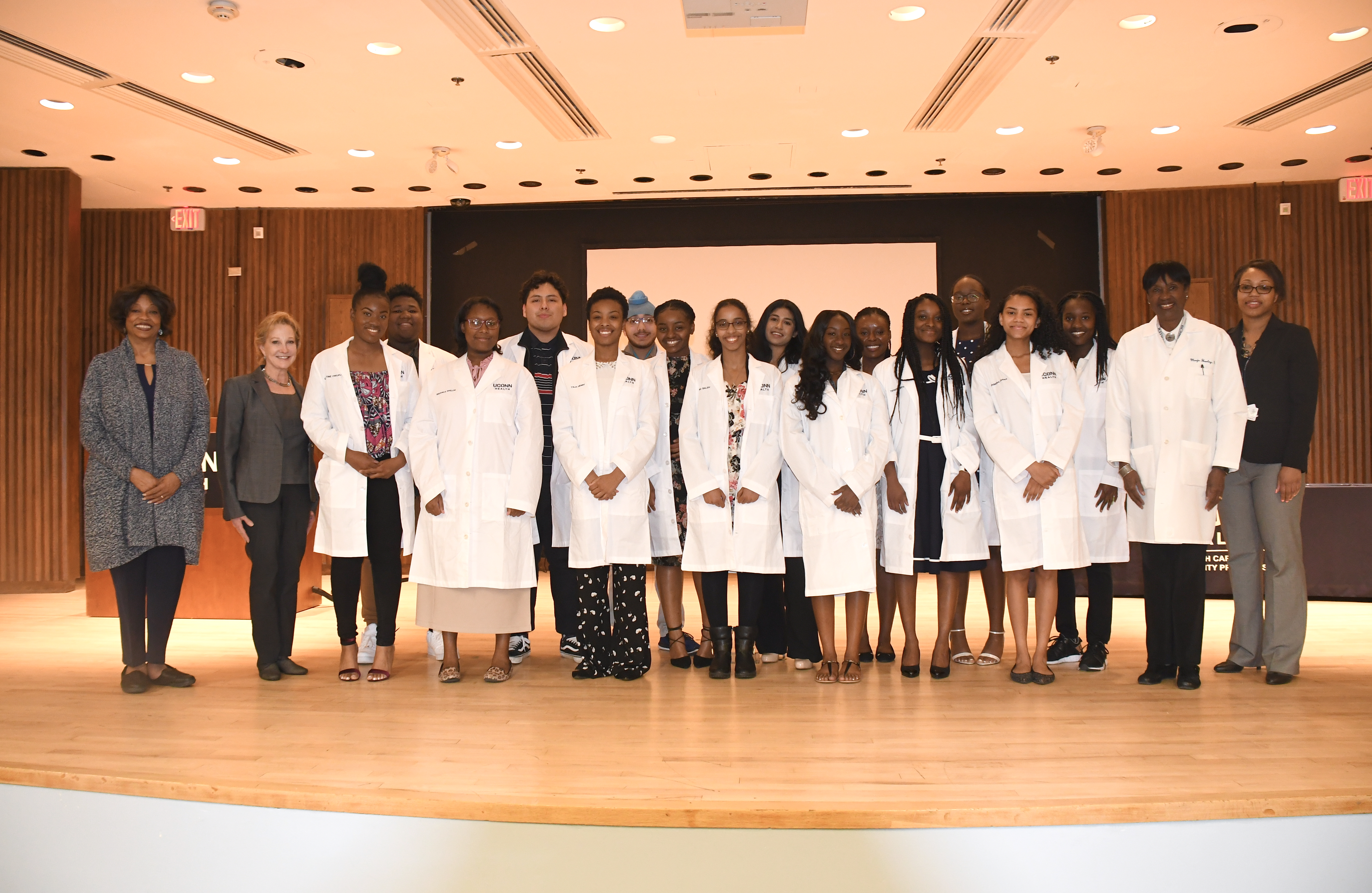 Dr. Sharon Gordon, dean of the UConn School of Dental Medicine, shared her personal journey with the students in the room who aspire to apply to medical and dental school in the future.
"I too am a first generation college student," said Gordon. "As part of a vocational technology program in high school, I worked in a dental office. That opened my eyes to possibilities for myself and for dentistry as a career path."
Former and current students also shared some words of advice for the younger students in the room.
Sabrina Diana, a graduating senior heading to UConn in the fall, urged her fellow classmates to "find a mentor, shadow a doctor, and gain research experience."
Diana added: "The program offers conferences with doctors, principal investigators, and medical students that not only look like you, but who understand the struggle—and most importantly—the triumphs that you will soon face."
John Garcia, alumni of the Doctors Academy who received both his Bachelor of Science and Masters of Public Health from UConn, shared how higher education positively impacted his life.
"Pursuing higher education has opened countless doors for me—ones that I would have not imagined when I was sitting where you are right now," said Garcia.
The ceremony continued as the 15 graduating high school students in the Senior Doctors Academy received white coats as part of their graduation from the program. Several senior students also received John & Valerie Rowe Health Professions Scholarship Awards, Plessy Awards, and Doctors Academy Recognition Awards that honored both the students and their families for their achievements.
Health Career Opportunity Programs Founder and Director Dr. Marja Hurley ended the program asking the graduating students to stand and give families a round of applause for their support.
Hurley also noted that next year there will be Doctors Academy alumni graduating from the UConn School of Medicine.
"It's a long journey," Hurley stressed, "This tells you that if you stick with it, this will be your dream."