Allied health sciences, one of the nation's fastest-growing career fields, will soon be available at UConn Waterbury as a bachelor's degree program that can be completed from start to finish at that campus, the University announced Wednesday.
UConn is developing the major with on-site and online classes, expanding some existing core science requirements to both semesters, and adding several core and elective classes that focus on specifics of allied health.
Students will be able to either complete the bachelor's degree program at UConn Waterbury from their freshman year all the way through to graduation, or transfer in as a junior after earning an associate's degree in the field at another institution, such as the highly regarded Naugatuck Valley Community College program nearby.
With their degrees in hand, the graduates will be prepared either to continue into graduate programs such as medical, dental, or optometry school, or to move directly into the workforce in careers where skilled workers are in demand and starting salaries are often higher than in many other professions.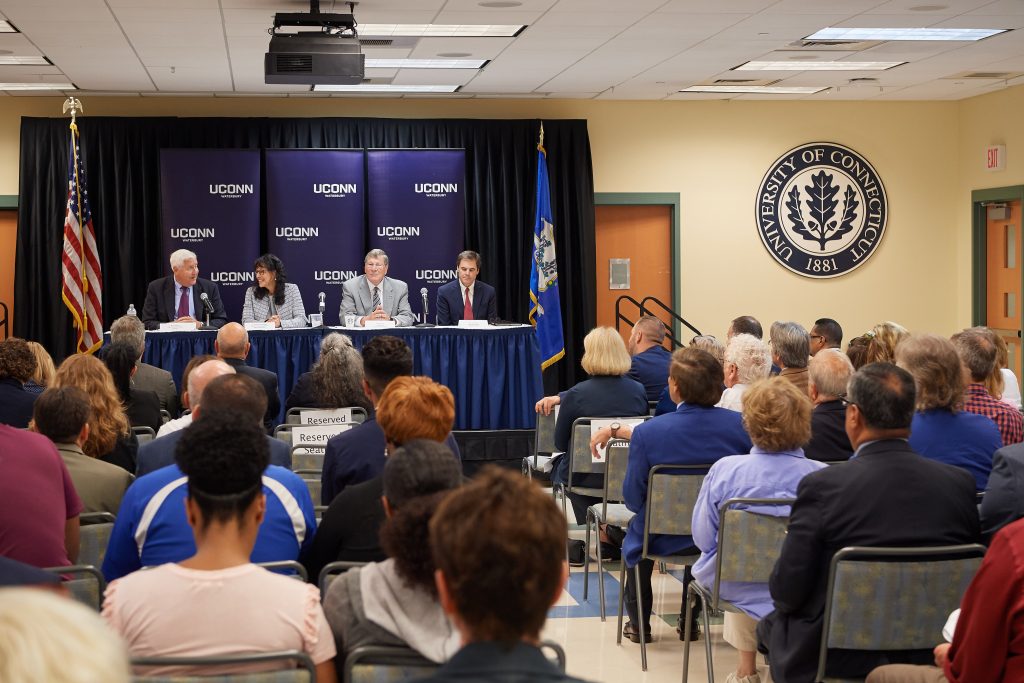 "Offering this important degree program at Waterbury will allow many more students in the region to achieve their academic goals, and then go on to meet a significant workforce need in the region after they graduate," UConn President Susan Herbst said. "Giving our students the ability to complete this program in its entirety at the Waterbury campus is a critical ingredient for its success."
UConn officials provided an overview of the new major Wednesday during a panel discussion at the Waterbury campus. They were joined by Waterbury Mayor Neil M. O'Leary, members of the Connecticut General Assembly's Waterbury delegation, the presidents of St. Mary's and Waterbury hospitals, Naugatuck Valley Community College President Daisy Coco de Filippis, and representatives from several business and civic organizations.
Allied health encompasses the many health professions that are distinct from medicine and nursing, according to the Association of Schools of Allied Health Professions (ASAHP). They include physician assistant, physical and occupational therapists, medical laboratory scientists, healthcare documentation specialists, and many other professions.
The U.S. Department of Labor's Bureau of Labor Statistics says employment in health care occupations is projected to grow 18 percent from 2016 to 2026, adding about 2.4 million new jobs as the population ages and the services are in greater demand.
Specifically, health care support occupations – which include allied health fields – are expected to grow by 23 percent, with at least one-third of the jobs requiring at least a bachelor's degree.
Getting that degree pays off: Those employees' median earnings can be more than 70 percent higher than for those with a high school diploma, the Bureau of Labor Statistics reports.
Adding the allied health bachelor's degree program at UConn Waterbury will be particularly helpful for those students because it allows them to earn those degrees close to home, rather than needing to travel to other campuses to complete required courses.
It also meets a growing need in that region: State projections show that by 2025, older adults will comprise at least one-fifth of the population of every Connecticut municipality – with some of the highest numbers in Litchfield County, just north and west of Waterbury.
In fact, many of those municipalities already have the highest average ages in the state and, with people wanting to stay in their own communities as they age, the region is expected to need skilled workers in coming decades in many allied health fields.
"UConn Waterbury is deeply engaged with the region, so it makes perfect sense to add a bachelor's degree in allied health, in which our students can take their skills back into the community," said William Pizzuto, director of the UConn Waterbury Campus. "This will help us prepare students for steady, rewarding careers while meeting the needs of our area and our state."
UConn's bachelor's degree program in allied health sciences, offered in the College of Agriculture, Health, and Natural Resources, is currently available only at Storrs, but university officials have been considering an expansion to Waterbury for almost a year prior to the recent announcement.
Graduates of the program at UConn Storrs have been among the quickest to find jobs in their fields upon graduation, illustrating the need for skilled workers in those fields.
UConn will start establishing the Waterbury bachelor's degree program by opening a search this fall for its first assistant professor-in-residence faculty member, who will come on board in fall 2020; and another who will start in fall 2021. If enrollment figures meet projections, one or two tenure-track faculty members would also be hired in fall 2022 to continue the expansion.
The new faculty members will also serve as advisors primarily for upper-level students, in conjunction with the Waterbury campus staff and the allied health advising staff at Storrs. Internship placements for students will also be developed in clinical, community and research settings.
Certain classes in chemistry, human anatomy and physiology, and biochemistry will also be added at Waterbury to support the allied health major there, providing an added benefit for Waterbury-based students in other majors who either want or need to take the courses as part of their own programs.
The University also offers eight allied health courses online that can help to fulfill the major's requirements.
"Allied health sciences is one of the most popular majors among undergraduate students in the college," says Indrajeet Chaubey, dean of UConn's College of Agriculture, Health, and Natural Resources, "and we are very excited to offer the opportunity for students to complete this major entirely at the Waterbury campus."