UConn's Office of Undergraduate Research each year provides Summer Undergraduate Research Fund (SURF) awards to support full-time undergraduate students in summer research or creative projects.
SURF awards are available to students in all majors at all UConn campuses. The students' project proposals are reviewed by a faculty committee representing various schools and colleges, and SURF award recipients are chosen through a competitive process. Each SURF award winner is supervised by a UConn faculty member.
This summer, UConn Today is looking at various SURF scholars and their work.
Name: Christian Connors
Year: Rising Senior
Major: Ecology and Evolutionary Biology
Summer research project: Connors is collecting caterpillars from three different predominant types of trees in Connecticut – red maple, witch hazel, and musclewood or American hornbeam. His main interest is the parasitoids (a type of parasite) that are found in the caterpillars. These are insects that live as larvae in a host but eventually kill the host to remove themselves and live independently.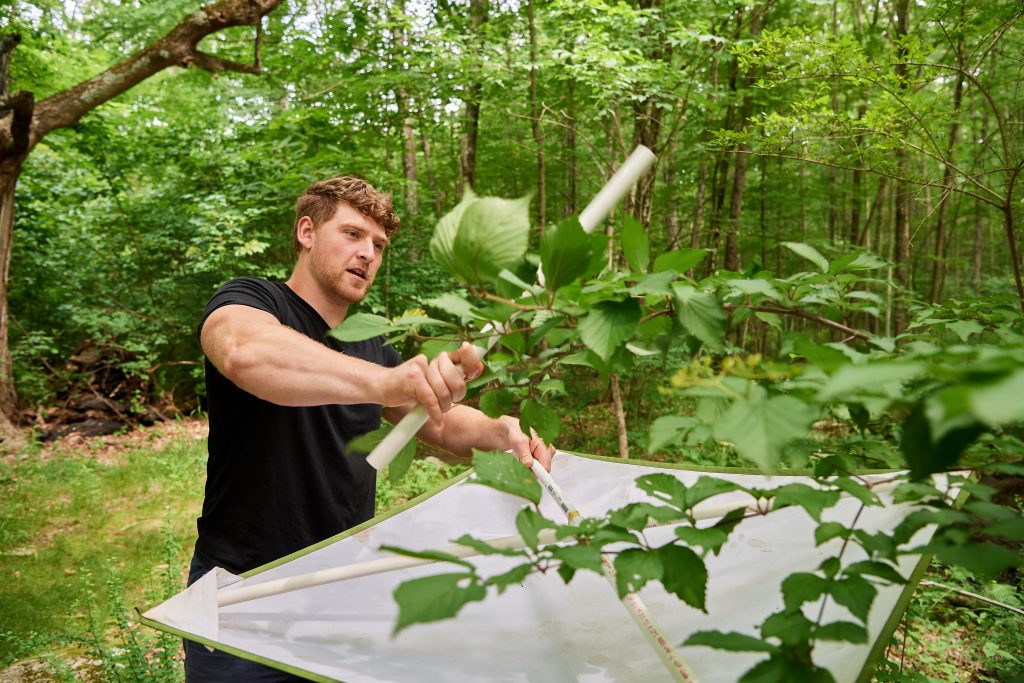 He is studying the number of parasitoids found in caterpillars in large wooded areas, as opposed to smaller wooded fragments, and how these parasitoids regulate the caterpillar populations and thus regulate the populations of birds and other animals.
A native of East Haddam, Connecticut, and a graduate of New London High School, Connors has been engaged in research since his freshman year. The SURF grant is enabling him to continue his work this summer. He is mentored by Robert Bagchi, an assistant professor of ecology and evolutionary biology, and also works closely with David Wagner, professor of ecology and evolutionary biology.
How did you get interested in studying parasitoids?
From a young age, I wanted to study animal systems and I wanted to name things. It used to be thought that beetles had the most species of anything. More than two-thirds of named animals are insects, and something like 70% of them are supposed to be beetles. Now we are finding there is a whole community of parasitoids that might have equal if not more species. That's why I find them so interesting, there are so many left to be named.
Where have you traveled as a UConn undergraduate in the course of your research?
I spent three months working on pollinators and bees, and every two days or so I would travel to southern New Hampshire or throughout Massachusetts. I would walk under power lines, through streams. It was an awesome adventure!
I've also been to Arizona, Colorado, and all over California doing research and collecting caterpillars. And I presented at the Northeast Natural History Conference [in Springfield, Massachusetts] this past spring.
You say you like science fiction. Is this real-life science fiction?
Well, it is cool as heck. On some level, science fiction was a gateway to this. As a kid, I loved those pulp covers with crazy creatures and crazy machines on them … in particular, the critters. Insects are really small, but when you zoom in on them they are really bizarre, and if you can imagine yourself at that scale, the world would be terrifying. The stuff you read about insects is barbaric. They are do or die! If a moth lays 1,000 eggs, 900 of those offspring are going to die in horrible ways … its super brutal!
Why are parasitoids so important?
You walk into a forest and there are all these animals and plants. The parasitoids might actually be the most important part of the ecosystem. The first thing you learn in ecology is that organisms are restricted by the trophic level below them. With insects, they breed so fast, you wonder how there are still any green leaves. Why haven't they eaten them all? It's because with insects, there is this hidden guild of organisms that are secretly controlling insect numbers. When you lose them, these insects go bananas and become invasive, like the gypsy moths.
What else are you doing this summer?
I'm taking an online Spanish class at UConn. Every biologist should get to the tropics at some point, and some of the best are in Central America, where they speak Spanish. A lot of people encouraged me to do it and said it will be very useful. I like the quiet UConn in the summer. It's more like a work environment for an undergrad. It's nice to have a three-month reprieve from the crowds after a busy school year.