UConn's Office of Undergraduate Research each year provides Summer Undergraduate Research Fund (SURF) awards to support full-time undergraduate students in summer research or creative projects.
SURF awards are available to students in all majors at all UConn campuses. The students' project proposals are reviewed by a faculty committee representing various schools and colleges, and SURF award recipients are chosen through a competitive process. Each SURF award winner is supervised by a UConn faculty member.
This summer, UConn Today is taking a look at various SURF scholars and their work.
Name: Sarah Baker
Year: Rising Senior
Major: Ecology and Evolutionary Biology
Summer research project: Baker is researching the impact of distance from a stream on the color distribution of Plethodon cinereus, commonly known as the eastern red-backed salamander. This research is happening right in Mansfield at such areas as UConn's Fenton Tract, Moss Tract, and Spring Hill Tract, as well as on town land, such as Dunhamtown Forest and Schoolhouse Brook Park. Her faculty mentor is Elizabeth Jockusch, a professor of ecology and evolutionary biology in the College of Liberal Arts and Sciences.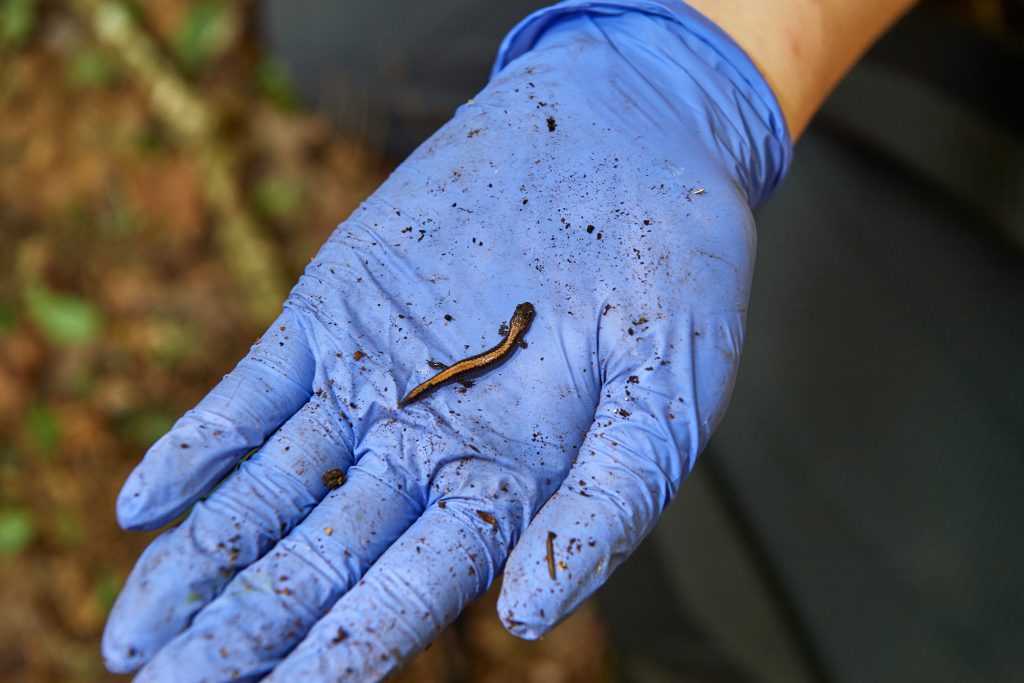 Baker, a native of Northfield, Connecticut, and a graduate of Litchfield High School, hopes to earn her master's degree and doctorate in the future, and become a college professor in this field.
What made you decide to attend UConn and how did you pick your major?
A lot of my teachers in high school attended UConn and they loved it, so that got me real interested to begin with. Every time I visited campus, it was so beautiful and everyone was just so nice and kind. When I got here, there were people to direct me where I wanted to go academically based on the ideas that I had. Originally, I was in engineering, but more and more I realized I wanted to do research and that's how I wound up with this major. My advisors were really helpful, especially when I went to orientation, and helped me realize I actually wanted to be in biology. They assisted me in picking classes that would be helpful down the road.
What kind of research are you doing with the salamanders this summer?
The two common types we see here in Connecticut are the one with the red stripe on its back and the one that is just completely charcoal black. What's really interesting about them is people have been studying them for a long time and they are not entirely sure why they haven't converged into just one of these phenotypes.
I thought it was really interesting if maybe it has something to do with how far away they are from water, and so streams are a good way to look at it — that was the observation that was brought forward. I am trying to see whether the closer a stream is, the more there is of one of those color morphs than the other, and if the stream impacts that in some way.
Have you done other research at UConn?
After my freshman year, I did a summer research project abroad in Costa Rica through UConn with The School for Field Studies. I studied hummingbirds by looking at how often they visited feeders and native flowers in the area. It was really an amazing experience because we got to experience different research techniques and we got to use mist nets, where we would catch the hummingbirds and take their measurements before releasing them. That was really incredible.
How does research differ from your experiences in the classroom?
Research work is a lot of trial and error and problem solving. I think classroom work is very guided and you have a set method to follow. You go alone into the field, and sometimes things just go wrong and you have to look at what you have and how to fix it. There is a lot of problem solving, and that's definitely something I felt during the first week when I was just getting started on this project. I felt like I was doing more problem solving than anything else.
What are the conditions like out in the field?
It definitely can be pretty muddy near streams and that's where a lot of mosquitoes are. It can be buggy and messy, but it's really nice being out in the woods. It's beautiful. I've had good luck with the weather, and have only had a few days where I've been out in the pouring rain.