When Carlos Trallero started his academic career in physics, he had no idea he would become a pioneer in a field of research that uses high-power lasers to investigate atomic and molecular physical phenomena.
Originally from Cuba, where there isn't much funding for experimental research, Trallero began his academic career by studying theoretical physics. But as a senior graduate student at Stony Brook University, he got the chance to work in a lab doing experimental work and quickly recognized it was his true passion.
"I talked to a professor doing experimentation with ultra-fast lasers and I fell in love with it. And at first, I sucked at it — I was horrible," says the professor of physics who is now working with four research grants funding separate investigations.
Trallero works with very short laser beams, with an emphasis on very short. The lasers he uses can pulse with attosecond precision. As a comparison, there are as many attoseconds in one second as there have been seconds in the entire history of the universe since the Big Bang.
It takes light half an attosecond to cross the orbit of hydrogen, the smallest atom. When trying to study something that fast, scientists need the kind of precision the lasers Trallero can offer. The goal of this research is to gain a better understanding of how electrons, one of the fundamental atomic building blocks in the universe, move and react to light. By understanding the physics of electron movement, scientists could improve the design of technologies like superconductors.
"The dream is to be able to perform logistical operations like a computer at the attosecond level," Trallero says. "It would really advance computational speeds. If you could make as many calculations in a second as there have been seconds in the history of the universe – that's an astounding number."
His lab is now working to break the attosecond barrier into the zeptosecond barrier which is 1,000 times faster than the attosecond.
While some of the potential applications of this research remain unknown since the field is still in its infancy, Trallero views the premise of his research as creating basic knowledge. He is investigating the atomic and molecular phenomena which determine so many things in our universe but about which we still know relatively little.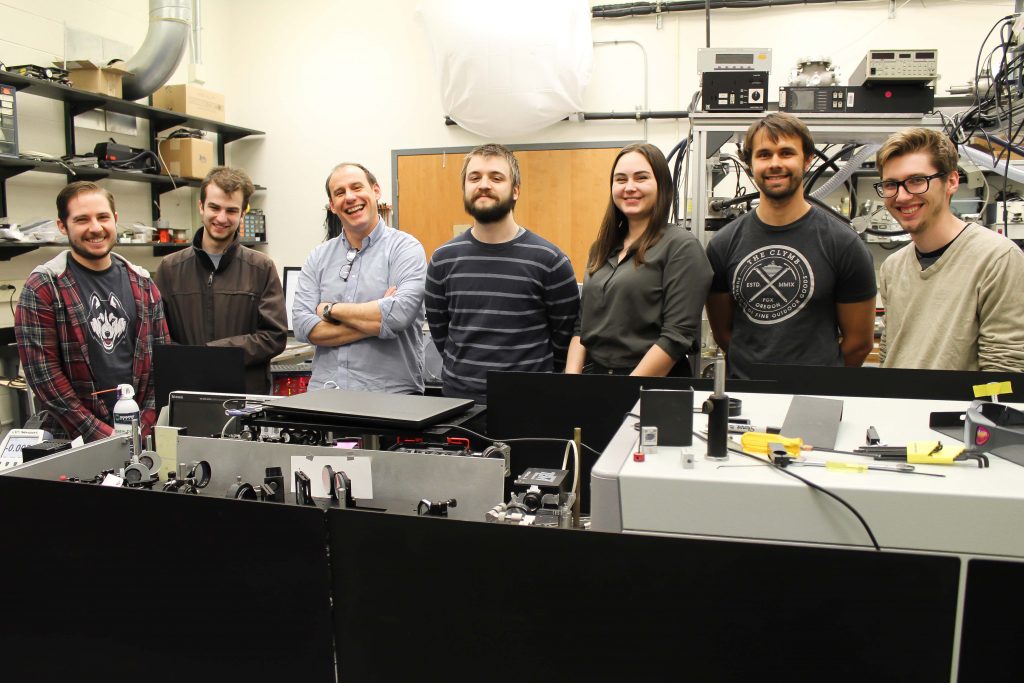 One project funded by the Department of Energy has Trallero looking at the properties of atoms and molecules in the quantum world by harnessing light waveforms at the attosecond time scale through interferometry. Interferometers provide precise measurements of molecules using two beams of light which interfere with each other. The images produced by this technology will allow Trallero to find out information about the rotational dynamics of molecules.
"In the quantum world, properties of atoms and molecules are not as simple as in the real world," says Trallero.
Another of Trallero's grants, from the U.S. Air Force Office of Scientific Research, involves creating an incredibly bright beam. Trallero's lab is working on taking electrons out of nanoparticles and then sending them back in, which will produce a bright, energetic light. "The process to study these dynamics has never been executed in this manner," Trallero says.
Trallero is also working on two grants from the U.S. Navy,  including one that aims to develop infrared "body heat lasers."
Through these grants, Trallero is developing a new class of laser which is only comparable to those found at large, multinational laser facilities like the European Light Infrastructure. Compared to the technology currently available to Trallero at UConn, this new class of laser will have almost 20 times more average power than the current laser.
Developing a laser of this caliber will be incredibly useful for studying phenomena that only occur a few times per shot of the laser in real time. The laser will enable researchers to probe the molecules with X-rays and ultraviolet rays to look at their structure and is being developed through a partnership with a Canadian company, Few-cycle, and a German company, Amphos. Researchers like Trallero are able to get advanced technology for a fraction of their retail value by doing research of interest for these companies, which are constantly trying to innovate in step with the science.
"We're only paying a fraction of the price because the company is interested in showing they can develop this kind of technology," Trallero says. "Showing they have the capacity and showcasing what we do with, and for, them helps them gain a customer base and it helps us make major advances in basic science at the same time."
Trallero is also considering creating spin-off tech companies based on his university inventions with graduate students and postdocs. He has developed nanoparticle technology which can help transform molecules from a liquid to a gaseous state which could be beneficial for producing aerosols.
Trallero views physics as "the broadest science" since it has unique applications to math, engineering, chemistry and, even, biology. "I try to think about particular scientific questions in a different way than perhaps other people who have been working in this field for a long time do," Trallero says. "Often we suffer from too much in-depth specialization."
He wants to make use of the tools from every specialty he can, and he instills this same inclination in the students working in his lab.
"They don't know what they're going to face in the future and by having a broad skill set and a broad mindset they'll be prepared for anything," Trallero says. "You're opening your mind to more possibilities."