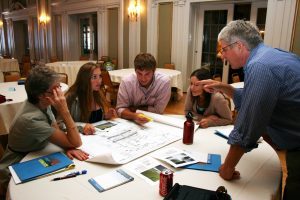 Editor's Note: The following piece was originally published by the UConn Extension blog at the College of Agriculture, Health, and Natural Resources. 
UConn has received a $2.25 million grant from the National Science Foundation in support of a project entitled "Redefining Public Engagement at the University of Connecticut: Studying the Impact of an Innovative STEM Service Learning Model on the University Community." The project is aimed at expanding and studying a new public engagement program that combines teaching, service learning, and Extension outreach.
The program is called the Environment Corps and focuses on using STEM (Science, Technology, Engineering and Math) skills to address important environmental issues like climate adaptation, brownfields remediation, and stormwater management at the municipal level. Environment Corps combines the familiar elements of classroom instruction, service learning, and UConn Extension's work with communities in a unique way that allows students to develop STEM skills and get "real-world" experience as preparation for the workforce, while communities receive help in responding to environmental mandates that they often lack the resources to address on their own. Faculty from the Neag School of Education will lead the research.
"We are working to better understand how innovative instructional models and partnerships like this can be institutionalized, particularly given our status as a land-grant university."

— Professor Todd Campbell, co-PI
"The entire team is excited and gratified that NSF has selected us for funding. This will allow us to expand and better coordinate our efforts, and create something that will hopefully be part of the University's public engagement portfolio for a long time," says Extension educator Chet Arnold, principal investigator of the grant and the director of UConn's Center for Land Use Education and Research (CLEAR).
Arnold notes that the Environment Corps project is built on an extensive partnership at UConn. It includes faculty from four schools and colleges in five departments: Natural Resources and the Environment, Extension, Geography, Civil and Environmental Engineering, and Curriculum and Instruction in the Neag School. In addition, the project involves four university centers, all three environmental major programs, and the Office of the Provost.
The Environment Corps or "E-Corps" came out of a three-year pilot project originally funded by the UConn Provost's Office in 2016. That project developed the Climate Corps, an undergraduate instructional effort focused on local, town-level impacts of, and responses to, climate change. Designed to draw students from the environmental studies, environmental sciences, and environmental engineering majors, the Climate Corps debuted in the fall of 2017. The program consists of a class in the fall with a strong focus on local challenges and issues, followed by a "practicum" spring semester during which students, formed into teams and matched with towns, work on projects. Partnerships with the towns are built on the long-term relationships that have developed between local officials and Extension educators from CLEAR and the Connecticut Sea Grant program.
Climate Corps was a hit with students and towns, and in 2018 spun off a second STEM offering, this one focusing on brownfields (contaminated sites) redevelopment. The Brownfields Corps, taught by the Civil and Environmental Engineering Department, debuted in the fall of 2018. With the NSF funding, there will now be a third "Corps," the Stormwater Corps, which is under development and will help towns deal with the many requirements of the state's newly strengthened general stormwater permit.
The NSF-funded project involves expansion and coordination of the three programs, but also has a major focus on studying the impact of the E-Corps approach on students, faculty, participating towns, and the UConn community.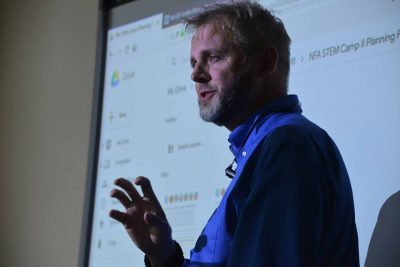 "We couldn't be more ecstatic to work with this interdisciplinary group," says Neag School Professor Todd Campbell, co-principal investigator. "Our project draws on research focused on further developing and refining the E-Corps instructional model — a model designed to support undergraduate students engaged in helping communities meet real-world environmental challenges. At the same time, we are working to better understand how innovative instructional models and partnerships like this can be institutionalized, particularly given our status as a land-grant university."
The Center for Excellence in Teaching and Learning will take the lead in working with University administrators and faculty to promote further expansion of the model.
The local, real-world focus of the E-Corps model is getting an enthusiastic response from students. One student wrote: "Climate Corps had a huge influence on me, and for a while I wasn't super excited about the sorts of jobs I'd be qualified to do … but having this experience opened so many doors for me and exposed me to so many different things I could do. I'm really excited to start my new job because I've been able to combine a career with something I find super interesting." Fall classes are filled to capacity for the Climate and Brownfields Corps.
"With two years of the Climate Corps and a year of the Brownfields Corps under our belts I think we can say that both the students and the communities are benefitting from this program," says Sea Grant Extension Educator Juliana Barrett, a Climate Corps instructor. "As a Land and Sea Grant University UConn has a critical mission to engage the community, and the E-Corps project gives us a new, exciting model for doing that."
For more information, visit the Climate Corps and Connecticut Brownfield Initiative websites. Read the award abstract on the NSF website.
Stefanie Dion Jones contributed to this republished version of the original story.
Related Stories: