Air pollution is a lot more than thick smog and billowing smokestacks. One of the biggest air pollution problems is actually too small to see: ultrafine particles. These particles may be invisible to the naked eye, but the health problems they can cause are of great concern.
Ultrafine particles are nanosized molecules that we breathe in every day. Because of their size, these particles enter our lungs and can leech into the bloodstream, leading to serious health problems including cardiovascular disease. Additionally, due to the very recent evidence of their harmful effect, there are currently no government regulations for ultrafine particles.
Some of the more significant sources of these particles are automobiles and airplanes. This means people living close to major roadways, highways, and airports are exposed to a higher concentration of these particles and are thus at a greater risk for the negative health effects associated with inhaling them.
UConn Health professor and Endowed Chair of the Department of Community Medicine and Health Care Douglas Brugge is the Principle Investigator for new a $2.5 million grant from the National Institute of Environmental Health Sciences that will investigate the effect of in-home air filtration systems to reduce exposure to ultrafines in communities located close to highways.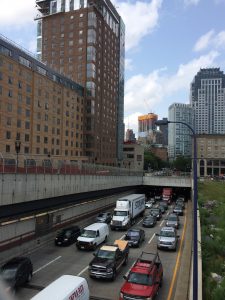 In response to earlier findings about the deleterious health effects of living in areas with higher concentrations of ultrafine particles, schools and homes in these areas have increased their use of air filtration systems. However, there has yet to be a convincing study assessing if this practice brings about measurable health improvements.
This project will be the first intervention trial on this subject that is large enough and careful enough to be relevant for informing policy about ultrafine particle regulation.
"This project builds on the knowledge we've already gained from previous studies," says Brugge. "Now that we better understand the problem, we are looking for solutions that can help policy makers more effectively protect their communities."
Brugge and the multidisciplinary and community-engaged team will implement a randomized trial in 200 or more homes located near highways in Somerville, Massachusetts, the most densely populated city in New England. Collaborators include Tufts University, Boston University, Olin College, the Somerville Transportation Equity Partnership, The Welcome Project, Mount Sinai, and In Touch Corp.
The study will look at the concentration of ultrafine particles and personal exposure for a subset of participants. They will use health measures such as blood pressure, inflammation levels, blood coagulation, chemicals in the body, and arterial stiffness to assess whether placing filters in their homes has a positive benefit on these biomarkers that predict risk of cardiovascular disease.
A collaborator from Olin College will also assess the chemical composition of the air pollution, which could be a starting place to understand which types of particles are more toxic.
The study team aims to take a holistic approach, so the collaborator from Boston University will conduct a social science evaluation to assess participants' experience with the intervention after the trials.  This may be important because even if the filters are effective, they are not a viable intervention if people do not like them and don't use them, says Brugge.
Brugge is the Endowed Chair in Community Medicine and Public Health. He holds a Ph.D. from Harvard University in cellular and developmental biology and an M.S. from the Harvard School of Public Health in industrial hygiene. He directs the Community Assessment of Freeway Exposure and Health, which he founded when he was at Tufts University. His research also focuses on child asthma and asthma in Chinese and black immigrant communities, second-hand smoke exposure, health communication, uranium mining in Native American populations, and research ethics.
This project is NIH Grant No.: 1R01ES030289-01A1