If you thought underwater rugby was the punchline of a joke, then you do not know much about the sport that can evoke what might be described as an underwater symphony.
The object of the game, not unlike basketball, is to put a weighted ball into a basket at the bottom of a pool. But to UConn junior Laura Sofía Bedoya, of East Haven, Connecticut, a forward and vice captain of the 15-member USA Women Underwater Rugby Team, it is much more.
"Just assisting my teammates in making it to the basket, whether I'm making the goal or my teammates making the goal, being able to watch the game unfold and being in the moment," the political science and Latin American studies major says. "Just see it all happen and come together. It kind of feels like a symphony underwater."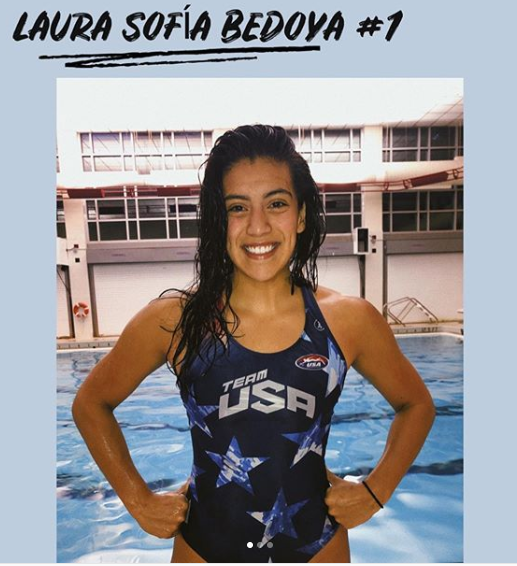 Underwater rugby is played in a pool with a depth between 11 ½ feet to 16 ½ feet deep. Like regular rugby, it is a contact sport. Each team has 15 players, 12 of whom play in any one game and three substitutes. During the game, six players are in the pool with six players on the side who can be substituted at any time. The team is made up of a goalkeeper, defenders, and attackers. The players wear fins, diving masks and snorkels. 
A plastic ball filled with salt water is used to score a goal; it is heavy and will sink to the bottom of the pool if dropped. The goals, which are shaped as baskets, are placed on the bottom of each side of the pool and are made of steel. The object of the game is to put the ball into the opposing team's goal. Among the rules: No pulling on a player's suit, snorkel or fins, no elbowing and no strangling.
According to USA Women's UWR, as it is known, underwater rugby was invented in Köln, Germany, in 1961, and became popular in the Nordic countries under the name UW-Polo.
Cameras in the pool help spectators watch.
"It's all about rhythm and our tempo because when we're relaying in and out of the water, we have to be really precise," Bedoya says. "A majority of time, all six players are not underwater; it's usually three to five who are underwater and have to be able to relay coming out, breathing as the other three in the water are going down. 
"And then, obviously, when we're really out of breath, we just switch out of the water, making sure that the whole rotation, not only the rotation of the ball at the goal but the rotation of all of us. It's a whole rhythm of many different things."
Bedoya says she began playing because both of her parents played it in their native Colombia and because she was a competitive swimmer since childhood. She plays for the Connecticut Makos club team, which was established in 2003 and is based in East Haven and is coached by her father, Jose Bedoya. (The mako is considered the fastest shark in the world.) She joined the USA team, which competes internationally, in January 2019. This summer, the team placed 11th in the world championships in Graz, Austria.
"UWR is not like any other conventional sport. Mostly any other individual or team sport is practiced in a two-dimensional field and players can breathe at any time," says the USA team's coach, Juan Sevillano. 
Training and practicing have made Bedoya a good player, Sevillano says.
"She has the passion to learn more and be better, she listens to her coaches and adapts to the teams she plays with," he says.
Bedoya also is an administrative assistant at UConn's El Instituto: Institute of Latina/o, Caribbean, and Latin American Studies. It is a multidisciplinary research and teaching institute serving the information needs of Latinx people in Connecticut and nationwide. She says that work, and meeting other underwater rugby players from around the world, by competing in Norway, Italy, Austria, Canada, Spain and France, is helping prepare for a career in international relations as an attorney.
"As an athlete at this level, I have to find a way to be responsible for my academics, be responsible for my team, for my country, also," she says. "It's all about balancing it all. I don't really don't have time to think — I just, like, do it, I'm constantly on the go.
"I think that competitive spirit of mine motivates me to want to be at the top not only as an athlete but as a student."
UWR "very addictive," which can be a good thing, Sevillano says. 
"Playing underwater rugby can provide a sanctuary for stress, a place to share and make new friends, and the benefits of training body and mind," he says.
Milwaukee journalist Tom Kertscher was a 35-year newspaper reporter, finishing that career at the Milwaukee Journal Sentinel. Now a freelance writer, his work includes sports reporting for Associated Press.