There's an Olympian spending time at the University of Connecticut right now and, if you think it's a Husky basketball player, you are wrong.
The athlete is Karen Chammas, who represented her native Lebanon in the sport of judo at the 2012 London games, and she is spending late October and early November in Storrs as part of the Global Sports Mentoring Program.
The Global Sports Mentoring Program is an international leadership development project that was launched seven years ago by the U.S. Department of State. One of its two objectives is advancing gender equity by empowering women through sports, and the other is advancing disability rights. The program is managed out of the University of Tennessee and ESPNw, part of the ESPN family of network that specializes in women's sports programming.
Each year, about 15 women from around the globe are selected to visit the U.S. for the five-week program. Approximately three weeks of that time is spent at a host site.
UConn is currently the only university host, while other institutions include professional sports organizations, collegiate leagues, and conference and sport management corporations. This is the fourth year that UConn has participated, having already welcomed women from Uganda, the Philippines, and Vietnam.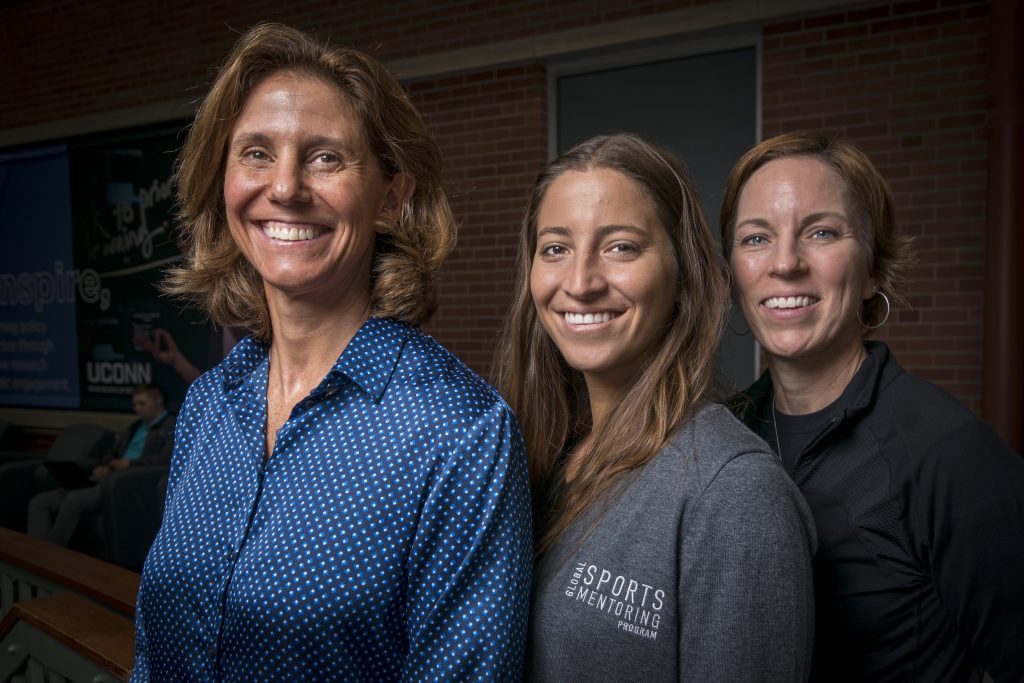 "This program is in alignment with a lot of the work we do," said Laura Burton, a professor in the Neag School of Education, who specializes in gender issues in sport and leadership in sport organizations, and has spearheaded UConn's participation in the program. "We are really involved with some good company in this program like the NCAA, the Big East Conference, the United States Tennis Association and companies like Google. We connect different parts of campus into the visit like athletics and the Women's Center, so it really has a big reach."
Chammas is currently the athletics coordinator at the Lebanese American University, where she also earned her undergraduate degree. She also has an master's of business administration in sport management from the EU Business School in Barcelona, Spain.
"What is exciting for us is that we learn the challenges and opportunities for women across the world," said Burton. "I remember having a conversation with Agnes Baluka of Uganda and we talked about how challenging some things were in her country.
"But, we also talked about the same types of restraints she deals with that we have in the United States like finding qualified coaches, making sure you have the right type of equipment, and scheduling games. You see the connection of sport here to sport globally."
Before she arrived at UConn, Chammas spent time in Washington, D.C., and California getting to know the other Global Sports Mentoring Program participants.
At the end of the program, she will develop an action plan based on her experiences and present it in Washington, D.C. when the entire group reconvenes in mid-November. Her presentation will be about empowering girls in Lebanon through sport, and judo in particular.
"I want to raise awareness for teachers, for parents, and for kids about how important it is to start sports at an early age," said Chammas. "I want to start my own judo academy in Lebanon."
Chammas started judo and gymnastics when she was three years old and both she and her parents heard familiar comments that stereotype young girls in sports.
"I was told I would become too muscular and not look like other girls," said Chammas. "Even things like I wouldn't get married. When I was around eight, I wanted to quit, and my mother said no because she had already paid for my lessons. I actually did give it up when I was 12, and after a few weeks the president of the national judo federation called me and asked me if I wanted to be in the West Asian games."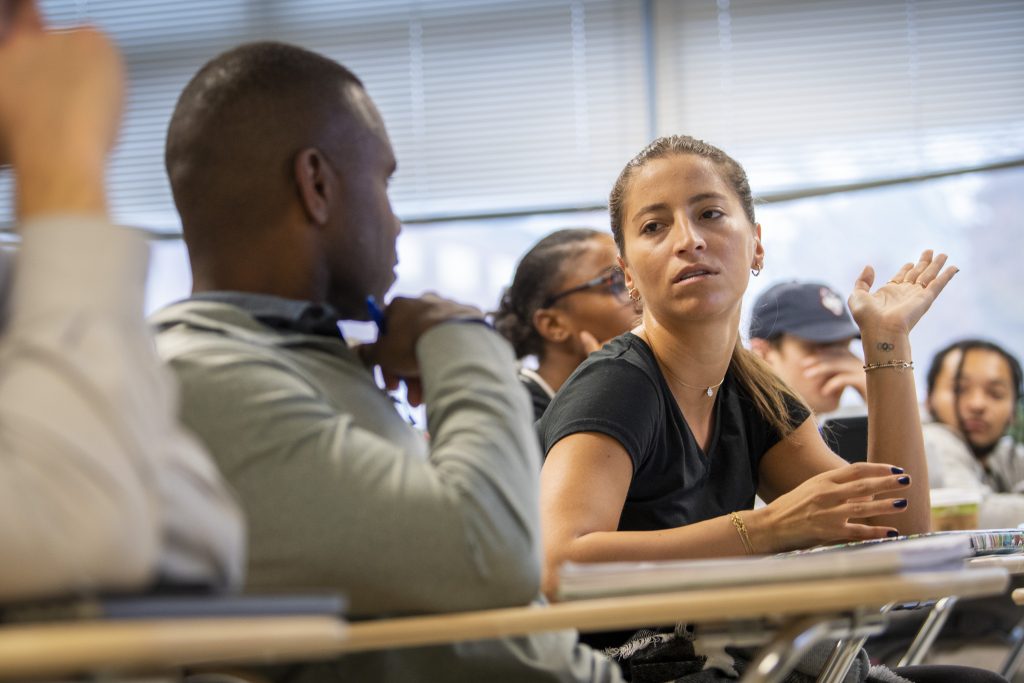 Chammas went to the West Asian Games, held in Jordan, and later took part in the Arab Championships in Yemen, qualifying  for the 2010 Olympics.
"Competing became my passion and I wanted to through with it until the end," said Chammas. "The Olympics were the best experience of my life. I loved being in the village and around the top athletes in the world."
Chammas is also an accomplished basketball player as a member of both the Lebanese national team and at the Lebanese American University.
Burton hopes that Chammas leaves her brief time at UConn with a network of people to connect with for the future.
"This is education in a different way, not in a classroom setting, but developing a plan," said Burton. "It is great for her to see the high level of sport that we offer, but that we are also struggling with the same things."