Wanjiku (Wawa) Gatheru, UConn's first Rhodes Scholar, received high accolades Wednesday as she was honored at the State Capitol by Gov. Ned Lamont, legislators, and others.
Gatheru '20 (CAHNR), a senior majoring in environmental studies with minors in global studies and urban and community studies, is among 32 people nationwide elected to the American Rhodes Scholar Class of 2020 to continue postgraduate studies at the University of Oxford in England.
The highly prestigious program counts presidents, ambassadors, business leaders, and many other prominent Americans among its alumni, and is among the world's most selective academic programs.
Gatheru's academic and service endeavors had been widely recognized even before the Rhodes Scholar announcement. She was a 2019 Truman Scholar and a 2019 Udall Scholar, the first student in UConn's history to win those illustrious honors in the same year. She has also received several other prominent plaudits during her time as a UConn student, including the McCullough Leadership award, the University's highest student leadership award.
Gatheru, who is from Pomfret, Conn., plans to pursue a public service career that empowers and supports culturally competent, community-based environmental solutions — particularly focusing on centering the expertise of frontline communities of color.
"The environmental movement is at a crucial crossroads. We have only 12 years to create climate policy that works to both decarbonize our economy and center equity. I want to help make that happen," she said when she was named as a Rhodes Scholar.
At Oxford, Gatheru proposes to pursue dual master's degrees in Nature, Society, and Environmental Governance and Evidence-based Social Intervention and Policy Evaluation. While there, she wants to research overlooked barriers that prevent people of color from participating in the environmental field.
She aspires to eventually run for Congress, perhaps becoming the first black congresswoman from Connecticut's 2nd Congressional District, she said, and added that studying at Oxford represents the next step in her goal to uplift the voices of those most adversely impacted by environmental inequities.
Gatheru, who is the proud daughter of two Kenyan immigrants, grew up in Pomfret before spending a year in Thailand as a Kennedy-Lugar Youth Exchange and Study (YES) Scholar of the U.S. State Department. That experience, which she completed just before entering UConn, solidified her commitment to culturally competent conservation.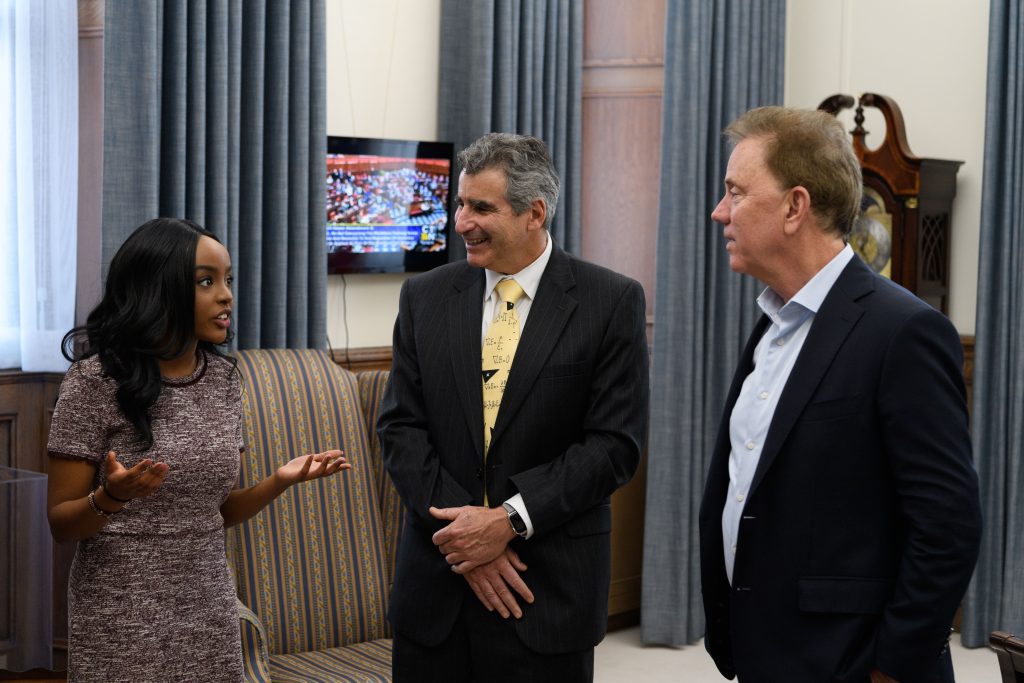 She has completed internships with the City of Hartford's Office of Sustainability, the Sierra Club, and the Women's Earth and Climate Action Network.
On campus, Gatheru also served as vice president of the Undergraduate Student Government (USG) and as the student co-chair of the 2019 University-wide Metanoia, pursuing the theme of "Youth for Change."
As co-founder of the UConn Access to Food Effort (UCAFE), she helped launch the first assessment of food insecurity on a public institution of higher education in the state. UCAFE's research has since been cited by U.S. Sen. Chris Murphy, D-Conn., and referenced in the creation of both state and federal legislation.
Gatheru is a 2018 UC Santa Cruz Doris Duke Conservation Scholar and a 2018 Newman Civic Fellow, and is motivated to connect grassroots movements to institutions of power. She was a lead organizer in Connecticut's first Youth Climate Lobby Day, a United Nations Global Health Fellow, a delegate at the 2017 U.N. Climate Change Discussions, a founding member of the President's Council on Race and Diversity at UConn, and played a critical role in the successful implementation of UConn's environmental literacy general education requirement.
She has also mentored students as a teaching assistant in the African American Cultural Center, served as a peer research ambassador at the Office of Undergraduate Research, and interned at the Office of Sustainability. She currently serves as the vice president of the Student Union Board of Governors (SUBOG) and as a student programmer at the Native American Cultural Programs.
As a leader of the campus environmental movement, Gatheru also spearheaded the recent "Ban the Bottle" campaign, which resulted in the removal of bottled water from several retail locations on campus.
Gatheru and the other 31 Rhodes Scholars chosen from the United States will join an international group of Scholars chosen from 23 other jurisdictions (more than 60 countries) around the world, and for the second year, two Scholars from any country in the world without its own Scholarship.
The Rhodes Trust pays all college and university fees, provides a stipend to cover necessary expenses while in residence in Oxford as well as during vacations, and transportation to and from England, according to the Trust's announcement. The total value of the Scholarship averages approximately $70,000 per year in U.S. dollars, and up to as much as approximately $250,000 for Scholars who remain at Oxford for four years in certain departments.