The event followed a lecture by Marion Kaplan, the Skirball Professor of Modern Jewish History at NYU, on her newly released book "Hitler's Jewish Refugees: Hope and Anxiety in Portugal," which details the life of tens of thousands of Jews who fled westward to Portugal from Nazi Europe. The ceremony was timed to commemorate the 75th anniversary of the liberation of Auschwitz and the United Nations' International Holocaust Remembrance Day.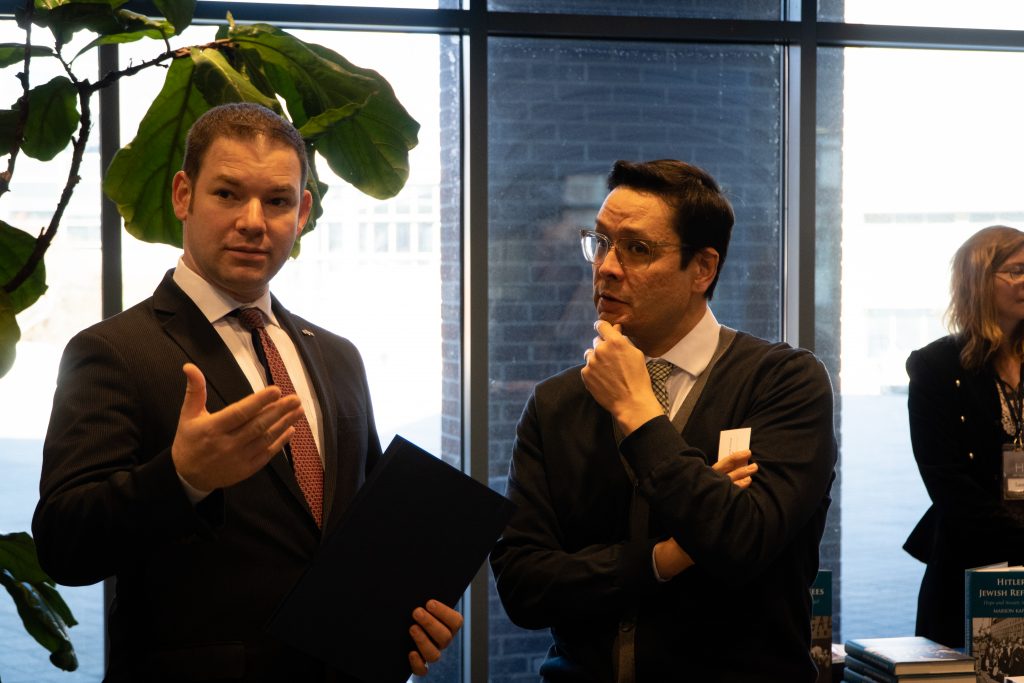 Director of the Dodd Center Glenn Mitoma opened by reflecting on the significance of the display at the current period in time and how the exhibit is an important example of the role of moral courage throughout society.
"We're at a moment now when the value of the Foreign Service and the role of ambassadors is really front and center," said Mitoma. "We can see, in this exhibit, examples of the kinds of people who take those risks in order to enact incredible moments of moral clarity and courage for their fellow humanity."
Daniel Agranov, the Deputy Consul General of Israel to New England, presented the exhibit that tells the story of 34 heroic diplomats who risked their lives and careers to save thousands of Jewish refugees by issuing visas during World War II. As a diplomat himself, Agranov stated his admiration of the diplomats who disobeyed direct orders of their governments in order to do the right thing.
"In those days, I would assume there were hundreds, maybe thousands of different diplomats from different countries, and there were only 34 of them that did the right thing," Agranov stated. "This exhibition is talking about those few, very few, that did the right thing in the right moment."
Avinoam Patt, the Doris and Simon Konover Chair of Judaic Studies and Director of the Center for Judaic Studies and Contemporary Jewish Life, shared similar sentiments as he addressed the 40 participants who attended the opening.
"What the work of the diplomats shows is that even the ability to write one visa, which could save a life, points to this idea that is enshrined in the Talmud that 'He who saves one life, it's as if he's saved the world entire,'" Patt emphasized.
The exhibit opened to the public on January 29, 2020 and will remain on display at the Dodd Center through March 1, 2020. The event was hosted by the Office of Global Affairs in collaboration with the Thomas J. Dodd Research Center and Center for Judaic Studies and Contemporary Jewish Life.
Read more about the exhibition opening by visiting The Daily Campus