World Sickle Cell Day is on June 19 and honors the millions of people worldwide affected by sickle cell disease including 100,000 Americans.
But there is new hope on the horizon for patients living with the painful inherited red blood cell disease thanks to the latest clinical trial testing results of an oral, once-a-day experimental drug which may have a meaningful impact on patient lives.
At the virtual 25th European Hematology Association (EHA) Annual Congress on June 12 UConn Health's Dr. Biree Andemariam presented promising interim results from an ongoing Phase 2a clinical trial of the experimental drug IMR-687 in adult patients with sickle cell disease.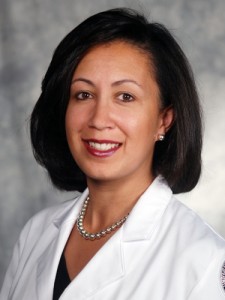 "Current treatment options for patients with sickle cell disease are associated with a number of limitations, including safety concerns and variable response rates," said lead study trial investigator Andemariam, associate professor at UConn School of Medicine and director of the New England Sickle Cell Institute at UConn Health. "IMR-687 has the potential to offer an effective and differentiated oral therapeutic option for patients with sickle cell disease."
An individual born with sickle cell has red blood cells that are abnormally hook shaped which affects the blood's circulation. Individuals with sickle cell have profound anemia, which means they don't have a healthy level of oxygen-rich red blood cells circulating in their body. A significant number of patients are destined to a lifetime of monthly blood transfusions to minimize common complications including pain and risk of stroke. The most common symptom patients experience is severe pain due to the development of blockages in their smaller blood vessels and capillaries when their abnormally shaped red blood cells cannot pass through smoothly and get stuck. These blockages can also lead to stroke and compromise the health of vital organs, reduce blood flow and cause dangerous blood infections.
But interim results from a clinical trial of the drug IMR-687, a small molecule inhibitor that works by selective inhibition of phosphodiesterase-9 (PDE9), showed dose dependent increases in fetal hemoglobin and F-cells which are red blood cells containing fetal hemoglobin (HbF). Increased levels of HbF in red blood cells have been demonstrated to improve symptoms and substantially lower disease burden in patients with sickle cell disease. For sickle cell patients increased fetal hemoglobin correlates with improved clinical outcomes and the reduction of pain crises.
The latest data presented by Andemariam from this ongoing study demonstrated that IMR-687, an oral, once-a-day, potentially sickle cell disease modifying treatment, was safe and well tolerated as a monotherapy and also in combination with the drug hydroxyurea (HU).  Also, the study data shows in the higher dose cohort, IMR-687 monotherapy has a statistically significant (p =0.022) increase in the number of F-cells, as well as a dose-dependent increase in HbF levels in adult patients with SCD.
"These second interim data presented at EHA help reinforce the potential of IMR-687 as a novel, potentially disease modifying approach in the treatment of rare blood disorders, including sickle cell disease," said Rahul Ballal, Ph.D., president and CEO of Imara Inc., the maker of IMR-687.
Imara is a clinical-stage biopharmaceutical company dedicated to developing and commercializing novel therapeutics to treat patients suffering from rare inherited genetic disorders of hemoglobin such sickle cell disease.
Based on these results and following a Type B meeting with the FDA in January, a Phase 2b clinical trial is being initiated in adult patients with sickle cell disease to test higher doses of IMR-687 for up to a one-year duration of therapy. According to researchers, it is anticipated this increased exposure and duration may result in further increases in HbF and, in turn, result in improved clinical outcomes for patients.
Andemariam's 25th European Hematology Association (EHA) Annual Congress virtual presentation of the study results can be found here.