This story originally appeared in UConn Health Journal.
When Dr. Kevin P. Becker decided to leave Yale University to join UConn Health, he was thrilled by the chance to lead UConn's burgeoning neuro-oncology program, part of the Division of Neurosurgery in collaboration with the Department of Neurology and the Carole and Ray Neag Comprehensive Cancer Center.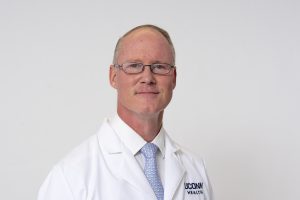 "To come up here to develop the program from the ground up was an extremely unique opportunity," Becker says. "It was the best decision I could have made. The potential here for neurosurgery and neuro-oncology is tremendous."
Becker is a board-certified neurologist and fellowship-trained neuro-oncologist specializing in treating patients with brain, spine, and nervous system tumors. He is director of medical neuro-oncology and assistant professor of surgery and neurology in the UConn School of Medicine.
The biggest challenge so far in establishing UConn's neuro-oncology program, says Becker, is the competition from other centers around the state. But between patients who have followed him to UConn and those who have learned of UConn Health's new, advanced offerings, the caseload is "exploding," Becker says.
A top priority for Becker is building on UConn's collaboration with the Preston Robert Tisch Brain Tumor Center at Duke University, which will enable patients to participate in the latest clinical trials.
The interdisciplinary collaboration and a patient-centered approach to care sets UConn Health's neuro-oncology team apart, according to Becker.
"The extent of collaboration is extraordinary right across the board," he says. "It just seems to work somewhat seamlessly in most cases, and I think that's something I wasn't really experiencing" prior to coming to UConn Health.
"We work as a team," he says. "There is such acute attention to supporting the patients, all the way through social work support and palliative care, on a level I have not seen before."
The team approach across disciplines and the recent additions of Becker and Dr. David Choi, the only neurosurgeon in Connecticut with fellowship training in spinal oncology, to the expert team at UConn Health means the hospital is poised to handle virtually any brain or spine tumor case in a world-class fashion, according to Dr. Ketan Bulsara, chief of the Division of Neurosurgery, who previously worked with Becker at Yale.
Further, "there are very few neurooncologists in the world with the experience and level of training of Dr. Becker," Bulsara says.
As he works toward goals like formalizing a regularly scheduled neuro-oncology tumor board meeting and developing a robust clinical trial program, Becker says the organization's drive toward constant improvement and growth makes the difference for patients who choose UConn Health.
"I think me coming on board was that last piece in the puzzle that has glued us together as what I think is ultimately a major tertiary center for brain tumor and spinal cord tumor treatments," he says. "It's only going to get better.
"You just never want to go to a place that's stagnant, and the last thing we are here is stagnant."