Listen to Dr. Julian Nieves III talk about his thoughts on health care, and it will become obvious he has a connection with underserved populations.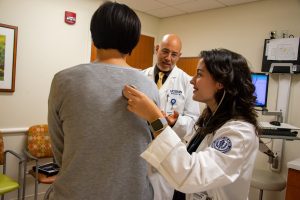 Nieves, who arrived last year, splits his time between UConn Health's primary care practice and its residency practice, where he serves as a preceptor, or supervising physician.
"It's a nice ecosystem of learning and continual education, not only for the residents and medical students but for myself as well," Nieves says.
When conditions permit — meaning when we're not in a pandemic — he also is involved in carrying on UConn Health's longstanding tradition of providing free care to migrant workers at local farms.
"That's dear to me," says Nieves, whose father was a migrant farm worker. "I have a special place for that. You're able to give care to folks that really are just outside of the system of traditional health care. It's great to be able to provide a bit of a bridge for those workers that may need it. My own interest in economic and social justice is what originally sparked my interest in medicine and in working with underserved communities."
It also was the motivation behind his pursuit of a master's degree in public health at Harvard and the founding of his private practice in the Greater Hartford area, which he had for six years, and it shapes his vision for health care delivery.
"Innovations in primary care delivery models and digital health technology is a burgeoning field right now," Nieves says. "I'm in the process of developing that research agenda."
In the meantime, he's looking forward to getting back to the migrant farm clinics and bringing students with him, like he was able to do in 2019.
"It's a great way to expose and allow students to be a part of a program that allows them to provide some basic services," Nieves says. "I think it provides inspiration to students and it's a great learning opportunity. The patients and the students both appreciate it. It's a win-win situation."
A Connecticut native, Nieves grew up in Meriden. He earned his MD at Cornell University and returned to Connecticut to complete an internal medicine residency at Yale University. He sees patients in UConn Health's Outpatient Pavilion.
This story appeared in the UConn Health Journal fall 2020 issue.