Having always practiced what he preached as a professor, advisor, and coach, William "Bill" Servedio is someone who walks the walk. Perhaps more accurately, the Neag School Professor Emeritus runs the run; he appears to have spent most every day of his 78 years moving at full tilt. And in recently establishing a scholarship fund for Neag School sport management students in addition to taking part in virtual discussions with alumni from the program, he clearly has no intention of slowing down.
As a teenager, Servedio excelled in four different sports — track, baseball, basketball, and football. His longtime goal: to be a college coach.
"I didn't want to say five years down the road, 'What if I didn't try?'"

— Professor Emeritus William Servedio
By age 16, he was on his own, working construction, painting houses, and serving as a mail carrier in order to afford college — starting at Orange County Community College, where he played basketball and was named a Junior College All-American in soccer, and then at Springfield College, where he earned his undergraduate degree. Heading next to University of Bridgeport for graduate school, Servedio completed his master's in one year while serving as a graduate assistant, teaching physical education classes, and coaching soccer as well as tennis.
Servedio's unstoppable energy has served him particularly well in his chosen field. During his earliest days of professionally coaching soccer, cross-country, and track and field at colleges in Vermont and Illinois, he was responsible for everything from lining the fields to washing the athletes' uniforms at the local laundromat — without support from assistant coaches or graduate assistants so common today in college athletics.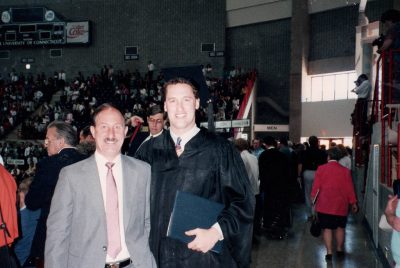 Eventually recruited as head soccer coach for The Ohio State University, Servedio was offered the opportunity to pursue his doctorate there, with one catch: If he failed to complete his Ph.D. within seven years, the university would ask him to leave. Servedio relished the challenge. Coaching full time, he carried out his doctoral studies part time while at one point also managing a 76-apartment complex. Although he still loved coaching, his end goal shifted — from coaching, to coaching and teaching.
"I really needed to try to combine them, so that when I was ready to get out of coaching at any school, I could always stay on academically," he says. "And I didn't want to say five years down the road, 'What if I didn't try?'"
That attitude of determination is reflective not only of all that Servedio has accomplished in his career, but also the kind of supportive, go-getter advice he has imparted over the course of his career as a coach, professor, advisor, mentor, and colleague.
'He Gave Me a Shot'
"Dr. Servedio is the reason I was able to find my true passion of what I wanted to do professionally," attests one of his many former students, Lisa (Senofonte) Zerio '88 MA, director of the Glastonbury (Conn.) Parks and Recreation Department. "His faith in me to succeed, his continual support and guidance, while always holding me accountable … lit that fire in my belly that I had it in me to be the best I could be, no matter what I was setting out to accomplish."
"Doc Servedio gave me a shot. Without that shot, you know, I'm not the deputy athletics director at the University of Kansas — and that's the truth."

—Sean Lester '96 MA, Deputy Athletics Director, University of Kansas
Sean Lester '96 MA, today the deputy athletics director at the University of Kansas, similarly credits Servedio with shaping his career path. The first in his family to have earned a four-year undergraduate degree, Lester says he had not planned on graduate school. But after gaining experience working in UConn Athletics, Lester was offered a graduate assistantship.
"I didn't have the best grades in the world," he says. "But Doc Servedio gave me a shot as a provisional student. When somebody gives you a shot on the field, you make the best of it because you want to stay on the field, on the court, in the pool, wherever you're competing. You want to make the most of it. And Doc Servedio gave me a shot. Without that shot, you know, I'm not the deputy athletics director at the University of Kansas — and that's the truth."
'I Had to Hustle'
Servedio found his way to UConn's faculty in 1976, initially assuming he would seek his next career move within five years. But as he puts it, "Then five years became 10, 10 became 20, 20 became 30."
Over the nearly three decades he spent at what would become known as the Neag School of Education, Servedio taught courses in the realm of management, sport, and recreational services, and advised many dozens of students. When UConn was named host of the 1984 Special Olympics, Servedio also volunteered for several summers as the University's Special Olympics chairman, overseeing everything from facilities to catering for an event that annually drew 10,000 people to Storrs. Tapped interim department head around that same time, Servedio officially became department head in 1987, a role he embraced for another 12 years.
Perhaps among his greatest triumphs is having launched UConn's sport management program, which has attracted promising students from around the world. Initially establishing the bachelor's degree roughly three decades ago, Servedio eventually oversaw the program's development at the master's and doctoral levels as well. At the time, UConn's degree programs in this area stood out as the first of their kind in Connecticut and one of the first in New England. Servedio had single-handedly dedicated more than a year to securing the state's approval, submitting preliminary curriculum, promoting the program, then heading up most of the courses while finding adjunct faculty to help pick up the teaching load. His expertise in the area also led to invitations to consult on legal cases involving college and recreational athletics in New Hampshire, Massachusetts, Connecticut, and Illinois.
"I had to hustle," says Servedio — as if he hadn't been doing so all along.
Walking the Walk
As a professor, Servedio always told his students to be punctual. He himself lives by the adage, "If you're on time, you're late." Urging students to "put the hours in," he, in turn, was often the last administrator to leave the building each evening. He advised his students to look professional, making it a point to wear a suit whenever he taught class.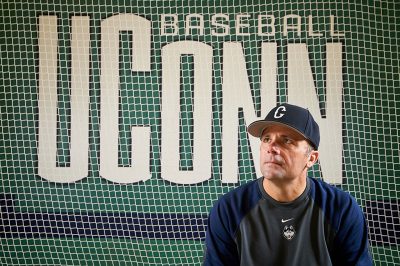 "He treated you like an adult; he didn't talk down to you," says Jim Penders '94 (CLAS), '98 MA, UConn baseball head coach and alumnus of the sport management master's program under Servedio. "I always felt like he had my best interests in mind."
"The lesson I learned from him was about respect," says Lester of University of Kansas. "Respect everybody you encounter, always. You never know who they are and when you may encounter them again in your life."
Above all, Servedio emphasized for his students the need to make connections in the industry. Thanks to the relationships he himself had fostered across campus, Servedio was able to set up sport management students with meaningful internship experiences from the start. He saw the internship — which evolved from a short summertime stint into a semester-long, six-credit placement — as critical to each student's future, and held high expectations not only of the interns, but also their supervisors. During summers, he even made trips to each in- and out-of-state placement site to meet with supervisors, see facilities, and understand what interns would be taking on during their time there.
'My Life's Work'
"You can't mention UConn sport management without Dr. Servedio," says Jamelle Elliott '96 (BUS), '98 MA, another sport management master's graduate and now assistant coach of the UConn women's basketball team. "Dr. Servedio was someone who cared passionately about his students. The requirements expected of you, the internships being one of them, that was clear from the very beginning – he didn't play around with that."
"You can't mention UConn sport management without Dr. Servedio."

—Jamelle Elliott '96 (BUS), '98 MA, Assistant Coach, UConn Women's Basketball
Today, 17 years after Servedio officially retired from UConn, the sport management internship remains a program cornerstone and enduring example of his vision and innovation. In addition to placements across UConn and other university-level athletics offices, sport management students take placements in fundraising, event management, and operations at such high-profile organizations and venues as the NFL, the Connecticut Sun, Madison Square Garden, EPSN, the United States Tennis Association, and the NCAA National Office.
"It's like a residency for an MD. It's like student teaching," Servedio says of the internship component. "You need to get a taste of what it's going to be like. It's like taking your first job as a teacher and then finding out you don't like kids. This gives you that opportunity to make a decision, where you get some hands-on experience."
"I always talked about value added," he adds. "You've always got to give a little bit more than is expected."
While stressing to students the importance of going above and beyond in their role, he also strove to assign them relevant placements.
Coach Penders' graduate assistantship, for instance, centered on UConn Athletics fundraising. "I still do that every day," Penders says. "In my job, you have to be fundraising or recruiting every day, or you're not going to be coaching very long. It was really good background in what I would need to do. I can't even imagine where I'd be without [Servedio's] wise counsel. He set me on a course for what's become my life's work."
As a graduate assistant in the UConn Athletics Business Office, Coach Elliott says she was able to apply knowledge from her undergraduate accounting degree in addition to working with UConn women's basketball and on-campus girls' basketball summer camps.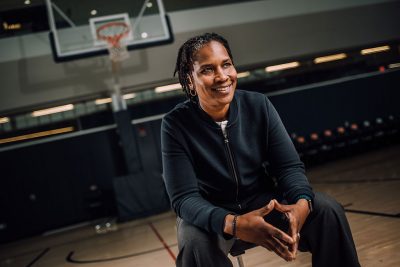 "[It] really gave me, for the first time, real-life professional experience while also continuing my studies and achieving my master's degree," she says. "For him, it was about … allowing us to really get out there and learn something to prepare us for what was next after we graduated."
Lester, too, recalls Servedio's powerful advice: "There is no replacement for real-life experiences. That was the greatest, strongest piece of advice he instilled – not just for me. So many people have to thank Doc Servedio. We owe so much to him. Simple words aren't enough. He should know the impact he's had."
With a dedicated scholarship fund in his name now in place to support sport management students into the future, Servedio continues to focus not on what he personally accomplished, but what those around him have done.
For one, he is quick to credit "the love and support" of Marjorie, his wife of 55 years, with the the success he has achieved. "Unfortunately, Majorie passed this October after a valiant fight against many debilitating illnesses," he says. Both their children, Michael of Storrs, Connecticut, and Suzanne of Tolland, Connecticut, are UConn graduates.
He also points to the success of his past students. "It's not what you've left behind," he says of his career. "If there are students out there doing an outstanding job, that's your legacy."
To support the Professor Emeritus William M. Servedio Scholarship Fund, visit the UConn Foundation's website.