The combination of finishing out senior year classes while job-hunting to launch a career after graduation presents unique stresses and challenges for just about any college student. Now, throw in a worldwide pandemic, to boot.
Members of UConn's Class of 2020 faced it all, including the need to quickly pivot in their final semester to online courses and virtual job interviews, all against a backdrop of uncertainty about how the next few months – never mind the next few years – would impact hiring in their chosen professions.
But new data from UConn's Center for Career Development shows they rose to the challenge, with 85 percent having accomplished what they aimed to do, including 60 percent who were employed full time as of the end of the 2020 calendar year, and 24 percent who'd gone on to post-graduate education programs in the same timeframe
The remaining students either were serving in the military, volunteering, engaged in other endeavors of their choice or still seeking opportunities, according to the annual Undergraduate First Destination Survey, in which UConn participates along with most other colleges and universities through National Association of Colleges and Employers (NACE) survey protocols.
Members of UConn's Class of 2020 also showed strong inclination to stay in Connecticut: Almost three-quarters of the employed in-state students were working in Connecticut, and another 22 percent of employed out-of-state graduates had stayed here to launch their careers.
"Quite honestly, positive outcomes of 85 percent during a worldwide pandemic is huge, and something for the UConn community to really celebrate," says James Lowe, UConn assistant vice provost and executive director of the Center for Career Development.
"As devastating as COVID has been and despite the problems it created in post-graduate opportunities, we knew it was important for UConn and the (career) center that we wouldn't skip a beat and that we'd find ways to up our game to support students," Lowe says.
Stephanie Andrade '20 (CLAS), like many seniors last year, started her job search early in spring semester and found it largely derailed in March by the pandemic as companies transitioned to remote work and slowed or eliminated their hiring plans.
The Norwalk native was familiar with the Center for Career Development because she'd used it over her time as an undergraduate for help in writing her resume, mock interviews and career planning.
"There was no doubt in my mind they would be a great resource during my job hunt and especially during these uncertain times," Andrade says. "I first sought out to have them take a look at my resume, and in moments when I was losing hope I would reach out for other job hunting advice."
With her own hard work and help from the career center, Andrade started in July 2020 with Greenwich-based Interactive Brokers LLC, for whom she currently works remotely as she eagerly awaits the chance to join her colleagues in the office when pandemic conditions ease.
Quite honestly, positive outcomes of 85 percent during a worldwide pandemic is huge, and something for the UConn community to really celebrate. — James Lowe, UConn assistant vice provost and executive director of the Center for Career Development
"It has been amazing," she says. "I truly am blessed to say that despite the pandemic and some very frustrating months, I ended up finding a better company than I would have even imagined."
The First Destination Surveys in which UConn participates report what is known as a "positive outcome rate," or the percentage of students who are pursuing a path of their choice – usually employment, post-graduate higher ed, military and volunteer service. UConn has been participating in the survey since the 2015-16 academic year.
While the positive outcome rate for the UConn Class of 2019 was higher than this year's – 90 percent, vs. the current 85 percent – the difference is primarily because more students chose post-grad programs in 2020. This year's employment figure, 60 percent, is just 1 percentage point lower than last year's pre-pandemic figure.
While at first glance it might seem that 15 percent are not employed or engaged in other activities, Lowe said their conversations with those graduates provide significant context.
"Some were still looking for appropriate employment, but many were saying to us, 'I'm home with my parents, but going to grad school next year instead of this year because of uncertainty due to the pandemic'," Lowe says.
"We expect that next year will likely reflect that: a small decrease in our employment number, but an increase in those going on to higher ed," he said, adding the same trends were evident during recent recessionary periods.
In a regular year, the career center hosts career fairs throughout UConn's campuses, along with fairs focused on specific industries or employers and career development events throughout the year. With the onset of the pandemic, the ability to offer those events in person was suddenly halted – but the needs remained, and created both challenges and opportunities.
For instance, UConn had its big annual Spring Career Fair planned to take place in March at Storrs, but had to pivot when the campuses were closed one week ahead of the fair and students were sent home to complete the semester remotely.
Rather than cancel the career fair, UConn became one of the first in the nation to transition it to a fully online event to link students and potential employers – and it was hailed as a model for other institutions, with Lowe and his staff invited to share the process and strategy on panels with national and international audiences. That career fair will held virtually again this year.
The pandemic affected not only post-graduate job opportunities; many students at each level also found that employers had to cancel their summer 2020 internship opportunities, and it remains to be seen how many might be available this summer.
To replicate the learning experiences of an actual internship, the career center rolled out a nine-week program known as the Career Leadership Experience Certificate Program, in which undergraduates participate in workshops led by employers or career coaches to explore their interests and hone their skills in interviewing, teamwork and problem solving, developing their professional brand, and thriving in a remote workspace.
Since it was new, Lowe said, the career center expected about 100 students to sign up – but more than 600 initially registered and completed at least part of the course, with 300 of those finishing and earning the certificate they can list on their resumes.
"Despite the limits in internships last summer, we now have more than 300 students who can tell potential employers, 'I completed a nine-week course and learned eight of the core competencies, worked an on MBA-style case study, and partnered with a real-world company to solve problems'," Lowe says.
That program will be offered again this summer even if internships don't dry up, he said: "We've found it works and resonates with students, and will be a good resource for those students who may not have internships but want the knowledge and experience."
UConn's Center for Career Development has programs to connect with students as soon as they come to campus as first-year or transfer students, including through First-Year Experience courses, and continuing throughout their college careers.
In fact, 79 percent of graduates used the center's services during their time at UConn, according to the latest available figures. Nationally, the average is around 50 percent for colleges and universities, research has found.
"It's a point of pride that so many of our students value and trust us, and that they engage with our services and find them useful in their career planning," Lowe says.
The value of strong career services on campuses is underscored by several studies, and was recently highlighted in a Forbes article that said career services are poised to become as central to student success as an institution's curriculum. That's both because employers so strongly value experience when making hiring decisions, and because students who feel that their schools are invested in their success tend to remain enrolled through graduation and engaged as alumni.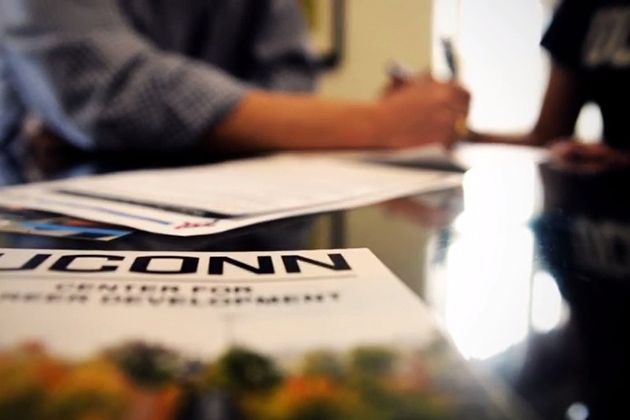 The Gallup analytics and consulting organization reported in 2017 that students who'd had internships were more than twice as likely as other students to quickly acquire a good job after graduation in their field of study.
But studies also find that lower-income students have disproportionately fewer opportunities for getting them, making it critical for schools to offer more access to paid internships or on-campus experience replicating them, which UConn offers in the Career Leadership Experience Certificate Program.
This year's Undergraduate First Destination Survey also found that 87 percent of UConn's graduates in the Class of 2020 had participated in experiential learning before graduation, including internships and other opportunities to which the careers center has been able to guide them. That's up significantly from about 53 percent just five years ago.
Even before the pandemic, the career center designed its programs to be accessible to students without the need to physically visit the office if they needed services during off hours or were away from campus.
"We work very intentionally on having constant and valuable resources for students at all levels at UConn," Lowe says. "I think the institutions that will stand out in coming years are the ones that demonstrate that they're deeply invested in their students' career readiness and put their efforts and resources into it."
The center recorded more than 160,000 unique visitors last year to its website, which houses extensive programs and resources on demand, including a library of 160 career-related YouTube videos. It's also trained more than 300 faculty, staff, employer partners and alumni as "Career Champions" throughout the University community who can help students with determining and reaching their goals.
Other resources available for students include the one-credit Senior Year Experience course, connecting with alumni in the Husky Mentor Network, and a wide range of events offered throughout the semester. The center also connect students with Affinity Communities, identity-focused groups that provide students with specialized content that integrates diversity, equity, and inclusion within the career development journey.
Andrade, the recent graduate working in Greenwich, says she would advise patience for UConn students who are job-hunting, and to take advantage of the career center's offerings: "We are in extremely uncertain times, but it is the perfect time to adapt and perfect a craft we probably never considered before," she says.