Meet Jason G. Irizarry, Ed.D., who is kicking off his first full academic year as dean of UConn's Neag School of Education. Irizarry, who grew up in New York City and served as a teacher before pursuing a path to leadership in higher education, was appointed dean for a five-year term in May 2021.
"As an internationally recognized scholar and leader, Dean Irizarry represents the absolute best in higher education," says H. Richard Milner IV, professor and Cornelius Vanderbilt Chair of Education at Vanderbilt University's Peabody College. "During these times of serious social, political, health and economic challenges, Dean Irizarry brings exceptional vision, fortitude, empathy, knowledge, disposition and skill to this position through an impressive body of research and scholarship that will advance equity in education and beyond."
"This is a time for all in education to celebrate as Dean Irizarry will continue his work to build structures and systems to improve the human condition," adds Milner, who is a member of the National Academy of Education and an American Educational Research Association Fellow.
Irizarry served most recently as associate dean for academic affairs at the Neag School.
Q: What might the Neag School community not know about you?
A: I'm a first-generation Latino college graduate. I grew up in low-income housing in New York City, raised by mygrandmother, who worked as a bilingual family assistant in our neighborhood elementary school. Although she never had the chance to pursue college herself, my grandmother instilled in me at a very early age that higher education was essential, and the logical next step for me after high school, although neither one of us had the cultural or financial capital to be able to navigate that system effectively. Despite being a solid student active in various clubs, including serving as student council president, I received little guidance about the college application and financial aid process. My dream of attending college was just that: a dream.
"My dream of attending college was just that: a dream."
Q: How did you come to make that dream a reality?
A: I applied to Siena College, a small Catholic school in upstate New York, because a friend who had graduated a year before me said they gave him a generous scholarship. I thought maybe I, too, could follow in his footsteps and secure the resources necessary to attend college, fulfilling my grandmother's dream for me.
After submitting my application materials for consideration, we planned our visit for the interview. I had never been that far upstate or seen the campus other than a few pictures in a colorful brochure. I was a bundle of nerves, as you can imagine, knowing that I needed everything to fall in place; from getting admitted, to being awarded the funds I needed, to even have a chance of attending. Lo and behold, a few weeks later, which felt like years at the time, the admissions letter and an extremely generous financial aid package arrived. I went on to graduate from Siena, then attended grad school at SUNY Albany and UMass Amherst.
Q: Why did you decide to pursue a career in academia?
A: When I started my doctoral program, I was thrilled to be a consumer of knowledge. I read everything I could get my hands on. As I progressed toward completing my degree, I started to feel more efficacious about my ability to produce scholarship and make a meaningful contribution to ongoing conversations in the field of education, generally, and urban education, more specifically.
I was incredibly blessed to be mentored by Dr. Sonia Nieto, one of the preeminent scholars in the field, and her support was invaluable as I tried to carve out my career path. Upon graduation I started my career as a postdoctoral fellow here in the Neag School, and it is amazing to think that, 16 years later, I am now the dean.
"As dean of the Neag School of Education, I am now also looking forward to helping to secure the kind of scholarship support for our own students that I myself so heavily relied on during my college career."
Q: How have you taken the lessons you have learned through your personal experiences and carried them throughout your career?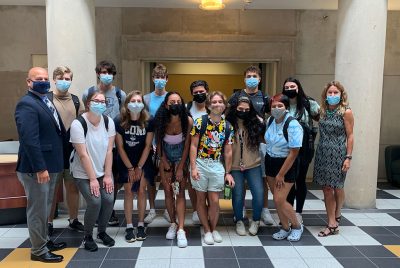 A: Beginning as a middle school teacher in New York City, then serving as the director of a "town-gown" partnership aimed at increasing the number of teachers of color in urban schools, and later embarking on a career as a faculty member in higher education, I have consistently sought professional opportunities that allow me to work collaboratively with urban youth and communities to transform educational institutions so that they work in the best interest of those they serve.
I have spent the 14 years since earning my doctorate and beginning my career in the academy trying to do good work while honoring a particular set of commitments, including: engaging in humanizing, mutually enriching approaches to scholarship; amplifying the voices of communities of color and, in particular, students of color, and inserting these often- silenced perspectives into discussions around educator preparation and education policy; and supporting emerging scholars of color. These commitments undergird my research, teaching, and service, and have informed each of the more than 50 publications; the more than 100 presentations I have delivered at professional conferences, schools, universities, and community-based organizations; my teaching; and all of my professional service in and out of the academy.
My experiences navigating educational system has bolstered my commitment to improving access to higher education, especially for students from communities that have been underserved by schools. As dean of the Neag School of Education, I am now also looking forward to helping to secure the kind of scholarship support for our own students that I myself so heavily relied on during my college career. For me, hard work was part of the equation, but hard work in and of itself can be insufficient for achieving your educational goals. It is only when hard work meets up with opportunity that success is achieved as a result of the generosity of donors.