Situated in the midst of one of Connecticut's most dynamic cities, UConn Stamford has always attracted students who want the breadth of a UConn education along with the energy, diversity, and opportunities of a metropolitan setting.
They've found a like-minded leader in Jennifer Orlikoff, who joined UConn in July as director of the Stamford campus.
A seasoned educator and administrator, she arrived in Connecticut eager to amplify what's already great about UConn Stamford, and to partner with others in the University and Fairfield County on next steps as the campus continues evolving into a hub of innovation and student success.
With more than 700 graduate students and more than 2,400 undergraduates – about 460 of whom live in student housing near the campus – UConn Stamford has a population that's remarkably diverse in terms of racial and ethnic backgrounds, socioeconomic status, and academic interests.
Orlikoff is well suited to the obligations of running a UConn campus. She most recently was campus president of Potomac State College in the West Virginia University system for six years, a role with myriad duties and challenges similar to those of a UConn regional campus director.
Before that, she served as a faculty member teaching French language and culture in WVU's Department of World Languages, Literatures and Linguistics; was director of the Center for Women's and Gender Studies; and chaired the University Faculty Senate and the Faculty Senate Curriculum Committee.
She learned French while living in Switzerland for several years as a child, and before joining WVU, she taught the language at Rutgers University, the University of Memphis, and at the middle- and high school-levels in her home state of New Jersey.
Orlikoff earned her B.A. in French and art history from the University of Wisconsin-Madison, and M.A. and Ph.D. in French literature from Rutgers.
Orlikoff, who is married with three children and two grandchildren, settled in Norwalk upon being named UConn Stamford campus director, and she has spent the past several months getting to know the Fairfield County region.
She's also spent significant time at UConn Storrs and has built a strong rapport with other regional campus directors, the Provost's Office, deans of the schools and colleges, and many community groups in Stamford and beyond.
In fact, she expects to spend time with many of those stakeholders and others during a meet-and-greet reception being held Tuesday, Oct. 11 at UConn Stamford to introduce her to the community.
Orlikoff talked recently with UConn Today to discuss her first months at UConn Stamford, what she sees ahead, and the important roles of that campus and other regional locations in the UConn mission as a whole.
—
What drew you to UConn Stamford?
The reputation of the University of Connecticut itself was a big draw, certainly, but UConn Stamford really attracted me because of the diverse student population. About 65% of our students are from underrepresented backgrounds or have diverse backgrounds in other ways, and that adds to the richness of everyone's experiences.
It takes me back to my experiences growing up in New Jersey, where we lived in a very diverse area. I missed that on my campus in West Virginia; even though we were the most diverse campus in the (WVU) system, we were still only about 22% diverse.
When I saw the diversity at UConn Stamford, I thought to myself, "Wow, this is incredible." I'm so passionate about this work and committed to making sure we're providing higher education to as broad a base of students as possible, especially in the minoritized or underrepresented populations in our country.
I think it's our social obligation to make this happen, and UConn Stamford historically has done such a good job in that regard.
I was also excited to learn about the growth of the student population at UConn Stamford over recent years. At a national level, we aren't seeing that kind of growth in higher education enrollment at many places, so the growth here clearly indicated to me that there's a lot that's attracting people to this campus.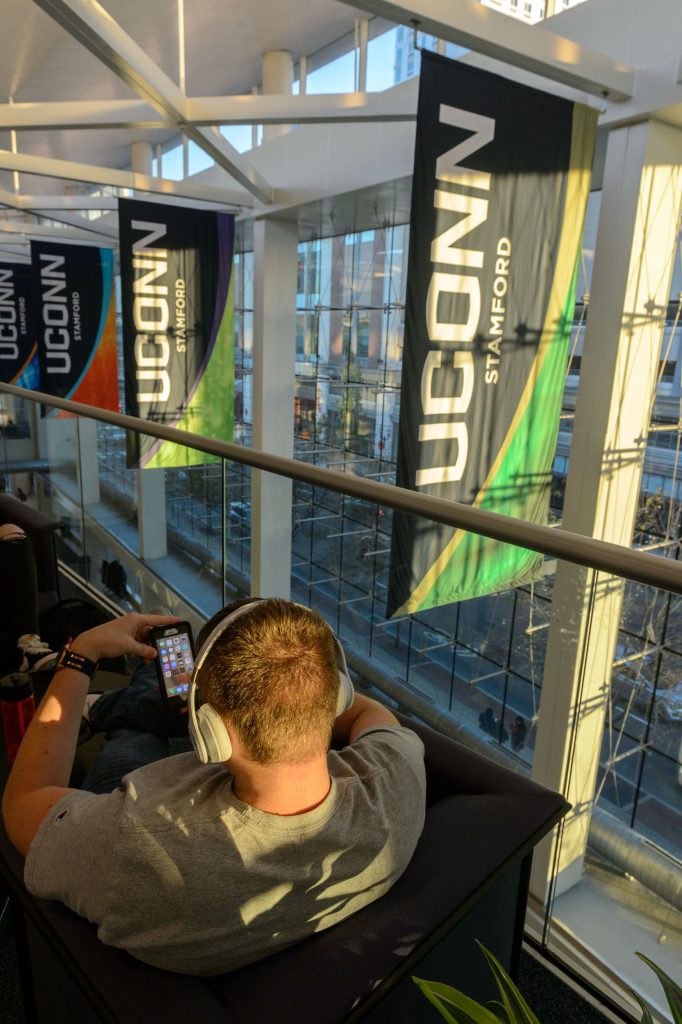 UConn's regional campuses are very deeply connected with their communities. How have you settled into the Stamford and Fairfield County region?
I've felt so welcomed, and have met so many people from all walks in life in the region. I've really enjoyed learning how so many people are interconnected and how much the various groups and organizations all work together for the good of the region.
It was clear to me right away that Stamford looks at UConn as a valuable partner. When I was still interviewing for the job, I had dinner with community partners and even then, the ground swell of support and positive energy toward the University and the campus were incredible. I thought immediately, "I really want to be a part of that."
One important way in which we're partnering is to explore the workforce needs in this region. We already have strong programs in business studies, digital media and design, and a variety of emerging and growing fields, and we'll continue to add or modify programs as needed to stay on top of the trends.
We've been very fortunate to have had David Souder serving as interim director before I arrived. He did a great job of making introductions and ensuring a smooth transition, and I'm very grateful for that and for the welcome I've received throughout the University and the region.
Stamford is the only campus other than Storrs that has student housing, so your population includes residential and commuter students. How is the student experience, and what do you see ahead?
It's critical that we focus not only on the students' academic success, but also on making sure that each student feels like they belong here. We're truly their second family, whether they're residential students or commuters, and we want them to feel connected and valued.
Once a student walks on our campus as an incoming freshman, I feel strongly that it's our duty – or you could even call it our moral obligation – to make sure they get all the way through and receive their degree, and that they have a personally enriching experience on our campus while doing it.
One of the worst things that could happen is that they take some classes and receive some credits, but that they do not finish and end up instead with debt and no degree.
Looking holistically, we know each student is so much more than their class grades, and we're here to see and serve them as a whole person. For instance, we know that mental health concerns are more prevalent now than ever before, and that we need to reach out and be sure they feel connected and supported.
Even some of the basics can be a challenge for some students, such as food insecurity. I'm so proud of our campus for initiating the new Husky Harvest food pantry, and we're so grateful to the companies and others who've supported it with donations of goods and financial gifts.
Connecticut Foodshare is also setting up a program; once it's up and running, we'll be able to put in a weekly order online and it will be delivered free to our campus for any member of the UConn community who needs food items. We think this will be a great benefit for so many students, including the residential students who can take food back to prepare in their kitchens.
We also work to be sensitive to the needs and desires of our commuting students. We know their circumstances can vary quite a bit, whether they need to remain at home to help out there or perhaps have jobs elsewhere and living in campus housing isn't the best option for them.
We don't want them to feel that their only connection is to take the train or drive here, take classes, then leave. Our activities coordinator specifically makes sure we have a lot of activities going on, especially during the middle of the day, so students who are commuting can participate in the full life of the campus and feel included.
UConn's regional campuses have a unique spot in the University's wider ecosystem. How do you see their role and what makes them so special?
Each of the regional campuses is poised to really develop their own stories and unique identities within the system, and to stand out as destination campuses. Each location can thrive on its individual merits and provide experiences for students that fit their specific needs and career goals.
For instance, here at Stamford, we're very well positioned through our programs and our location to attract students in business, finance, computer science, digital media and design, and related fields.
For Avery Point, of course, marine sciences are a huge draw, along with the healthcare programs at Waterbury, the public policy and social work programs at Hartford, and so forth. There's so much at each campus where they can differentiate themselves and present unique opportunities for students who'd like to spend their full four (undergraduate) years at one of the campuses.
Have you found any favorite spots in which to relax, or other areas on and off campus where you enjoy spending time?
On days when the weather is nice, I really enjoy spending some time in Whitey Heist Park near the main building. It's the perfect place for a quick outdoor meeting with someone, or to eat lunch outside and relax a bit.
The campus building itself is fabulous. It has soft seating areas and collaborative seating built in across the various levels, and lots of light because the front of the building is all glass.
You see people from all backgrounds congregating in groups throughout the building to study, talk, watch movies together on their laptops, things like that. The way it's designed makes it feel automatically collaborative. Everything comes together to create a welcoming environment.