Several changes will greet students and employees returning to UConn Storrs for fall semester, including an extended move-in period for first-year students and significant progress on construction of the new residence hall near Mirror Lake.
The fall 2023 semester officially starts when classes reconvene on Monday, Aug. 28, at Storrs and the regional campuses in Hartford, Stamford, Avery Point, and Waterbury.
Each campus will be abuzz with activity for several days beforehand, though, as thousands of students move into residence halls in Storrs and Stamford, and as faculty and staff prepare for the new semester.
As in past years, the UConn Storrs population is expected to jump significantly Thursday and Friday, as first-year students start moving in and exploring campus with their families.
The Class of 2027 will then gather Friday evening on the Student Union Mall at Storrs for the annual Torch-Lighting Convocation Ceremony.
All told, about 24,000 undergraduates will be attending classes this fall at Storrs, Hartford, Stamford, Avery Point, and Waterbury. Of those, around 19,000 will be based at Storrs.
About 8,000 other students also are enrolled as graduate students and/or in professional programs, many of them at other campuses in UConn's schools of law, social work, medicine, and dental medicine.
In addition to the 115-plus majors previously offered at UConn, the University has six new undergraduate majors starting this fall in data science, agricultural economics, and programs at the undergraduate and master's degree levels in financial technology.
The full 2023-24 academic year calendar for UConn Storrs and the regional campuses can be found on the UConn Registrar's website, including dates of holiday recesses and final exams.
Move-In Logistics
About 12,300 students will be moving into Storrs residence halls and on-campus student apartments this week in the days leading up to the new semester, along with about 470 others moving into the UConn Stamford student housing.
Although some pre-approved students started moving into Storrs residence halls late last week, the majority will arrive throughout this week based on a schedule available on the UConn Residential Life website.
In past years, first-year students were allowed to move in starting on the Friday before classes begin, and returning and transfer students returned on the Saturday and Sunday.
This year, however, the move-in period for first-year students is being split into two days to ease on-campus congestion, with residents of some residence halls arriving Thursday and others moving in on Friday.
UConn has provided students with details on how to sign up for a time slot and directions for their specific location, and other information is also available on the Residential Life website.
Most students and their families will go to assigned parking lots to receive their keys and check in, then will wait there until directed to head to their residential area to unload their vehicles. After unloading, they will move their vehicles to an area away from the buildings so others can approach to unload.
Generally speaking, about 4,300 students will be moving into Storrs residence halls on Thursday and Friday, equally split between the days; and another 5,800 will arrive over the weekend.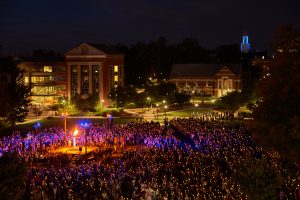 At UConn Stamford, a small number of pre-approved students will move in during the next few days, but most will arrive Saturday or Sunday, depending on the building in which they live.
Dining halls at Storrs will open starting with breakfast on Thursday morning at the Putnam, Northwest, South, McMahon and Buckley dining halls, each of which will also serve lunch.
With the exception of McMahon, they also will be open for Thursday dinner service, and then all dining halls open Friday on their regular weekday schedules. UConn Dining Services has posted those schedules along with weekend hours and other details on its website.
Dining Services also provides an extensive list of frequently asked questions on its website, covering a range of information about schedules, meal plans, dining points and Flex Passes, accommodations for allergies and dietary needs, and other details.
Storrs Campus Transportation and Construction
Some traffic patterns will change at UConn Storrs to facilitate move-in traffic and some roads may be partly blocked or temporarily used for one-way travel, so drivers are urged to be cautious and follow signage and direction from University representatives on site.
Construction also will affect some roads and parking lots, particularly around the areas of Gilbert and Mansfield roads, where a new residence hall is being built. Drivers and pedestrians can check for construction impacts on a new online map, and they are asked to follow detour signs in the area.
Some UConn bus routes also may have changed since last spring, so students should check the Transportation Services web page for updated lines and stops.
Drivers and pedestrians are urged to exercise caution and extend consideration for each other at all locations, but especially at UConn Storrs, where a significant number of people arriving over the weekend might be unfamiliar with campus roads.
Drivers must always yield to pedestrians, and pedestrians should always use crosswalks where available. They also are encouraged to use alternate routes on and around the Storrs campus during daylight hours when possible to avoid delays from move-in traffic.
Off-campus construction that is not under UConn's control could also affect the drive to Storrs and other campuses. Drivers can check the state Department of Transportation's interactive travel map to learn about active construction projects and jams near the University's campuses and statewide.