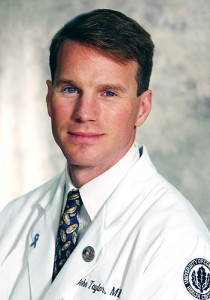 A urologist at the Health Center has landed a five-year, $729,000 grant from the American Cancer Society to study the role of inflammatory molecules on the development and progression of bladder cancer.
Urology researcher Dr. John A. Taylor III, an assistant professor of surgery at the UConn School of Medicine, says he is particularly pleased to receive the grant at a time when funding for cancer research is harder to come by, especially for those studying bladder cancer.
"Bladder cancer is one of the most underfunded areas of urology," he says.
Taylor says there are currently "no markers or means to determine which patients with bladder cancer will have progression, which patients would benefit from early aggressive treatment, or even which patients will respond favorably to treatment.
"Our early data are quite promising," he adds, "and could lead to novel ways to manage this disease, if not stop its progression. The grant from the American Cancer Society will allow uninterrupted continuation of this important work."
Taylor is one of the region's few bladder cancer specialists. He says the goal of his study is to improve the prevention and treatment the disease.
The grant is officially known as "The American Cancer Society New England Division Mentored Research Scholar Grant in Applied and Clinical Research – Beatrice Cueno." It is one of 27 research projects the American Cancer Society is funding in Connecticut.
"With the current serious challenges to cancer research funding, it's more important than ever that the American Cancer Society continue to support the work of new investigators," says American Cancer Society Connecticut vice president of health initiatives Sarah Shafir.
"Virtually every major development in cancer research in the last half century can point to a Society-funded researcher who played a key role along the way, with most of those investigators getting Society support early in their careers when funding is particularly difficult to get."
Taylor, who chairs the cancer committee at the Carole and Ray Neag Comprehensive Cancer Center, is no stranger to grant support from prestigious sources. In 2005 he was one of 10 specialists in the country to receive a Dennis W. Jahnigen Scholars Award from the American Geriatrics Society.
The two-year, $200,000 grant helped fund his work on age-related changes in the bladder.
He has also been the recipient of HERA Foundation funds; an American Urological Association Post-Residency Research Award; an American Cancer Society Institutional Research Grant; and a New Investigator Award from the American Geriatrics Society for his work on bladder cancer.
Before joining the Health Center in 2003, Taylor was an investigator in the Department of Defense's Center for Prostate Disease Research, while serving at Walter Reed Army Medical Center in Washington, D.C.
He earned his medical degree from Columbia University College of Physicians and Surgeons in New York City and completed his residency at Columbia University's-Presbyterian Hospital.