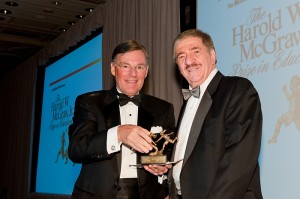 Joseph Renzulli, Board of Trustees Distinguished Professor of Educational Psychology in the Neag School of Education, has been awarded the 2009 Harold W. McGraw Jr. Prize in Education. He is one of three honorees this year.
The awards were announced by Harold McGraw III, chairman, president, and chief executive officer of The McGraw-Hill Companies. Honorees will be recognized at a dinner at the New York Public Library on Sept. 29.
Renzulli holds the Raymond and Lynn Neag Chair of Gifted Education and Talent Development, and is director of The National Research Center on the Gifted and Talented.
His research has focused on the identification and development of creativity and giftedness in young people, and on organizational models and curricular strategies for differentiated learning environments that contribute to total school improvement.
Over 30 years, Renzulli's Schoolwide Enrichment Model has been used in more than 2,500 schools nationwide. Researchers have found that the program improves attitudes among students, teachers, parents, and administrators toward gifted education and produces positive results in achievement.
The Harold W. McGraw Jr. Prize in Education, awarded annually, recognizes outstanding individuals who have dedicated themselves to enhancing learning in the U.S. and whose accomplishments are making a difference.
Honorees are chosen by a distinguished board of judges from the education community. Each winner receives a gift of $25,000 and a bronze sculpture.