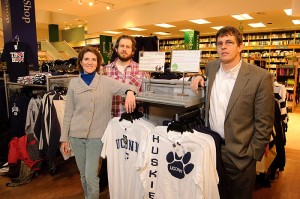 This holiday season, the ubiquitous sweater gift and peppermint mocha latte treat for the tired shopper may come with an added bonus: a boost for human rights.
A new study by political scientists and researchers who specialize in economic human rights at UConn has found that a strong majority of Americans will pay more for items they feel confident have been ethically produced.
In three national surveys over three years, the researchers found that more than 60 percent of people consistently said they would pay at least $5 more for a sweater that normally sells for $20, if they could be sure it was not made in a sweatshop.
And coffee drinkers said they would pay a premium for fair trade coffee.
"Since coffee is the second most widely traded commodity in the world – oil is the first – we think this is also evidence that most people are willing to go beyond established restrictions on slave production and child labor to consider broader ethical concerns," says Lyle Scruggs, associate professor of political science in the College of Liberal Art and Sciences.
The findings are based on surveys done in the U.S. in 2006, 2008, and 2009.
Even during the recession, support for fair trade goods – products made under humane working conditions – has not dropped much, the researchers found.
"When we asked the question during spring 2009 when unemployment was around 9 percent, support was about the same as support back in 2006, when unemployment was below 5 percent," says Scruggs. "This surprised us a bit."
The research challenges the assumption that people will not pay more for ethically produced goods, or that only affluent Americans will do so. The researchers found willingness among even less educated and lower income consumers to buy sweatshop-free or fair trade goods.
"A very significant proportion of people believe that people have a right to a minimum guaranteed standard of living," says Shareen Hertel, assistant professor of political science and co-director of the Economic Rights Research Group at UConn's Human Rights Institute.
"These surveys show us that on the whole a large percentage of Americans believe economic rights are human rights," she says.
An article based on some of these results was published earlier this year in the journal Political Science Quarterly. Hertel, Scruggs, and C. Patrick Heidkamp, an assistant professor of geography at Southern Connecticut State University who earned a Ph.D. in economic geography at UConn, were co-authors of that study.
Assisting with data analysis was Christopher Jeffords, a Ph.D. student at UConn in agricultural economics.
Hertel and Scruggs are currently working on a book about strategies for increasing consumer information about how products are made.
The 2006 survey showed that 62 percent of the population would pay at least $5 more (and more than one third would pay $10 more) for a $20 sweater made under good working conditions. Almost 75 percent of regular coffee buyers surveyed said they would pay at least 50 cents more per pound for fair trade coffee, and more than half were willing to pay $1 or more extra.
In the 2009 survey, during the height of the current recession, 65 percent of coffee buyers still said they would pay at least 50 cents more per pound for ethically produced coffee.
The study also found that while public support for human rights values such as freedom of speech and freedom from torture scored highest, Americans also express consistently strong support for economic human rights over time (see graph), indicating that Americans appear willing to "put their money where their values are," according to the researchers.