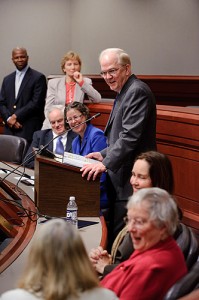 Graduates of Connecticut's community colleges who earn an associate's degree in a liberal arts transfer program with a 3.3 GPA will be guaranteed admission to the University of Connecticut's School of Business. The provision, an expansion of the Guaranteed Admissions Program, was announced March 24 at a state capitol press conference.
The Guaranteed Admissions Program, begun as a pilot program in 2004, provides Connecticut's community college students the opportunity for guaranteed admission to any UConn campus – Storrs, Avery Point,  Greater Hartford, Torrington, Waterbury, or Stamford – once they have completed an associate's degree in a liberal arts transfer program at any of the 12 Connecticut community colleges. These transfer students will now have access not only to UConn's Colleges of Liberal Arts and Sciences and Agriculture and Natural Resources, as with the original agreement, but also to the University's School of Business, according to the expanded agreement signed at the Legislative Office Building in Hartford by UConn President Michael Hogan and Marc S. Herzog, chancellor of the community college system.
The original guaranteed admission agreement, signed in 2007, was described by Gov. M. Jodi Rell at the time as an "investment in our citizens' futures … and in helping to create our highly skilled workforce." By building on the successful partnership of the state's flagship university and its community colleges, the entry point to higher education for more than 50 percent of the state's undergraduates each year, this expanded agreement encourages community college students to complete their associate's degrees and then continue their educations at the baccalaureate level.
"This agreement will prove very beneficial to Connecticut students, the community colleges, and the University of Connecticut, and to the state of Connecticut," said Hogan. "It's a win-win-win situation. I'm looking forward to working with Marc Herzog and our community colleges as we open opportunities to four-year degrees to more of our young people, who in turn will become contributors to Connecticut's economic future."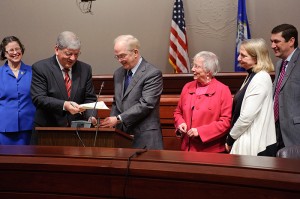 "This agreement represents a major expansion of opportunity for community college students," said Herzog. "Each year the open doors of community colleges offer thousands of students access to the many opportunities provided by higher education – academic success, personal development, improved earning potential and career advancement, and a better life for themselves, their families, and the communities in which they live."
"We're very grateful to the University, its leaders, the leaders of our 'pioneer' colleges, and all the academic leaders who developed, implemented, and expanded the agreement beyond its beginnings," he continued. "These leaders pointed the way, and now the door to opportunity has been opened for the benefit of all Connecticut's students who will enjoy a streamlined transfer process and extensive support services as they pursue their dreams of academic achievement."
The community colleges and UConn will share information about students in the program, including their progress at the community colleges and their success at the University.
UConn advisors will begin meeting with the students while they still are enrolled at the community colleges.
Community college students who do not participate in the Guaranteed Admissions Program may still be eligible to transfer to UConn through a competitive transfer process.