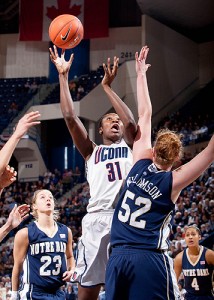 It was the kind of game many fans of the UConn women's basketball team may not have expected, or wanted to see, given the dominance and perfection they witnessed for nearly two years. It was the kind of game head coach Geno Auriemma prepares his team for each day in grueling practices, when shots won't fall and one play – a missed rebound, a tipped pass, or a three-point shot – can decide the game.
In other words, Monday's third meeting this season between the Fighting Irish of Notre Dame and the Huskies in the semi-finals of the Big East Championship in Hartford, was the kind of game that would make history, as the women's basketball team won its 71st consecutive game, an NCAA Division I women's record, with a 59-44 victory. The consecutive win streak is second only to the record 88 set by the legendary John Wooden's UCLA men's teams from 1971 to 1974.
All-Americans Tina Charles (16 points and 17 rebounds) and Maya Moore (11 points and 10 rebounds) led the Huskies, along with Kalana Greene (15 points and 7 rebounds), to the historic win. The Huskies meet West Virginia in the Big East Championship game. It is Connecticut's sixth consecutive year in the title game and the 16th time in the past 17 years.
Focus on the Immediate Goal
As wins for the 2009-10 team continued to build up during the long season, Auriemma and his student-athletes downplayed their potential date with history, insisting that their focus was only on the next opponent, the next play.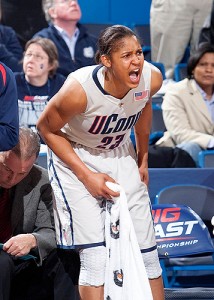 "Any record or history doesn't mean much if we don't accomplish our next goal, which is beating Notre Dame," said Moore, after the Huskies' 77-41 win over Syracuse on March 7.
At halftime on Monday night, the score was 25-22 in favor of UConn, in a bruising physical battle with both teams missing shots.
Auriemma has been consistent throughout the season in dismissing the focus on his team's winning streak, which began on Nov. 16, 2008, with an 82-71 win over Georgia Tech in the first game of last year's national championship season. That season was marred only by an injury to Caroline Doty, who sat out the second half of her freshman year following a knee injury.
"There are so many things that can go wrong, and the other team has to take advantage of it," said Auriemma. "You're one injury away from it all falling apart. I don't care about the streak. It's going to end. I don't want it to end the wrong way. I don't want it to end because we got a kid injured. I don't want it to end because somebody got in foul trouble and fouled out. I want it to end with our best guys on the floor [in] the last three minutes and somebody beats us. I'll be the first to shake their hand."
When asked on Sunday night about the Huskies' record-setting pace, Notre Dame coach Muffet McGraw said, "I don't think there's anybody close to them. They're incredibly hard to guard, but I think what they do is play great defense. They're not a team that relies on any particular offensive person, because they can score in so many different ways. As long as they continue to play defense like they have, they've got a great shot at going undefeated."
Double-Digit Victories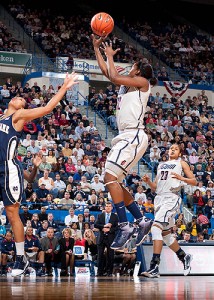 The Huskies have won each of their 71 consecutive games by double digits – an NCAA record – by an average of 32.8 points per game. The smallest margin of victory during the streak was 10 points, against both Notre Dame on Feb. 22, 2009 and Rutgers on March 2, 2009. This season they are averaging a margin of victory of 35.6 points.
In defeating Syracuse on Sunday, the UConn women matched the team's own winning streak of 70, which was accomplished from 2001 to 2003 during a run of three consecutive national championships, culminating in 2004 when the men's and women's teams posted the only dual championship season in NCAA Division I history. The 2001-2002 team included seniors Sue Bird, Swin Cash, Tamika Williams, and Asjha Jones, and sophomore Diana Taurasi. The 2002-2003 team was led by Taurasi.
"I guess it's better we broke our own record. I wouldn't want to break somebody else's record," Auriemma said during a television interview with Rebecca Lobo of ESPN last night.
Lobo, who led UConn to its first perfect season and a national championship in 1995, said it was fitting that the record-setting game was hard fought and required the Huskies to struggle.
"They weren't able to make shots, but what's been consistent is they've been great defensively every night. They've got the toughness and resiliency to come back and play well. I think that kind of shows the character of this team as well," she said.
"I think anybody who is a basketball fan would have enjoyed watching John Wooden's teams going for their streak because it's historic," said Lobo. "But at the same time I can understand why the players don't care about it, because what's important to them is getting to the championship. I asked Kalana [Greene] when she could appreciate this, and she said after they win the national championship. For the rest of us it's fun to watch and experience and be a part of."
Two Winning Teams
After the Syracuse game, Auriemma reflected on the difference between the two winning streaks.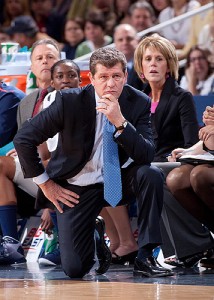 "The first time we went through this, the following year [2001-02], we had to replace four All-Americans and replace them with a lot of inexperienced players. We had one great, great, great player [Taurasi] who pretty much carried our whole team," he said. "The difference this year is we had to replace one player [Renee Montgomery] who was a great player, but we had a lot more offense coming back. I think any time you can score, it makes things a lot simpler. We know we can score, but like everybody else we go through stretches where we may not. We're not perfect. You just do what you have to do that night. We know we're not going to have to depend on one person. That's the biggest difference."
Pressed to compare his two record-setting teams, Auriemma did not hesitate: "The 2002 team didn't have any competition … Individually that group was better. I think that group would beat this group, but that's not important because they don't have to play each other. The second group of that streak (2002-2003) was offensively challenged. They had to compete against everybody they played every night. The difference between the second group of that 70 is significant. This group is gifted more on the offensive end for sure, and on the defensive end it kind of transfers over."
The members of the 2002 team that helped to establish UConn's consecutive winning streak record still take pride in their accomplishment, even as they salute their successors.
"I know there's going to be comparisons [about which team is the best ever]. When I was in college in 2002, there were comparisons to the '95 team, who had gone undefeated. And even last year, with the 2009 team, they compared '09 to 2002," Sue Bird told ESPN.com. "The bottom line is, this team is pretty dominant. And you can't overlook that. I think Diana [Taurasi] said it, '[The 2009-10 Huskies] are definitely in the top two.' No. 2, though."