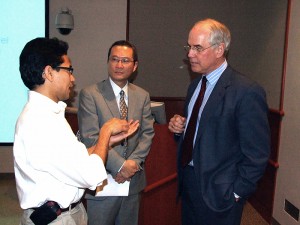 It's a drug currently known only as ETC-1002 but it may some day rival the sales of the world's best-selling drug, Lipitor®. ETC-1002 is still in the testing stages but its developer, Roger Newton, has a lot of experience with cholesterol improving drugs.
Newton, who received a Master of Science degree in nutritional biochemistry from UConn and a Ph.D. in nutrition from the University of California, Davis, is the co-discoverer of Lipitor®. Newton has worked for more than 27 years in the pharmaceutical and life sciences industries and is currently the founder, president and CEO of Esperion Therapeutics, Inc.
Newton recently visited the Health Center and gave a talk about the make-up of his latest pharmaceutical endeavor — "The Pharmacological Profile of ETC-1002, a Novel Metabolic Regulator of Lipid and Carbohydrate Metabolism."
ETC-1002 is designed to treat dyslipidemia which is an abnormal amount of lipids (e.g., cholesterol and/or fat) in the blood. Newton says it favorably alters lipid metabolism in two ways. It first inhibits the fatty acid and cholesterol synthesis process. Inhibiting the synthesis process means to hinder the production of select lipids.
Secondly, it enhances the oxidation of fatty acids. Fatty acids are the building blocks of lipids. Enhancing the oxidation process refers to improving the breakdown of lipids for energy production and easier elimination from the blood.
Newton says he believes ETC-1002 can lead to favorable lipid changes and the easing of metabolic ailments in patients with dyslipidemia, diabetes and obesity. The drug is currently in Phase 2 clinical trials. According to Newton, studies so far show the drug is safe and well-tolerated.
Earlier in his career, Newton was with Warner Lambert/Parke-Davis (now Pfizer) from 1981-1998. As a Distinguished Scientist and Chairman of the Atherosclerosis Drug Discovery Team, he co-discovered and was the product champion of what is now the most prescribed cholesterol-reducing drug in the world, atorvastatin (Lipitor®).
Newton's research interests for the past 30 years have focused on the nutritional and pharmacological regulation of cholesterol and lipoprotein metabolism as they relate to atherosclerosis and vascular diseases. Newton is an adjunct associate professor in the Department of Pharmacology at the University of Michigan Medical School. He has co-authored nearly one hundred peer-reviewed articles and chapters during his research career.