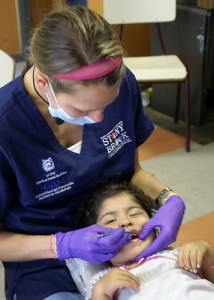 "An amazing experience" is how a group of UConn dental students summed up their recent trip to Chile where they treated indigenous Mapuche Indian children. The students are involved in the Friendship and Oral Health Program which brings together dental students from different schools and different countries to help form close relationships while they provide much needed dental care.
Dr. Rodrigo Haristoy, a native of Chile, helped start the program in 2008 when he was working toward a master's degree in oral radiology at UConn.
This year the program included six students from UConn, six from Stony Brook University in New York and 12 Chilean students from the Universidad del Desarrollo in Concepcion, Chile. The students spent the first weekend in Concepcion getting to know each other, enjoying the beach and touring the city and university's dental school.
Then the students set to work in an elementary school in a small rural town called Curarrehue which is about 4.5 hours from Concepcion. They treated approximately 315 patients, a 25 percent increase over the previous year.
The main service provided was atraumatic restorative technique (ART) which is a way of removing decay with hand instruments and restoring the cavity with material that releases fluoride to restore the tooth. The students also performed 375 restorations, 146 sealants and 157 extractions. Nearly all children received fluoride varnish and oral health education.
"The children were amazing," says Brittany Sonnichsen, a third-year dental student. "All of the children were so well behaved and each of the smiles and hugs we received were so memorable. It was such a rewarding experience to work with children and learn how to overcome the language barrier by using body language and facial expressions to communicate with them."
Other highlights of the trip include a physically challenging climb to the top of a volcano for an amazing view of the city and mountains and sampling authentic Mapuche food cooked by the native people of Currarehue.
Sonnichsen adds that one of the best aspects of the trip was getting to know the Chilean dental students. The U.S. students partnered up with one Chilean dental student to work in teams throughout the week. "During the day we learned different dental techniques from each other," explains Sonnichsen. "After we finished working, we went on excursions as a large group. The friendships that we formed were so extremely strong and after only a week it felt like we had known each other for months!" Sonnichsen hopes the Chilean students will visit the U.S. so they will be able to repay their hospitality.