Submitted by Urban Service Track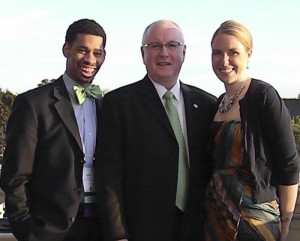 UConn dental students and members of the Urban Service Track joined 2,000 clinicians and educators interested in educational innovation and interprofessional achievement in San Diego for the 2011 American Dental Education Association's Annual Session earlier this month.
Marcus Moss, a third-year dental student, described his participation in the ADEA conference as "humbling" and "reinforcing his knowledge about the commitment and responsibilities of healthcare providers." A classmate, Laura Huling, echoed this sentiment saying that participation in the 2011 conference "made her very proud of the profession."
Moss and Huling joined faculty and administrators from the Urban Service Track as facilitators of a two hour symposium presentation entitled the Urban Service Track in CT: A Service-Teaching Model that Meets the Needs of Today's Health Professions Students. The presentation encapsulated the history and development of UST, its educational partners, program components and student participants.
The interprofessional team led by the School of Dental Medicine's Dr. Ruth Goldblatt included Moss and Huling, as well as Petra Clark-Dufner, associate director of the CT Area Health Education Center, Dr. Kenia Mansilla-Rivera, School of Medicine, and Devra Dang, faculty liaison for the School of Pharmacy. "Sharing our UST experiences with ADEA colleagues has been so gratifying and validating. Knowing that what we have at UConn is unique, and having that confirmed by colleagues and dental educators from around the country, has reenergized me to come back to UConn and bring it to a whole new level" says Goldblatt.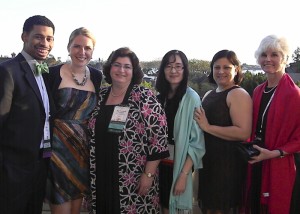 Though only in its fourth year, the Urban Service Track was nominated by the dean of the School of Dental Medicine, Dr. Monty MacNeil, for the 2011 William J. Gies Award for Innovation in Dental Education. The focus of UST is to develop a cadre of health professions students interested and trained to provide interprofessional team-based care to urban underserved populations. Since its inception in 2007, UST has enrolled 167 scholars from the Schools of Dental Medicine, Medicine, Nursing and Pharmacy. Utilizing enhanced learning opportunities, mentoring, interprofessional training and service learning, UST is seen as a "cutting edge" program.
The UConn team presentation truly represented the interprofessional nature of UST. "It was a great honor to present at an academic dental conference. I was very impressed in realizing how dental and medical educators share in their mission and commitment to interprofessional education and care for the underserved" says Mansilla. Dang reiterates this sentiment. "It was wonderful to feel the energy surrounding interprofessional education at the conference and to present on UConn's own innovation in this area with UST colleagues and two of our exemplar scholars."