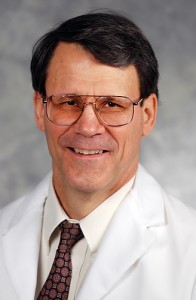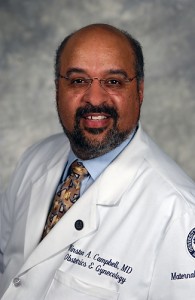 National Doctors' Day was held on Wednesday and the Health Center marked the occasion by honoring one physician and one dentist with the second annual Richard A. Garibaldi, M.D., Doctors' Day Award.
This year's honorees are Dr. Winston Campbell, the interim chair of the Department of Obstetrics and Gynecology and director of the Division of Maternal Fetal Medicine and Dr. Frank Nichols, Professor, Division of Periodontology in the School of Dental Medicine.
The awards are given to those who exemplify dedication to excellence and collaboration. The nominations come from nurses and other clinicians.
In the nominating letters, Campbell was recognized for his professionalism and humanity. "I have worked with Dr. Campbell for ten years," said labor and delivery nurse Kylee Fenton. "He is unfailingly thorough, conscientious and dedicated to his work and his patients. He has a reputation in our department for his meticulous attention to detail in every task he undertakes."
Nurse Diane Fillion has worked with Campbell since 1988 and said, "I've always noted that he commands a quiet presence that radiates respect and professionalism. He has a soft side that sneaks out once in a while when among colleagues, sparkling with humor and a fatherly chuckle."
A group from University Dentists was one of several nominating Nichols for the award. "He is a hard working, devoted practitioner who goes above and beyond the call of duty. Patients would definitely agree!"
Dental assistant Cynthia Helfrich said in her nominating letter, "I have worked with Frank for over 30 years and have also been his patient. He has such a calm and reassuring chair side manner that puts patients at ease. Dr. Nichols is an outstanding clinician, and a caring, dedicated and respected professional."
Both honorees were also recognized for their dedication to academic medicine and their significant contributions to the success of their respective departments.