As the University counts down to Commencement, UConn Today is featuring some of this year's outstanding graduating students, nominated by their academic school or college or another University program in which they participated. For additional profiles of students in the Class of 2011, click here.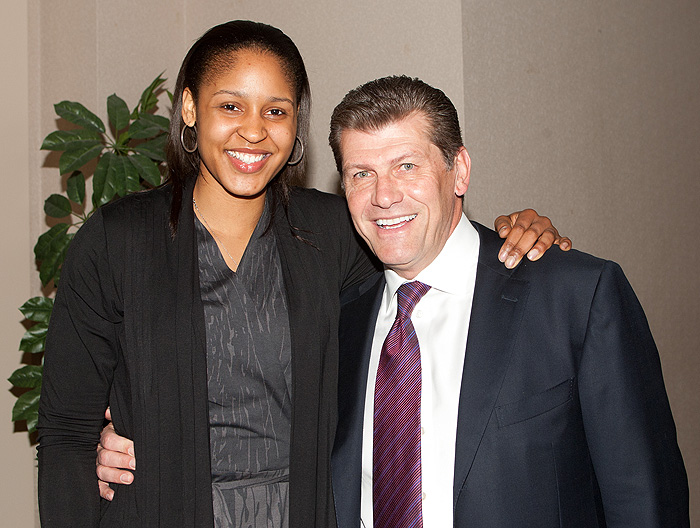 Maya Moore's highly competitive nature has led her to great success on the basketball court – winning two NCAA championships, being a four-time First Team All-American, and ending her time at UConn as the most prolific winner in NCAA history with a 150-4 record. But it also has driven her to succeed in the classroom.
"I'm not competitive with other students, but with myself, making sure I'm able to be the best student I can be," Moore says. "Knowing if there is a study session and I'm not confident with the material, I'm going to go to the study session so I can come into the test feeling confident. I feel that I've had a great opportunity to go to a great university [on scholarship]; I might as well get a great education to benefit as much as I can from the opportunity. I feel I've done that."
With a 3.7 GPA in an individualized major in sports media and promotion, Moore has also been nationally recognized for her classroom achievements. For the past two years, she was named Big East Scholar-Athlete of the Year, College Sports Information Directors Association's Academic All-American of the Year. This year she was named the 2011 Capital One University Division Academic All-American of the Year, and also received the NCAA Elite 88 Award for the highest GPA of all students competing in the Final Four.
"Maya is competitive and that's the word I should use," says women's head basketball coach Geno Auriemma. "I don't know that it comes real easy for her. She's got to work at it. So to be that competitive and work so hard that's she's recognized as the best student-athlete in the country, that's a testament to her work and her mindset. Very few people that I've ever met have that."
Bruce Cohen, director of UConn's Counseling Program for Intercollegiate Athletics and academic advisor for the women's basketball team, says, "Maya has an incredible healthy and sincere intellectual curiosity about all things. She doesn't look at things on the surface level. She's interested in what's behind things. I don't think there are too many people like her that come along. She's perfectly normal, which is a funny thing because she's so amazing. She's down to earth and accessible. She's unpretentious."
Moore credits her family, especially her mother Kathryn, with instilling a passion for learning. She knows that her family, teammates, and coaches take as much pride in her academic achievements as in her success in front of sold-out crowds at Harry A. Gampel Pavilion.
"It's been something that makes me think back to high school, taking AP classes and getting a positive educational experience growing up so when I got to college I wanted to learn, I wanted to engage with my professor and fellow students in class, and soak up as much of the educational experience as I could," Moore says. "It's been great just being around other students who are great students, having different professors who are passionate about their work and what they teach. It's been fun."
Moore hopes to one day follow in the footsteps of another Husky Academic All-American, Rebecca Lobo of ESPN, by pursuing a career in television. Her immediate future, however, will remain on the basketball court. As the top selection in the 2011 WNBA draft, Moore will begin her career in professional basketball as a member of the Minnesota Lynx, while continuing her role as a part of the USA National Women's Basketball Team coached by Auriemma that will represent the United States in London at the 2012 Olympic Games.