A world leader in genomics research has announced it will launch a $1 billion dollar personalized medicine project on the Health Center campus.
The attraction of The Jackson Laboratory (JAX) to Connecticut is a direct result of the state's investment in Bioscience Connecticut, according to Gov. Dannel Malloy.
The Jackson Lab project will enable Connecticut to assume a position of global leadership in developing new medical treatments tailored to each patient's unique genetic makeup. It will create 661 research-related jobs, as well as 842 construction jobs and an estimated 6,200 spinoff and indirect jobs.
"This is how we begin to reinvent Connecticut. By investing in a smart, strategic project like Bioscience Connecticut, the state sent a loud and clear message around the world to companies and research institutes like Jackson Laboratory that we are ready, willing and able to be a partner in this up-and-coming industry," said Gov. Malloy, during a Sept. 30 press conference at the Capitol, together with a bi-partisan group of legislative leaders, Department of Economic and Community Development Commissioner Catherine Smith and leadership from the University.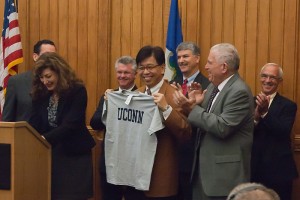 UConn President Susan Herbst said, "Bioscience Connecticut recognizes that there is a distinct role for higher education in advanced, 21st century economic development initiatives. Working together in this new collaborative framework, we can harness the vast, creative power and intellectual capital right here in the state – and in the research triangle that touches Storrs, Farmington, New Haven and points in between – to not only create solid, long term job growth but to also meet the health care needs of our citizens for generations to come."
The total 20-year capital and research budget for the institute is projected to be $1.1 billion, with Jackson Laboratory providing $809 million through federal research grants, philanthropy and service income, and the State of Connecticut contributing $291 million ($192 million in a construction loan and $99 million in research partnership participation). The state commitment is expected to be considered during the General Assembly's special session later in October.
The project will be called The Jackson Laboratory for Genomic Medicine and will be housed on the Farmington campus of the UConn Health Center. The building will initially total 173,000 square feet and eventually total 250,000 square feet. Officials estimate it will take about 30 months to design and build the lab and have a permanent space by mid-2014.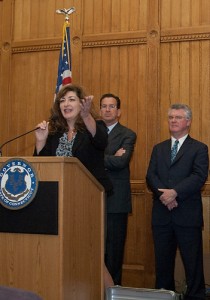 "We have laid down our marker and this immediate return on our investment will help attract other companies to do the same," said Malloy. "We have the infrastructure, the talent and the drive to make Connecticut a leader in this emerging science, and I'm pleased to welcome Jackson Laboratory to our state."
Dr. Edison Liu, JAX's president and CEO, said "The state made a compelling case to establish this lab here and because of its ideal location between New York City and Boston, its world-class colleges and universities, and its existing work in the bioscience field, it made perfect sense to come to Connecticut. The critical mass is here, the quality of science is here, and we look forward to collaborating with UConn, Yale, all of the regional hospitals, and more."
"There is no doubt in my mind that personalized medicine will touch all of our lives – for the better," said Philip Austin, the Health Center's interim vice president for health affairs. "The importance of this work cannot be overstated. Far beyond job creation, today's announcement will have a lasting and profound impact on our region."
The Bioscience Connecticut initiative, launched earlier this year, is aims to jump start the state's economy by generating long term, sustainable economic growth based on bioscience research, innovative, entrepreneurship and commercialization.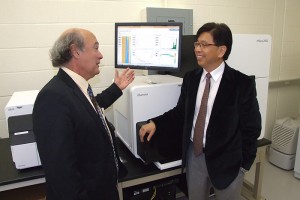 The Jackson Laboratory is an independent, nonprofit biomedical research institution and National Cancer Institute-designated Cancer Center based in Bar Harbor, Maine, with a facility in Sacramento, California, and a total staff of about 1,400. Its mission is to discover the genetic basis for preventing, treating and curing human disease, and to enable research and education for the global biomedical community. Annual research grants awarded to JAX during the 2010 fiscal year totaled $62.7 million.
---
Follow the UConn Health Center on Facebook, Twitter and YouTube.