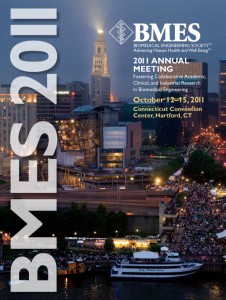 The University of Connecticut and Brown University are co-hosting the Biomedical Engineering Society's annual meeting at the Connecticut Convention Center in Hartford now through Saturday, October 15.
The BMES meeting features more than 1,500 poster presentations, hundreds of oral presentations during three full days of symposia and sessions on all aspects of biomedical engineering. There is also a Career Day for students and early-career professionals.
"The meeting is a vehicle for understanding the latest trends in biomedical engineering as it embodies the cutting-edge of BME research and technological developments from faculty and students from top universities and colleges," says Donald Peterson, director of the Bio-Engineering Center at the Health Center and vice chair of the meeting.
Many of the University's faculty and students are participating in the meeting through lectures and poster presentations. The theme this year is "Fostering Collaborative Academic, Clinical, and Industrial Research in Biomedical Engineering."
Peterson says there are feature presentations on nanomedicine, personalized medicine and translational education. "I am proud to announce that a newly restructured Translational Biomedical Engineering track has been incorporated into this year's program that promises to demonstrate how translation is BME's next engineering milestone. This track will have platform presentations and posters from students and faculty who are on the cutting-edge of translational work."
Also new this year is an additional plenary lecture sponsored by the National Institute of Biomedical Imaging and Bioengineering (NIBIB) on Robotics and Sensory Motor Restoration.
Dr. Cato T. Laurencin, who leads the Health Center's Institute for Regenerative Engineering and the Connecticut Institute for Clinical and Translational Science, is this year's winner of the BMES Diversity Award. On Saturday, he will give a lecture "What I Teach When I Mentor, What I've Learned When I've Been Taught."
---
Follow the UConn Health Center on Facebook, Twitter and YouTube.