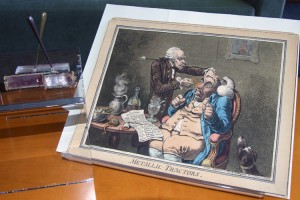 A new exhibit in the lobby of the L.M. Stowe Library features artwork depicting varying perceptions of physicians, from serious to satirical.
"Medical Imagery: Artistic Portrayals of Doctors and Surgeons," presented by the Hartford Medical Society Historical Library, will be on display through April.
"The idea behind it is, there are lots of different ways doctors can be seen by society," says HMS librarian Jenny Miglus. "Each panel has a different take, reflecting different facets of the way people see doctors or surgeons."
One lithograph, categorized as "romantic," depicts Oliver Wendell Holmes before the Boston Society for Medical Improvement in 1834 reading his essay "The Contagiousness of Puerperal Fever." Another, categorized as "comical," is a farcical portrayal of a physician using metallic rods known as "tractors," an invention of Dr. Elisha Perkins, a Connecticut physician who in 1796 would be voted out of the Connecticut State Medical Society for peddling quack medicine.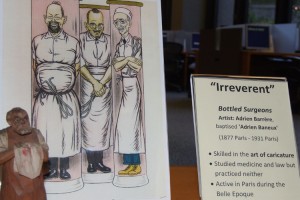 Miglus created the exhibit with images, figurines and artifacts from the Hartford Medical Society's collection, which is housed at the UConn Health Center, in room LSB 016.
"Each panel has a story that surrounds the work of art, and the figurines are lined up in a supporting role."
Featured artists include Anna Mary Robertson "Grandma" Moses, Tompkins Harrison Matteson, Robert C. Hinckley, James Gillray, William Hogarth, and Adrien Barrère.
---
Follow the UConn Health Center on Facebook, Twitter and YouTube.