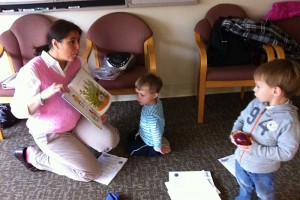 A program led by a UConn Health Center social worker is helping first-time parents transition into their new role in a manner that helps enable a safe, nurturing environment.
The "Connections" program intends to serve as the link to the Nurturing Families Network (NFN), a statewide program created by the Children's Trust Fund with the goal of reducing parenting stress, parent-child conflict, and parental social isolation by offering free resources and support to new families.
"The adjustment to new parenting is often very challenging because of the reorganization in thinking, feelings, and family structure," says Connections coordinator Jennifer Vendetti. "There is a tremendous increase in the need for support during this developmental process. It is irrelevant how or where you are on the economic strata, or what your educational background is. Many parents experience the same transitional challenges during this time."
NFN has 42 sites in the state, which include Connecticut's 29 birthing hospitals. It offers first-time families perinatal and parenting support through phone contact, group programming and home visitation. Providing emotional support, information on infant and child development, and linkage to community resources empowers parents as they adjust and begin their journey into parenthood. The Connections component includes meeting with parents in the maternity unit to engage and introduce them to the programs and to other community resources.
"It's not just nice for parents to have relationships with babies and children, it's primal," Vendetti says. "It's fundamental, but it's something we have to work on. We make a big deal about making a physical space for our baby, but it really is about making an emotional space, and what is that relationship going to look like?"
Home visitation provides more intensive support, including weekly in-home visits, covering topics like infant development, parental expectations, socialization and school readiness. NFN provides opportunities for new parents to share how they're feeling emotionally, to talk about how the adjustment is going, and to feel empowered. NFN provides positive support and encouragement, and helps develop parental confidence. Parents learn to read babies' cues and to respond consistently to babies' needs. Many parents feel uncertain about these skills initially.
"As a parent, having someone come to your house and see your day-to-day routines and struggles is a natural way to share this experience and get support," says clinical supervisor Julia González Candela. Families may enter the home visitation program before or after the birth of their child.
González Candela and Vendetti staff the UConn Health Center NFN site along with home visitor and parent educator Linnette Solano Resto and clinical psychologist Karen Steinberg Gallucci, the program manager.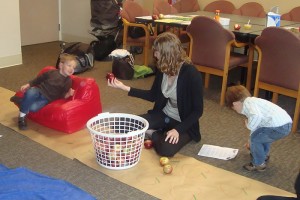 "Transitioning into parenthood is a human development phenomenon," Vendetti says. "I don't think we hear enough about that, what it's like to have your first baby and become a new family. There are so many changes that some in the literature call it a life crisis, because there are physical, structural, familial, emotional changes taking place, and the need for support is real. And it feels like we're further isolating ourselves. Families are living farther from the families of origin. For those with no family in the state, that's incredibly challenging to raise a family without that network. NFN helps to fill that gap."
Group programs include "Mom's Morning Out," a drop-in social group held monthly; "Prenatal Parenting," an eight-session group offered several times yearly; and curricula-based parenting programs, which include children's groups. More information about NFN group programs is available at http://nurturingfamilies.uchc.edu.
"Group work is a powerful medium for change," Gonález Candela says.
At the UConn Health Center's NFN site, students from undergraduate and graduate programs such as social work, marriage and family therapy, early childhood, and counseling have internship opportunities that develop and enhance their professional skills while augmenting program staff.
"They get direct practice experience and training opportunities through the program, they'll shadow and have direct practice responsibilities," Gonález Candela says. "We usually have six to eight students on campus every year. We've established very good relationships with area colleges and universities."
Two Trinity College students, Mia Schulman and Kelsey Keating, are working on a community project to identify mental health practitioners specializing in maternal depression.
Saint Joseph College student Nicole Webster is working on her master's degree in mental health counseling and is doing her internship through the home visitation program.
Another Saint Joseph College student, child studies major Lindsay Dion, is completing a practicum through the Connections and group programs.
Allison Polesel, a UConn School of Social Work student pursuing a master's degree in community organization social work, is working with NFN and the West Hartford Early Childhood Partnership to develop an action plan for West Hartford families with children birth to 8.
NFN at the UConn Health Center has been serving families since 2007.
---
Follow the UConn Health Center on Facebook, Twitter and YouTube.