Toy Company Built on SUBOG Leadership Skills
Doug Bernstein '85 (CLAS) says he always had a lot of energy but had to learn to channel it in the right direction, which became a lasting lesson from his time at UConn.
"Energy can become well allocated or misplaced. Some of my energies were misplaced," he says, with a smile. "I was involved in some interesting and creative late-night activities at UConn that brought me to the attention of some top administrators."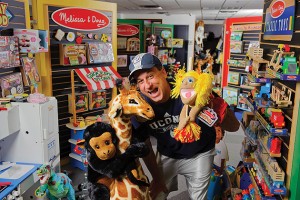 Bernstein decided to put his enthusiasm and energy into the Student Union Board of Governors (SUBOG), eventually becoming its president. He worked with students to plan events and concerts, negotiate contracts, and organize meetings.
"Everything I do now as part of our business, I did as part of SUBOG," says Bernstein, who with his wife Melissa started an educational toy company in 1988. Today, Melissa & Doug is one of the world's leading toy manufacturers, with 2,500 products aimed primarily at children ages 2 to 8. The company is based in Wilton, Conn., where the firm's product development, sales, and marketing staff works, with offices at manufacturing sites in the U.S. and abroad.
Created in his parent's garage, the company's first product was an interactive sing-along video for children that the Bernsteins marketed by driving the family station wagon to educational toy stores around the Northeast. Spending weekends in toy stores talking with customers and children, they discovered a growing interest in puzzles and created a tactile "fuzzy puzzle."
"It was all about getting as close to the consumer as possible," Bernstein says. "We spent so much time with children, parents, and educators. We think that's why our business has succeeded. We didn't think about profitability. We do what we believe is right. If we make a mistake, we'll climb mountains and do what it takes to make our customer happy again."
Bernstein says his company's ongoing strategy is to focus on developing toys that will "be as important 20 years from now," and that by resisting trendy products, such as those tied to films or television, Melissa & Doug is now seeing second-generation customers.
"We've always had an integrity and discipline about the educational aspect of our products because every day ideas pass our desk that are for amazingly interesting toys that may lack educational value," he says. "What's a child learning from this? There has to be an educational bent to it."
As their company has grown into a global business, Bernstein says, he and his wife feel a larger responsibility because of the trust their customers have in their products. "We have a responsibility to carry that into other related categories, so parents can rely on us," he adds. "We've always wanted to be the very best children's organization, wherever that might take us, making the best educational products for children."
Bernstein extends his educational bent to Storrs. In 2007, he and his wife helped to launch the Leadership Legacy Experience, a program for students who participate in a yearlong leadership enhancement that builds on their legacy as University leaders. He returns to campus to meet with student leaders as part of the program.
He says that when the idea for Leadership Legacy first came about, he spoke with John Saddlemire, vice president for student affairs, and Kevin Fahey, associate director for student development and learning and advisor to SUBOG, telling them he believed that his major at UConn was leadership.
"They responded positively to that," Bernstein says. "In college you study a discipline, but not many of us learn what it takes to properly lead an organization, inspire change, or be entrepreneurial. Some of that you can't necessarily learn in a classroom. There is importance to an academic approach, but what a great leg up to have if you can take your academics and layer upon that a dose of pragmatism. SUBOG was a job, which is how I viewed it. I had office hours, responsibilities, a boss, and accountabilities. I had to come through."
He says his satisfaction in the development of the Leadership Legacy Experience is his direct contact with the students who participate in the program.
"At the end of the session, when you talk with a bunch of students, that's the most exciting part of it," he says. "I've received email from the kids who have been through the program, and it's great to know what they're doing. That's the rewarding part, when you feel that you're helping them."
He also has continued his involvement with the Student Union, where as part of the building's expansion under UConn 2000, students now can channel their energy outside of class in the Doug Bernstein Game Room, which includes mini bowling, pinball, a pool table, video game consoles, and other activities.