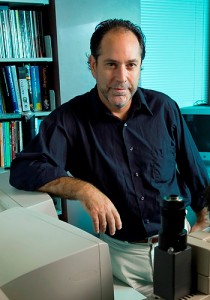 Two UConn researchers are sharing in nearly $950,000 in state grants for their study of disease and chronic illnesses associated with tobacco use.
Daniel Rosenberg, professor of medicine in the UConn Health Center's Department of Genetics and Developmental Biology, has been awarded $356,250 for his lab's colorectal cancer research.
Bradley Bolling, assistant professor in the Department of Nutritional Science at the College of Agriculture and Natural Resources in Storrs, has been awarded $417,076 for his research of antioxidants' impact on cardiovascular disease.
The grants are from the state's Biomedical Research Trust Fund, established by the Connecticut General Assembly in 2000 to back research into tobacco-related illness and funded in part by the state's share of Tobacco Settlement Fund proceeds. In 2010, the scope of funded research was expanded to include Alzheimer's disease and diabetes research.
"The funds made available through the Biomedical Research Trust Fund represent an investment in Connecticut-based research that is providing new insight into how to treat and prevent leading causes of death and disability," says Deputy Public Health Commissioner Lisa Davis. DPH oversaw the application process.
Rosenberg, an investigator in the Health Center's Center for Molecular Medicine, is running a study comparing colon biopsies and blood specimens of smokers to those of nonsmokers.
"We can begin to characterize the very earliest molecular alterations that may precede the development of cancer by many years, thus providing potential screening tools for early diagnosis and cancer prevention," Rosenberg says.
Bolling's research focuses on organic chemicals known as polyphenols from the native Connecticut chokeberry.
"Our hypothesis is that dietary chokeberry polyphenols reduce cardiovascular disease risk in former smokers by improving cholesterol profiles and inhibiting inflammation and oxidative stress," Bolling says.
A third Biomedical Research Trust Fund grant went to Dr. Kevan Herold at Yale University for his study of diabetes.
"These grants awarded today – part of an annual program to help underwrite cutting edge, health-related research – are consistent with what seems to be a growing and accelerating emphasis on comparable projects in Connecticut," says state Sen. Joseph Crisco (D-Woodbridge), who sponsored the original bill establishing the fund. "We have recently agreed to invest in an overhaul of the UConn Health Center and provide economic development funding for Jackson Labs – it's gratifying to know Connecticut plans to continue setting the pace in health-related research throughout the foreseeable future."
---
Follow the UConn Health Center on Facebook, Twitter and YouTube.